Electric olive picking machine nut fruit picker
Electric olive picking machine nut fruit picker
Electric olive picking machine is specially designed for the nut tree picking and harvesting in the orchard. Machine bears compact structure, beautiful shape and simple operation. What's more, internal and external tubes is made of high-strength aluminum alloy and can be adjusted easily, that is, 2170-3000mm.
Fruit picker is light in weight and good in strength, widely applying to the general nuts such as olive, jujube, date, etc.
Type one: GL-1 electric fruit picking machine
The head of electric olive picking machine is a high-strength part that is durable. olive picker machine uses the 12V battery, and household power supply, small generators and other power sources all are suitable for it. It is convenient and practical to use as well.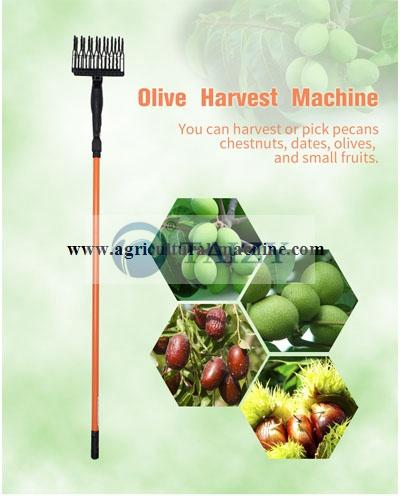 Technical parameter of fruit picking
| | |
| --- | --- |
| Model | GL-1 |
| battery | 12V |
| Length | 2170-3000mm |
| Head width | 260mm |
| Wire length | 12m |
| Speed | 820r/min |
| Packing size | 2170*160*260mm |
| N.W/G.W | 7.5kg/11kg |
| Remark | Buyer should buy battery by themselves |
The structure of fruit picking machine
rake
body of motor protected by cover
shaft
handle
fuse socket (10 Amp)
DC clamp
connection cable (15m)
2-3mtelescopic shaft
5 to2.2m telescopic shaft
2m fixed shaft
Type two: GL-2 electric fruit picking machine
This electric fruit picking is like a ball with long tooth powered by 12v battery, fully saving labor time; its shaft length is 2500mm, and head width is 100mm. 10m wire length makes it convenient to harvest fruits.
Technical parameter of fruit picking machine
Model
GL-2
battery
12V
Length
2500mm
Head width
100mm
Wire length
10m
Speed
1800r/min
Packing size
2040*110*130mm

380*255*215mm

N.W/G.W
2.5kg/ 3.35kg
Remark
Buyer should buy battery by themselves
Type three: GL-3 gasoline engine fruit picking machine
It is 2-stroke olive shaking machine and is driven by a 43cc gasoline engine with 700ml fuel tank capacity. Rated output power is 1.4kw/7500rpm and hook diameter is 44mm that cannot be adjusted, while the length of tube ranges from 150cm to 225cm. High working efficiency and low broken rate are two prominent features of it.
Technical parameter of fruit picking machine
Model
GL-3
Power
Gasoline engine
Engine type
2-stroke
Displacement
43cc
Rated output power
1.4kw/7500rpm
Fuel tank capacity
700ml
Hook diameter
44mm
Shaker length tube
150cm-225cm
Packing
360*300*240mm

150*120*120mm

Packing weight
8.0kg
Advantage of fruit picking (for three types)
Wide application. Olive harvester machinealso can picking date, jujube,pecans, chestnut, jujube and other small fruit
It has a flexible shaft and is easy to adjust the length of the head.
Easy to use. Fruit picking powered by electricity or gasoline engine and has simple operation.
High picking rate. All fruits can be picked.
The fruits can keep unbreakable after harvesting.
Successful case of fruit picking machine
With easy use and high capacity, this fruit shaker is popular in the African market. In October 2018, a harvesting season for olive, 20GP container olive shakers were delivered to Lebanon. This customer would distribute all machines to local farmers after receiving them, and the following details are the packing pictures.
FAQ
what is the difference of 3 types of fruit picking machine?
The first two types are electric and the last one is powered by the gasoline engine.
Which kinds of fruit can be picked by this machine?
The raw material can be olive, date, jujube, pecans, chestnut, jujube and other small fruit
What is the picking rate of the machine?
This fruit picker can work with high efficiency, and all fruits on the tree are able to be harvested during operation.
Will the fruits be broken after picking?
No, the picker machine can fully harvest the fruit without any damage to the fruit itself.