Amazing garden sprayer / drones in agriculture
Amazing garden sprayer / drones in agriculture
It is a special design garden sprayer,and it can be used to spray water, pesticide to the surface of the plant. It is a good tool for farmers, and they can use it for gardens, farmlands and other fields. The spraying speed of drones in agriculture is 4-8m/s, which means it works with high efficiency. The volume of pesticide box is 10L and 16L, and you can choose one according to your requirement.
Technical parameter of garden sprayer
| | | |
| --- | --- | --- |
| Model | 3W4-10B | 3W4-16 |
| Net weight | 24.2kg | 27.9 |
| The volume of pesticide box | 10L | 16L |
| Liquid pump | Diaphragm pump | Diaphragm pump |
| The number of wing | 4 | 4 |
| Motor type | Brushless DC motor | Brushless DC motor |
| Max motor | 5000w | 5000w |
| Max electric current | 65A | 65A |
| Battery | Lithium battery | Lithium battery |
| Diameter of wing | 890mm | 890mm |
| Waterproof and dustproof grade | IP56 | IP56 |
| Nozzles | 4 | 4 |
| The volume of spraying | 600-1600ml/min | 600-2100ml/min |
| Spraying speed | 4-8m/s | 4-8m/s |
| Spraying width | 4-6m | 4-6m |
| Working height | 1-3m | 1-3m |
| Sustainable spraying time(capacity) | More than 10min | More than 10min |
| Spraying volume | 0.6-0.9hm2/h | 0.9-1.3hm2/h |
Working steps of garden sprayer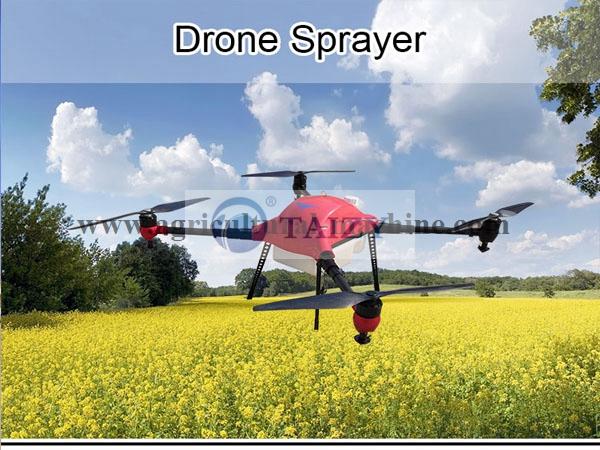 First, install the four wings of garden sprayer.
Add the foaming agent.
Place the battery that enables the machine to fly for 10 minutes.
Machine is controlled by remote control during operation.
The pesticide can adhere to the back and forth of plant, effectively killing the pests.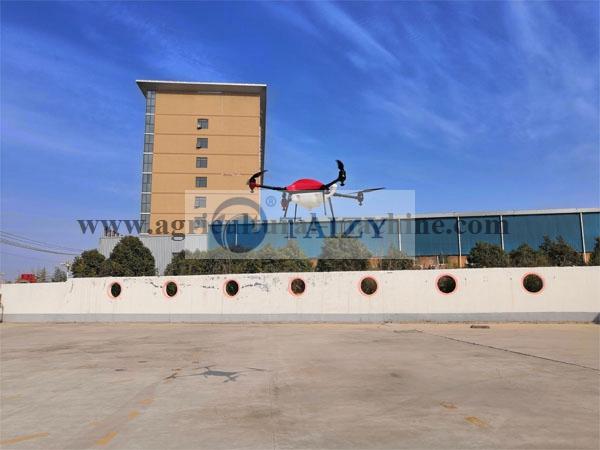 Detailed picture of garden sprayer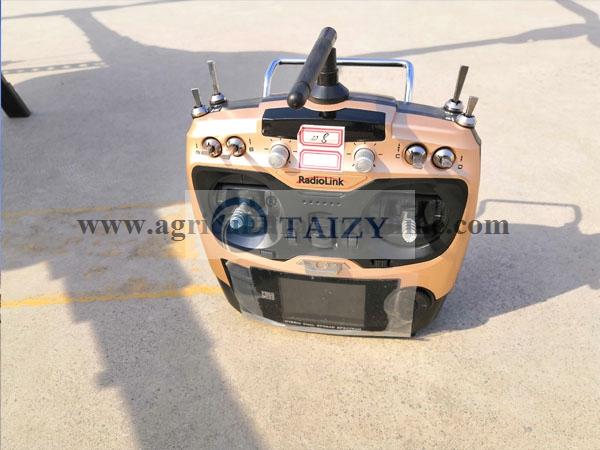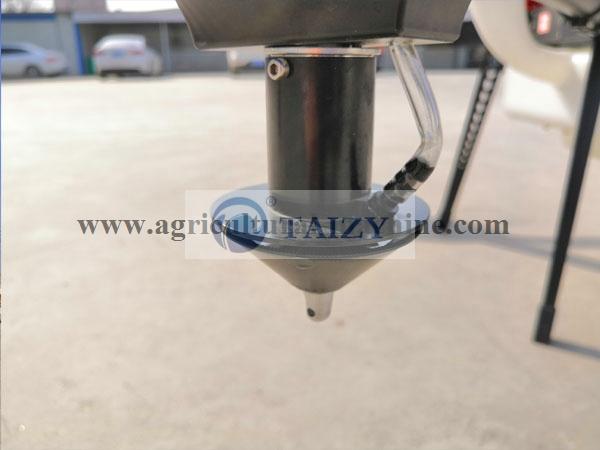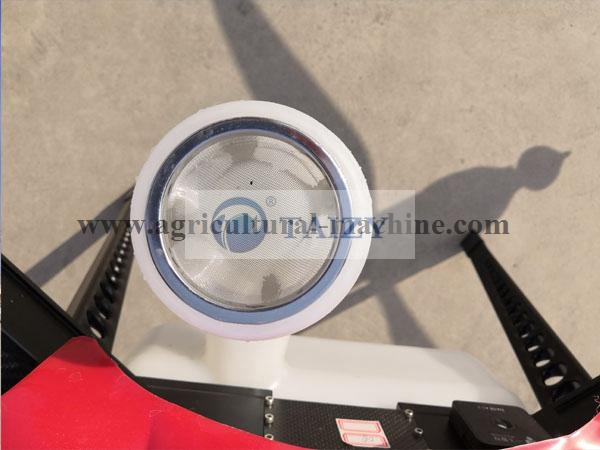 Wide application of garden sprayer
Crop spraying drone not only is applied to agriculture, but also can be used to the following fields.
1.Electric power.
2. The traffic.
3. Water Conservancy
4.The public security on terror.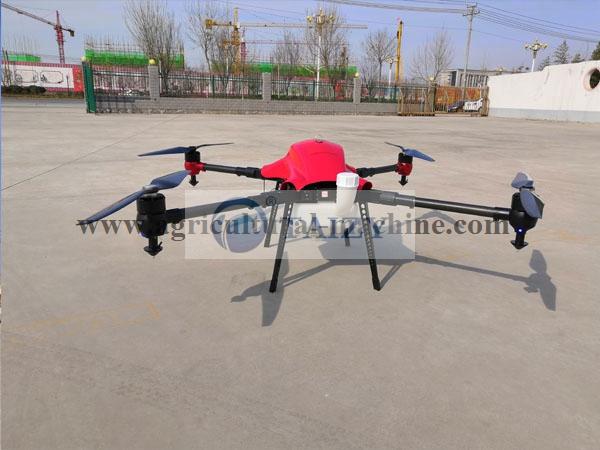 Advantage of garden sprayer
1. Crop spraying machine can spray pesticide by remote control, which is safe and labor saving.
2. Compared with traditional spraying ways, people don't need to directly touch the pesticide, effectively decreasing the harm of pesticide to the human body.
3. The working efficiency of Uav crop sprayer is 30times as efficient as manual spraying.
4. Adopting to high atomization and micro-drop spraying, this drone sprayer can fully improve the utilization of pesticide.
5. Rotor produces downward flow, which increases the penetration of the mist flow into the crop, enabling good controlling effect.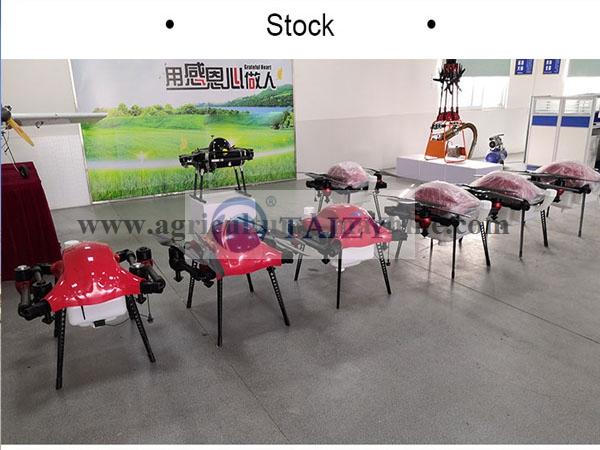 Why do you need a garden sprayer?
China is a largely agricultural country, occupying 3 millions acres of basic farmland, which requires a large amount of crop care sprayer every year. Unluckily, there are more than 100,000 accidents towards pesticide poisoning in China annually, and the fatality rate reaches 20%. There are no official statistics on the number of deaths caused by pesticide residues and pollution, which must be an amazing number.
The agricultural remote-controlled crop sprayer drones produced by our company can load 10-17 kg pesticides and spray them at low altitude. This best garden sprayer can completely spray 20 acres farmland in less than 10 minutes, and is suitable for fields such as paddy fields and sloping fields where people are difficult to work.
The spraying efficiency of garden sprayer is 30 times that of traditional labor. The downward flow generated by the rotor helps to increase the penetration of the mist flow into the crop, and the controlling effect is good. At the same time, the long-distance manipulation greatly improves the safety of pesticide spraying.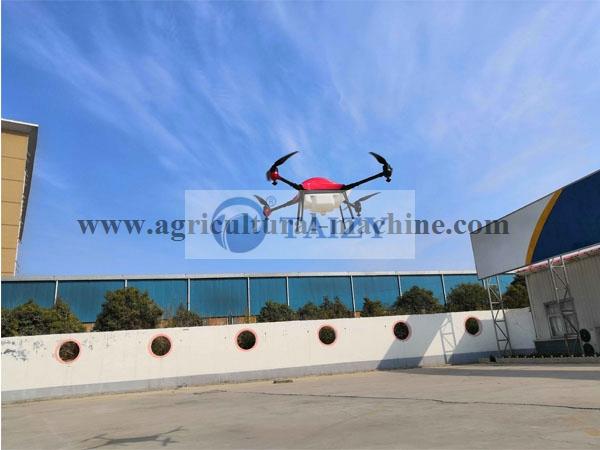 FAQ
Is garden sprayer safe during operation?
Yes, of course, we have conducted many tests to ensure safe operation.
Can pesticide sprayed by this crop sprayer totally kill all the pests?
99% of pests can be fully killed.
Do I need to be trained if I buy this agriculture drone spraying?
To ensure safe use, it is necessary for you to come to our factory to be trained for nearly 5 days.
Can I control the height of sprayer?
Yes, you can do it by remote control.
What is rang of flying height?
It is within 1-3m.