Chicken, cow, pig, horse dung dehydrator | manure dehydrator
Chicken, cow, pig, horse dung dehydrator | manure dehydrator
Livestock dung dehydrator is also called poultry manure dehydrator. It is used for dehydrating pig dung, cattle dung, rabbits dung, chickens dung, and large and medium-sized livestock farms to treat animal manure. It is also called a solid-liquid separator by some people, which can be used to separate high-concentration slag and liquid in distiller grains, medicine residue, swill, residue, slaughterhouse, and sewage engineering. It is ideal dehydration equipment.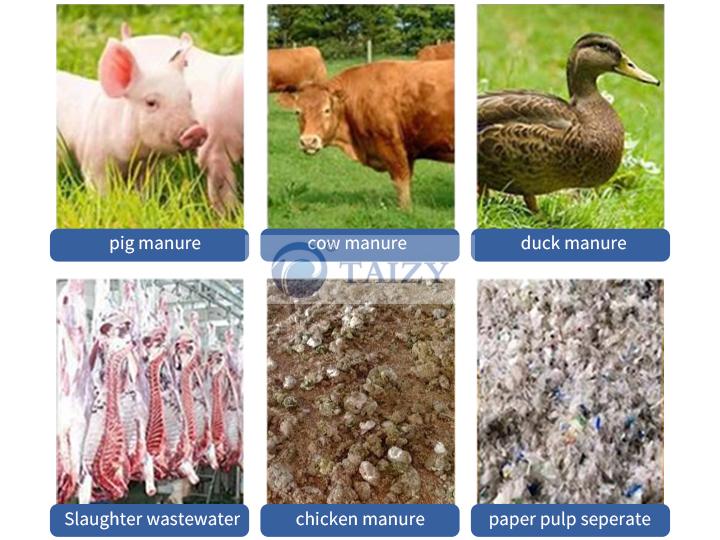 Structure composition of screw extrusion dung dehydrator
The screw extrusion solid-liquid separator is mainly composed of a host, a non-clogging pump, a control cabinet, pipelines, and other equipment. The main engine body, mesh screen, extrusion auger, geared motor, counterweight, and unloading device are composed of parts.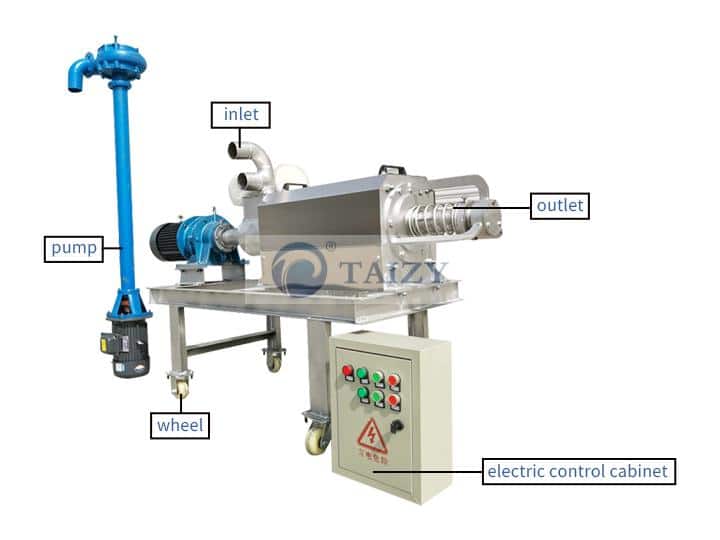 Working principle of the manure dehydrator
The mud pump is used to send the raw manure into the machine. The solid matter is separated out by squeezing the screw shaft arranged in the screen. The feces are filtered and dehydrated by a screen, and then discharged from the discharge port. Dehydrated feces can sold directly or made into fertilizer. The liquid flows out from the liquid outlet through the screen and is transported to the pool, thereby turning waste into treasure.
The upper part of the host is designed with an overflow port, and the discharge port can adjust the dry humidity of the discharged material.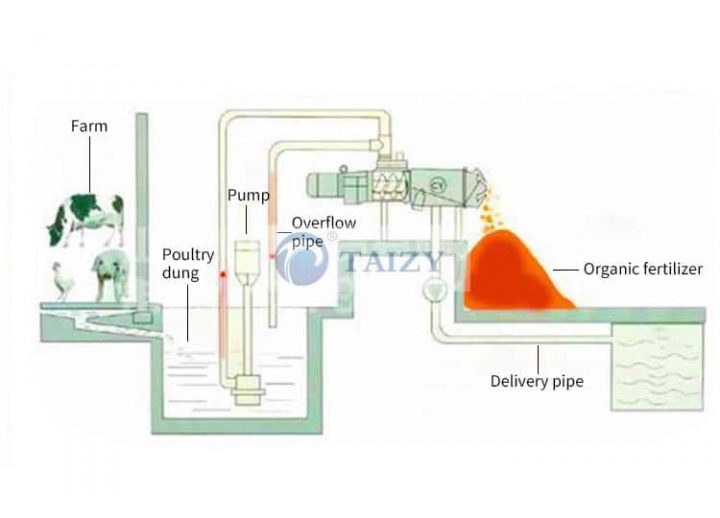 Advantages of manure dehydrator machine
1. Stainless steel screw auger, the whole machine body does not rust.
2. New type of stainless steel upper cover, it is easy to disassemble.
3. Thicken the filter, it is easy to clean and not easy to damage.
4. High-quality copper core motor, it has low noise and high power.
5. Sewage cutting pump, sundries can be pumped without clogging.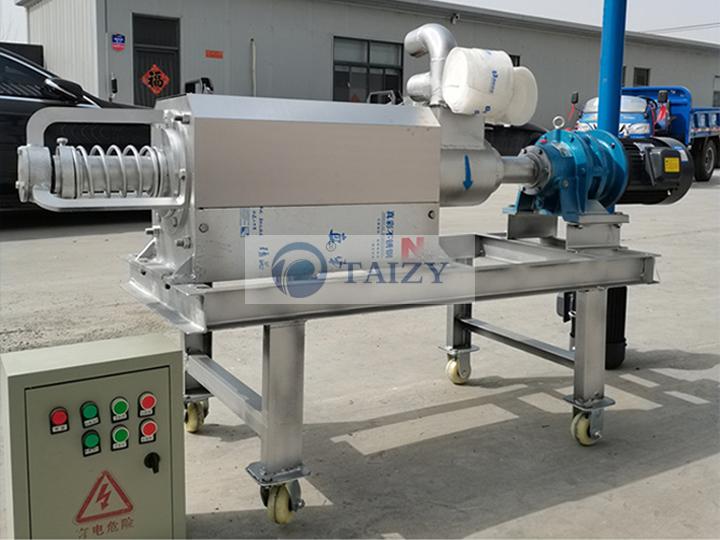 Why should dung be dehydrated?
After using the fecal dehydrator, the pig manure, duck manure, cow manure, chicken manure, and other poultry manure are separated into liquid fertilizer and solid fertilizer. Liquid fertilizer can be directly used for crop utilization and absorption. And solid fertilizer can be transported to areas lacking fertilizer for use. Also, it can protect the soil structure. At the same time, it can be made into compound fertilizer after fermentation.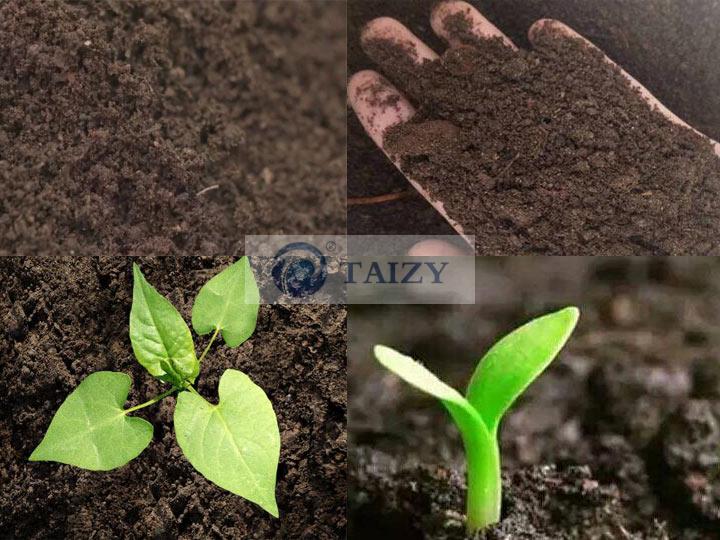 Who can buy a fecal dehydrator
1. Pig manure treatment in pig farms. Pig farms can buy such a pig manure dehydrator. You can use dehydrated pig manure to make pellet products and the moisture content of less than 12%. It does not contain any chemical components. It is an ideal organic fertilizer for farmland.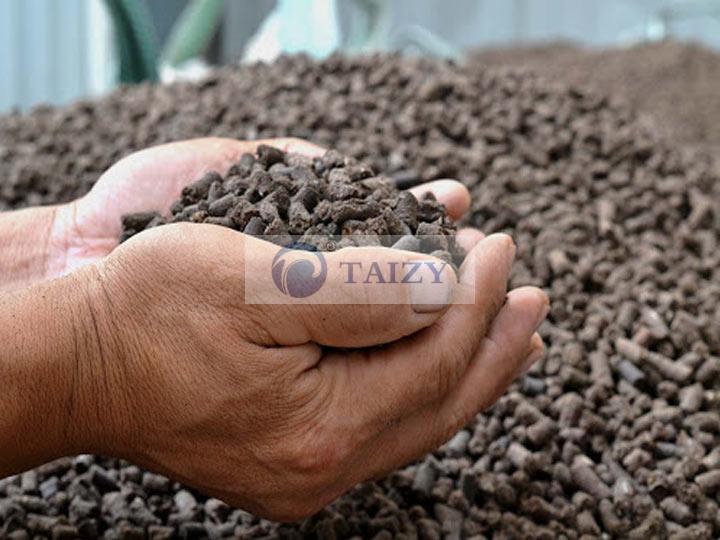 2. The separated feces can mix with straw chaff and fully, and then fermented with strains. After granulated, it can make into compound organic fertilizer. Also, it can improve soil quality and increase yield directly. It can also be used to breed earthworms, grow mushrooms, feed fish, etc., all of which can add considerable additional income to your farm. So dung dehydrator is a good tool for farming.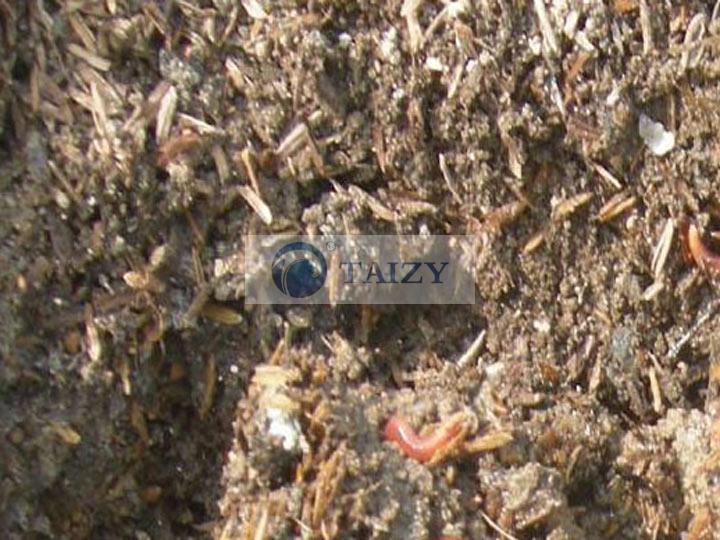 3. Treatment of cow dung in cattle farms. The separated cow dung by a solid-liquid separator can use as a cow bedding material. Also, it can make cow dung fuel to save costs. The separated liquid manure can discharge directly into the biogas digester, and the efficiency of the biogas output is higher. The biogas digester will not be blocked, which prolongs the service life of the biogas digester. The solid manure is convenient for transportation and can be sold at a high price.
4. Biogas digester users. Before the manure water enters the biogas digester, the solid-liquid separation measures can solve the precipitation problem of pig manure in the biogas digester. And it greatly enhances the treatment capacity of the biogas digester. At the same time, the construction area of biogas tanks and biochemical tanks reduced greatly. It saves construction investment and land use area for environmental protection treatment.
Why choose us?
We are a professional manufacturer of agricultural machinery. At present, our manure dehydrator has been exported to Pakistan, India, Malaysia, the Philippines, etc. The dung dehydrator customer exported to Pakistan, and the customer uses it to dehydrate cow manure because he raises a lot of cows. Also, he does not want to waste any manure, so he bought a fecal dehydrator from us with an output of 7 cubic meters per hour.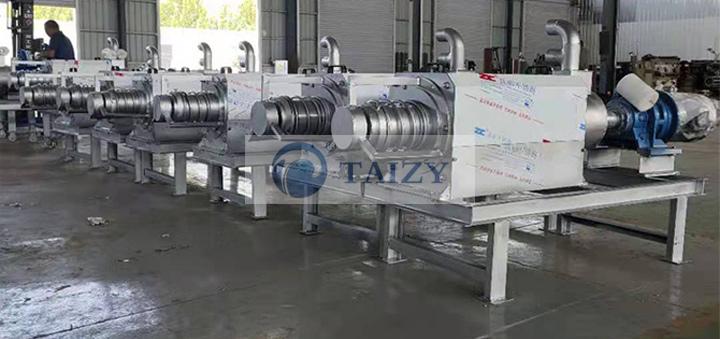 What does a fecal dehydrator include?
The dung dehydrator includes a host, a 4 kW pump, a control cabinet, a pair of counterweights, a set of suction pipes, a set of drain pipes, a set of instructions for use, and a warranty card.
Technical Parameters
| | | | |
| --- | --- | --- | --- |
| Model | 180 | 200 | 300 |
| Power | 220/380V | 380V | 380V |
| Machine power | 4kw | 5.5kw | 7.5kw |
| Pump power | 3kw | 3kw | 3kw |
| Inlet | 76mm | 76mm | 76mm |
| Drain | 102mm | 102mm | 102mm |
| Material | 304 stainless steel | 304 stainless steel | 304 stainless steel |
| Manure extractor | 20M3/h | 20M3/h | 25M3/h |
| Dry manure | 5M3/h | 7M3/h | 15M3/h |
| Length of cylinder net | 180*600mm | 200*600mm | 300*600mm |