Overview of customers in the Philippines
This Filipino customer is a small breeding farmer. He raises about 20 cattle himself. It is neither cost-effective nor nutritious to buy feed. He saw our straw cutter machine on the website and liked it very much. He said that after watching our video, he felt that the hay cutting machine occupies a small area, and in terms of operation, the elderly can easily control it. One person can feed dozens of cows. He said that there were a lot of farmers like him in his village, so they ordered a small container to buy the straw cutter machine together. After communicating the details with our sales manager, he decided to pay for it.
Straw Machine purchase details
This Filipino customer ordered 3 different power chaff cutting machines from us. Two of them are diesel engines and one is a gasoline engine. The straw cutter machine has arrived in the customer's hands intact. The customer installed the straw cutter machines in accordance with our instructions and tested them with different straws and stalks. The customer is very satisfied with the quality of the grass cutting machines and the effect of the corn stalk cutter.
Let's take a look at what this machine bought by the customer looks like.
On the left is the picture of the straw cutter machine we showed to the customer, and on the right is the picture of the machine assembled by the customer. They are exactly the same.
The machine has two discharge ports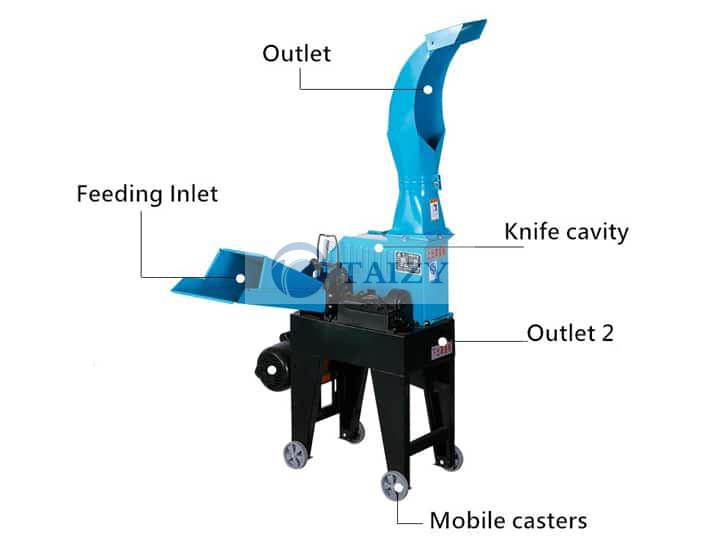 Materials with light specific gravity or leaves are sprayed from the high discharge port, and materials with high specific gravity or heavy grasses are discharged from this port 2 of the machine. So this grass cutting machine can handle many materials, such as corn stalks, sugar cane shoots, alfalfa grass, reeds, etc. The material after a cut can be directly fed to the cattle.
The feedback video of grass cutting machine
sum up of chaff cutting machine
The chaff cutting machine is used for cutting green (dry) corn stalks, rice straw, straws of various crops, and forage processing of agricultural and livestock feed. The machine can be self-sufficient and can produce at any time whenever needed, ensuring the freshness of the forage
It is mostly used in aquaculture, animal husbandry, agriculture, biogas, and other fields. Grass cutting machine can process straw, pasture, and other materials that are suitable for raising various livestock such as cattle, sheep, horses, deer, rabbits, etc. The grass cutter machine can be driven by electric motors, gasoline engines, and diesel engines, making it a good helper for farmers to cut grass.