African crops are very profound, especially corn and rice, and economic crops include mango, banana, pineapple, orange, cocoa, cashew, tea, sesame, peanuts etc. Thus,many types of agricultural machine including grain sheller are needed there.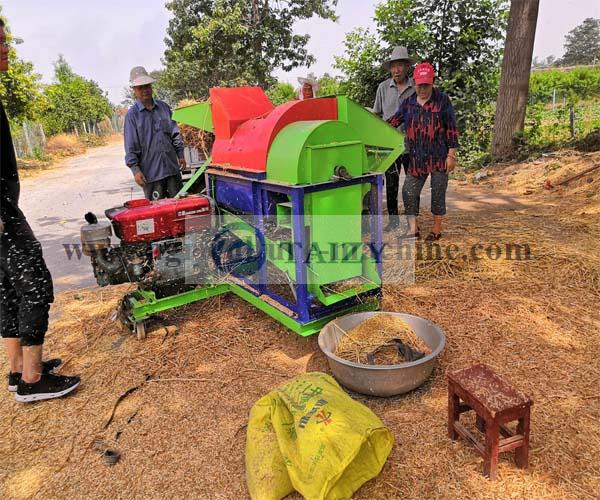 Ghana
Ghana's economy is still dominated by agriculture,so they badly  need grain sheller machine. There are 2.8 million hectares land for agriculture, accounting for about 12% of whole land area. Per capita cultivated land is about 0.17 hectares. There are also about 5 million hectares of pasture and 7.9 million hectares of forest land.  59% workforce is engaged in agriculture, and agricultural output accounts for 43% in the national economic structure.
Main crops: corn, potato, sorghum, rice, millet etc.
Prospects: In Ghana, government purchases agricultural machines and then distributes to farmers.At present, there are 89 agricultural machine service centers with 56% coverage rate.
Ethiopia
Among the population of 102.4 million, the agricultural labor force accounts for more than 85% of the total employment, and agriculture covers 47% of GDP.
90% foreign exchange depends on the export of agricultural products, which is the mainstay of the national economy and the main source of people's income.
Main crops:teff, wheat, barley, corn, sorghum, millet, sesame, rapeseed, linseed, peanuts, sunflower seeds and cottonseed.
The utilization rate of tractors in Africa's reclaimed land is only 10%, and seedling machinery, fertilizing machinery and plant -protection machinery are popular there. Insufficient irrigation and drainage machinery has made it impossible to make full use of local water resources.
Prospect: More than 90% land is cultivated with livestock. Most farmers use livestock and manpower to complete the whole process from planting to harvesting. The mechanization level is very low.
Kenya
Kenya has a population of 45 million and 80% people are related with agriculture and animal husbandry,and they export many grain sheller machine annually.18% land is arable, and the rest is mainly suitable for animal husbandry.
Main crops:corn, wheat and rice
Prospect:Agricultural mechanization of large and medium-sized farms in Kenya is only 30%, and main agricultural labor force manual, accounting for 50%. livestock accounts for 20%, and 80% land has not yet been developed which brings great opportunities to agricultural machinery enterprises.
Nigeria
China and Nigeria have signed agreements on trade, economy,  technology as well as science and technology cooperation and investment protection, and jointed economic and trade committee. Nigeria,China's third largest trading partner, is also second largest export market in Africa and our major investment country.
Nigeria is the largest population country, that is, 173 million, accounting for 16% in whole Africa. The agricultural resources owned by Nigeria mainly include a large amount of arable land, sufficient labor, abundant water resources and forest resources.
influenced by superior natural environment, different types of soil, abundant rainfall and sunshine, it is possible to grow corn, sorghum, rice, cashew nuts, cassava, plantains, beans, potatoes, and other food crops.
Nigeria still dominates the small-scale agricultural economy. Thanks to the serious shortage of government funding, agricultural technicians have little knowledge of emerging agricultural science and technology. Thus,the promotion of agricultural technology goes slowly. The farm tools commonly used by farmers are still traditional short hoes and machete. simple and behindhand farm tools result high labor intensity  and low efficiency.
In crop farming , technology is very backward. In many regions, rice cultivation is carried out by direct seeding, which leads to many problems such as excessive seedling time, short row spacing that affect ventilation, and malnutrition of rice. All of those factors ultimately influence rice yield.
In the farmland management, due to lack of necessary technology, people do not have such awareness as pruning trees,applying fertilizer or weeding from crops.
Congo
Agriculture machine in Congo has sustainable development potential. According to statistics from relevant departments, Congo has more than 80 million hectares of arable with annual rainfall of 1000-1500 mm. Until now, it has developed about 6 million hectares. The potential market for agricultural products in Congo and neighboring countries has reached 100 million people. Congo has great potential and sustainable conditions for developing agriculture, especially for grain sheller machine .
As a country with great potential, Congo has a vast territory and diverse climate, which makes it possible to make a difference in agriculture machine. Congo is considered as Africa's largest copper-producing country, and also has rich underground minerals.
Prospects: Congo mainly produces cassava, corn and other crops, and it has 71.34 million people, Congo's food is not self-sufficient. At present, Congo's agricultural production can only meet the demand of 70% domestic market, and it needs to import food that is worth 1.5 billion US dollars each year