Sprinkler Irrigation machine | Irrigation System | Irrigator
Sprinkler Irrigation machine | Irrigation System | Irrigator
Sprinkler irrigation machine refers to the equipment used to spray irrigation water. The whole sprinkler system generally includes a water pump unit, pipeline, sprinkler, and walking frame. The sprinkler irrigation equipment sprays water with a certain pressure into the air through a special machine and equipment from the nozzle and then disperses into fine droplets, which are evenly sprayed on the field like rain, supplying crops, flowers, seedlings, and other plants with water adequately. This kind of sprinkler waters naturally. Connecting the pressurizing, water delivery, water sprinkler, walking, and other devices into a movable whole, called sprinkler irrigation machine.
Types of Sprinklers System
There are many types of sprinkler irrigation machines, and the unit type sprinkler irrigation system includes two types: fixed spray unit and mobile spray unit.
The fixed spray unit includes a hand-push (lift) sprinkler, a tractor-mounted sprinkler, a tractor-traction sprinkler, a rolling sprinkler, and a tractor double cantilever sprinkler.
The mobile sprinkler unit includes a central pivot sprinkler, a translational sprinkler, and a reel sprinkler. Among them, the reel type includes two types: wire rope traction reel sprinkler irrigation machine and hose traction reel sprinkler irrigation machine.
JP series reel sprinkler irrigation machine is an irrigation machine that winds the PE pipe on the reel, uses the sprinkler pressure to drive the water turbine to rotate, drives the reel to rotate through the variable speed device, and pulls the sprinkler cart to automatically move and spray. JP series reel sprinkler irrigation machine can not only irrigate a large area of farmland but also can control the water volume according to the size of the spray water to meet the different requirements of the spray irrigation water volume. It is the best choice for farmland water-saving irrigation.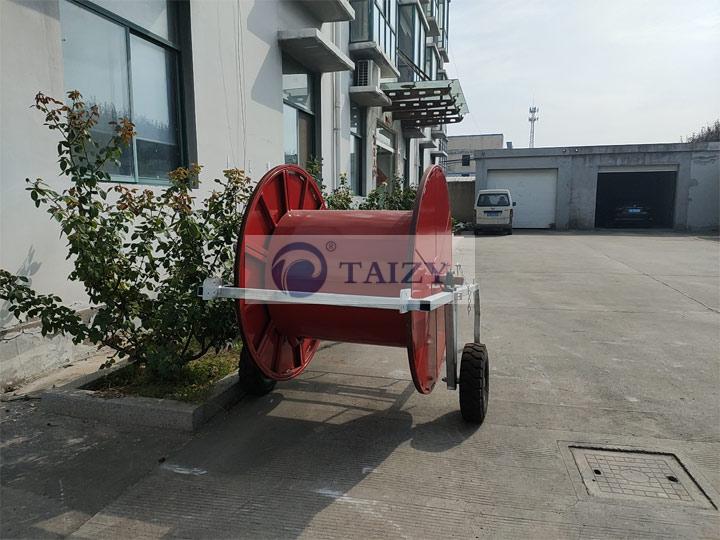 In addition to the general functions of a reel sprinkler, the horizontal frame reel sprinkler has the following unique characteristics: low working pressure, energy-saving, multiple nozzles, small water droplets, and high water distribution uniformity. The impact on crops and soil is small, and it is less affected by wind. It can be installed and disassembled on site.
Among the above-mentioned sprinkler irrigation machines, the hand-push type and the hand-lift type are small units. Because of its simple structure, small size, flexible use, and low price, it is the most widely used model in the field of sprinkler irrigation in various countries. With the development of intensive agricultural production, it is required to improve labor efficiency, and various large and medium-sized sprinklers will have broad application prospects.
Application of Irrigation System
Various types of sprinkler irrigation machines can be applied to large, medium, and small crop irrigation, garden sprinkler, (lawn sprinkler) urban greening, fruits and vegetables, tea plantation, pasture, tobacco, sugar cane, and power plants, docks, construction sites, coal mines, power plant dust prevention, and other fields.
Let's Know about the More Reel Sprinkler System
Reel-type sprinkler irrigation machine models are complete, we have a large reel-type sprinkler irrigation machine, a medium reel-type sprinkler irrigation machine, a light reel-type sprinkler irrigation machine, a mini reel-type sprinkler irrigation machine, and so on. Also, we will customize according to customer needs.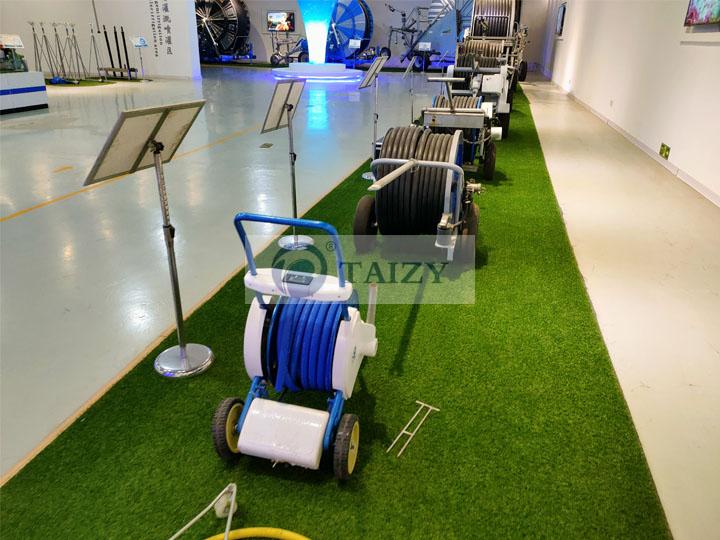 Drive Mode
Water turbine drive, hydraulic drive, electric drive, internal combustion engine drive.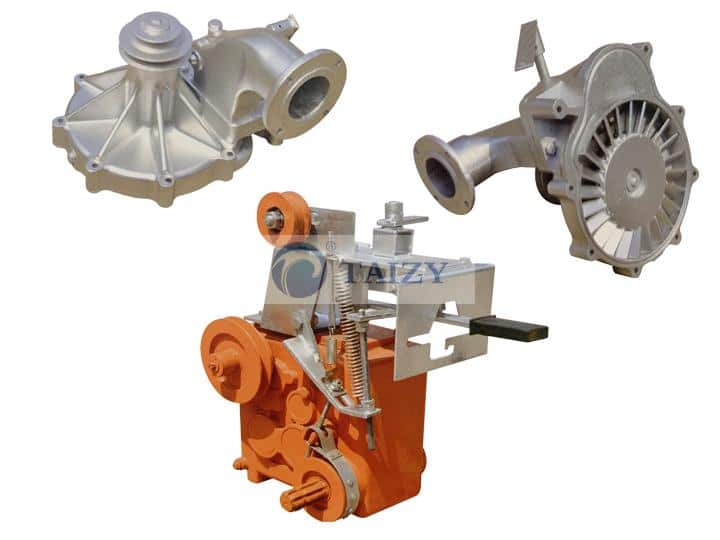 Spraying Method
Single gun spray, double gun spray, flame spraying.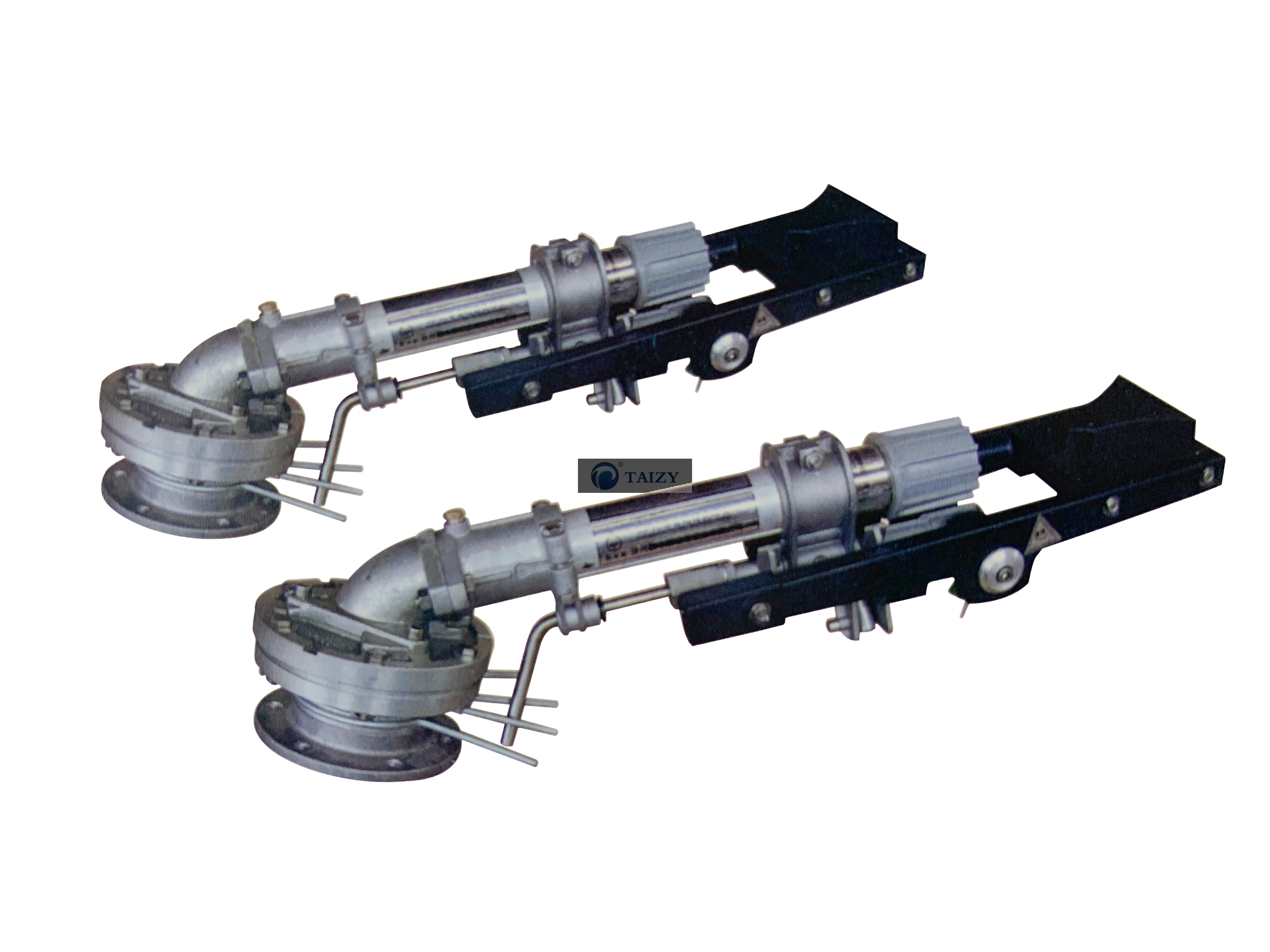 Parts Configuration
sprinkler pipe: it adopts environmentally friendly and healthy HDPE pipe material and polyethylene resin material. The product has good weldability and resistance to environmental stress cracking. Its performance has reached international standards.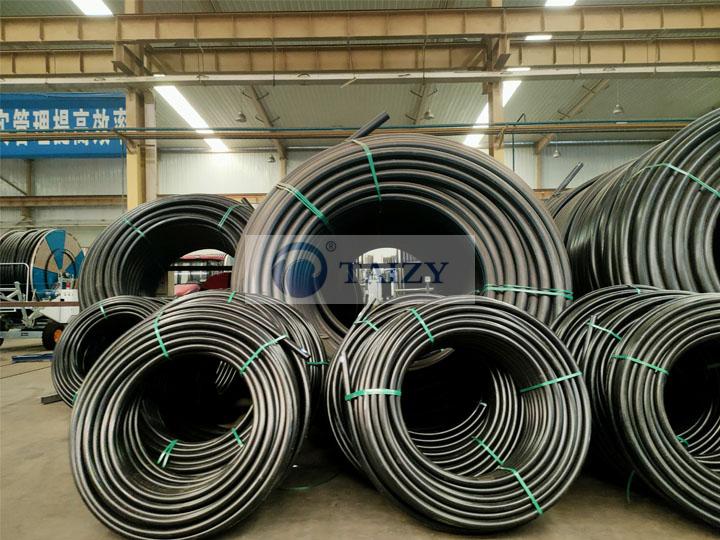 generator set series: Diesel generator set consists of diesel engines and generators. Reliable quality, easy to operate, and easy to maintain. There are as many as 20 types of generator sets, which will surely meet your needs.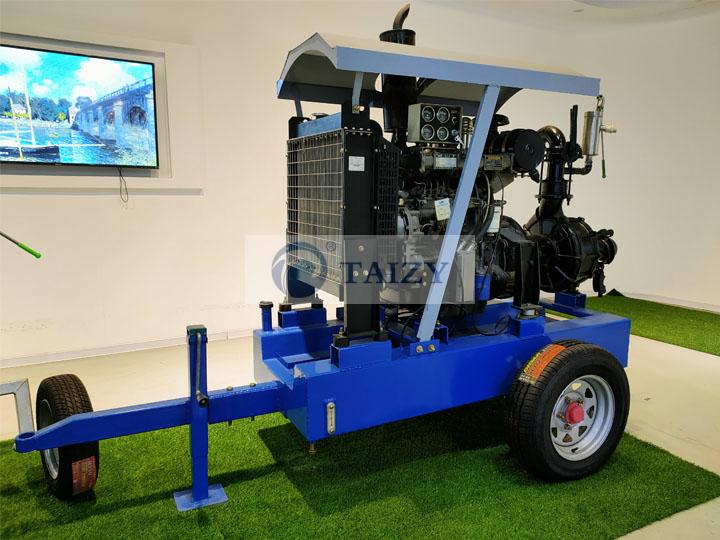 submersible pump series: the submersible pump is a kind of water-lifting equipment in which a vertical motor and a water pump are directly connected. It is completely immersed in water when working, and its working mode is continuously working. The water pump is small in size, light in weight, simple and compact in structure. It is easy to install and use, and has strong adaptability. It is an energy-saving, high-efficiency, and more advanced product with advanced performance indicators. We can also customize the submersible pump for you according to the diameter of your water outlet.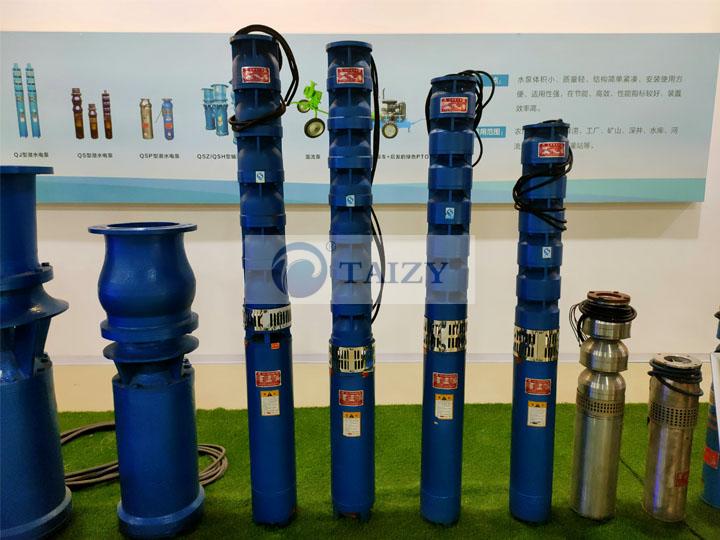 sprinkler valve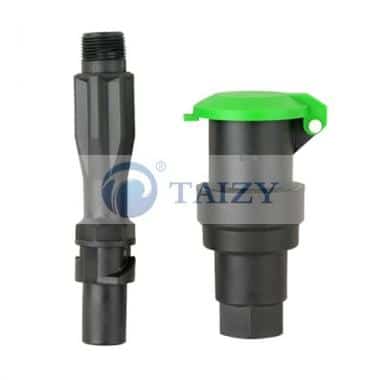 Water-Saving: Sprinkler irrigation can control the amount of water sprayed and the uniformity of irrigation water, and avoid ground runoff and deep leakage losses.
Increase Production: The sprinkler irrigation can use a small irrigation quota for shallow irrigation of crops, which is convenient for strict control of soil moisture to loosen the soil. It will produce many gaps, and have good aeration conditions, and promote nutrient decomposition.
Saving-Labor: The sprinkler irrigation eliminates the water delivery ditches in the field and reduces the growth of weeds. Save a lot of labor in applying chemical fertilizers and pesticides.
The small reel sprinklers are suitable for the irrigation of pastures, farmland, parks, sports fields, urban lawns, and dust removal of factories and mines, and docks.
Supporting Power
The power can choose a submersible electric pump, centrifugal electric pump, diesel water pump unit.
Details Display of Sprinkler Irrigation Machine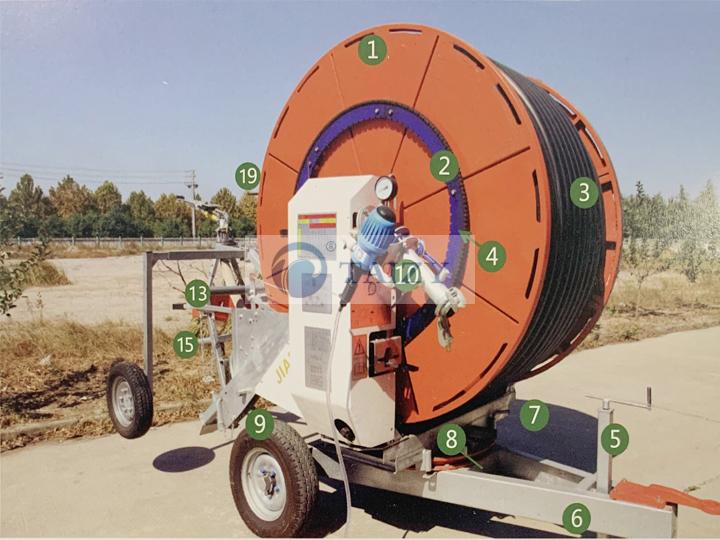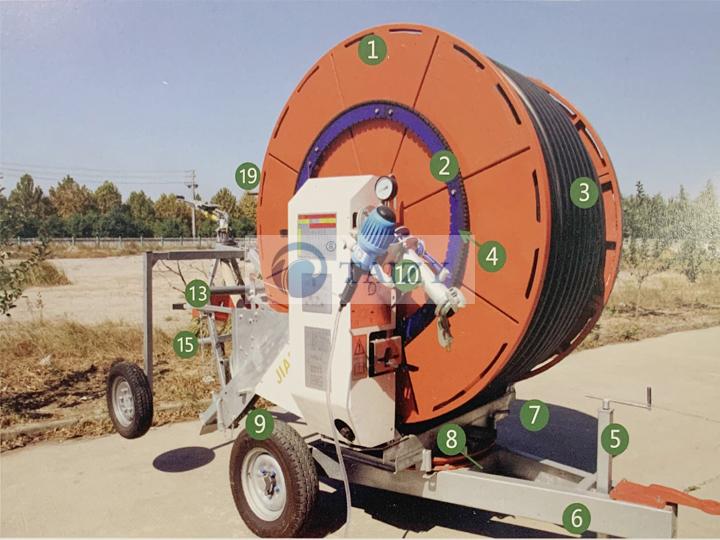 Reel 2. Dental plate 3. PE pipe 4. Reel drive chain 5. Front support 6. Chassis 7. Slewing support positioning pin 8. Slewing support 9. Tire axle 10. Inlet pipe 13. Balance bracket 15. Tow bar 19. Induction rod
What Is the Difference Between Sprinkler Irrigation and Drip Irrigation
Sprinkler irrigation is an irrigation method that uses a pump to pressurize the irrigation water into the air through a sprinkler. Then disperse it into fine droplets. Finally, drop them evenly like rain to supplement the lack of soil moisture.
Sprinkler irrigation has the advantages of water-saving, labor-saving, increased crop yield, strong adaptability to terrain and soil quality, and the ability to maintain water and soil. It is widely used to irrigate crops such as vegetables, lawns, and wheat.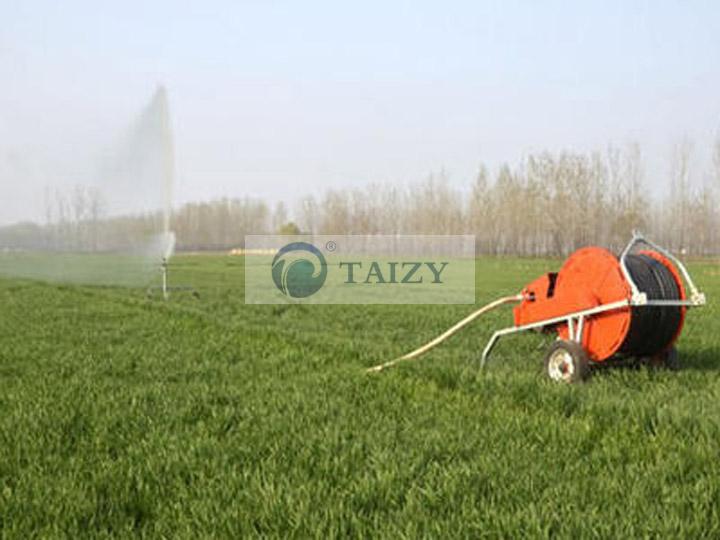 Drip irrigation is the use of plastic pipes to send water to the roots of crops for local irrigation. Drip irrigation is widely used in greenhouses, field crops. Especially suitable for vegetables, fruits, flowers, nurseries, landscaping, and other crops. Drip irrigation is very suitable for greenhouses in areas where water resources and labor are relatively scarce, field crop irrigation, garden fruit tree green irrigation, and other situations.