With the promotion of national policies, the rice grain drying machine market is booming. There are more and more types of grain dryer machine on the market, and the drying characteristics are also diverse. Although it has become increasingly apparent in recent years towards grain purchase and sale system, it still occupies a place in the development of agricultural mechanization.
Compared with mainstream models such as tractors, combine harvesters, and rice transplanters, few people pay attention to the rice grain drying machine.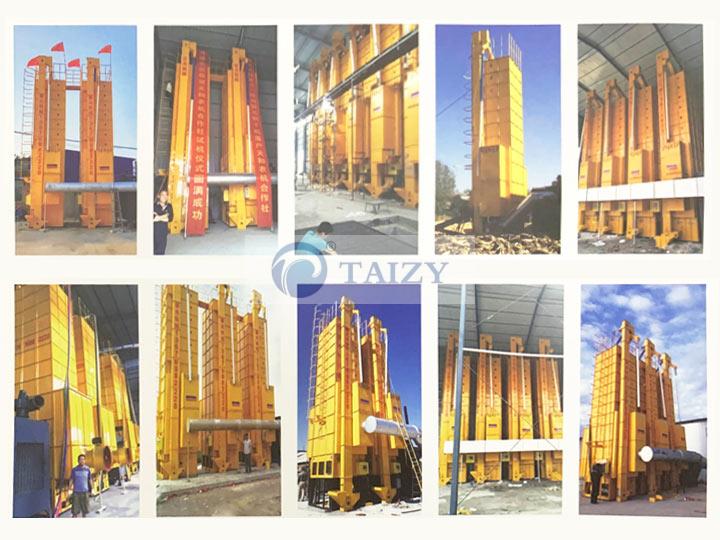 The grain loss is considerable
According to statistics, after grain harvesting, due to the humid climate, the grain become moldy or germinate during storage and transportation. The loss of grain accounts for 5% of the total grain output, which is more than 35 billion kilograms. The economic loss is as high as 30-60 billion yuan.
If calculated based on an annual output of 500 million tons of grain, it is equivalent to a loss of 25 million tons. Generally speaking, each person consumes 0.5 kg of grain per day, and these lost grains can be used for 68,000 people for one year. Therefore, the loss is considerable!
Honestly, there are many problems in the development of rice dryer machine
Food losses are even more severe in abnormal climate. However, food losses post-harvest in developed countries such as Japan and the United States are less than 1%. One of the main reasons is that the level of mechanization is low in China, reaching 10%. however, it reaches 95% in Japan and the United States. In this sense, the modernization of rice grain drying machine is more important than other agricultural mechanization, and it is also an important guarantee for grain processing with high quality.
Natural disasters cause heavy food losses
In recent years, food losses have been severe due to frequent natural disasters. Driven by market demand and promoted by governments at all levels, the promotion of China's grain drying machine technology has developed rapidly. At the same time, grain dryer manufacturers have sprung up everywhere. Compared with foreign countries, China's corn dryer machine market still has some problems, and market competition is becoming increasingly fierce.
Disadvantages of traditional drying techniques
The total amount of advanced and efficientrice grain drying machineis seriously insufficient.
No independent brand enterprise with core leading technology.
Lack of scientific and systematic planning for the development of the drying industry.
Poor corn dryer machine promotion and service system
Low overall level of drying process and technical equipment.
Through continuous efforts and innovation, our grain drying technology has reached the international leading level. The quality of the grain after drying has also been recognized by users. More and more people are buying rice grain drying machine now!