cocoa pod breaker | cocoa pod splitter | cocoa pod opener
cocoa pod breaker | cocoa pod splitter | cocoa pod opener
cocoa pod breaker is grain processing equipment. It mainly used for cutting fresh cocoa pods and screening cocoa beans. Cocoa pod splitter is a newly developed machine. It saves labor costs to a great extent, and also improves work efficiency, and reduces the damage rate of cocoa beans. It was suitable for cocoa plantations and large farms.
What is the composition of cocoa pod breaker?
The cocoa pod splitter is mainly composed of lifting, a cutting machine, a husk, and a cocoa bean screening machine. The lifting and cutting machine is mainly used to cut fresh cocoa pods into two halves. The husk and cocoa bean screening machine is mainly used to separate cocoa pods and cocoa beans through a sieve.
How to use the cocoa pod splitter?
The operation of our cocoa pod opener is very simple and does not require a high technical level. The entire operation process can be completed by only one person.
1.The operator only needs to stand in front of the cocoa pod splitter and put the cocoa beans on the conveyor belt one by one.
2.The whole cocoa beans are transported to the cutting machine through the elevator.
3.The cutting machine uses a cutting knife to divide the cocoa beans into two halves, and the cut cocoa pods enter the cocoa bean screening machine. Cocoa beans and bean pods are separated in the cocoa bean screening machine and flow out through different outlets.
What are the advantages of an automatic cocoa bean splitter machine?
The cocoa pod breaking machine is simple in structure and easy to operate.
The main material is stainless steel and carbon steel, which is easy to clean.
Our automatic cocoa bean separating machine is more efficient than manual pod opening and can separate 98% of cocoa beans.
The unit output of the cocoa pod breaker is large
Compared with breaking cocoa pods manually, the cocoa pod breaker saves labor.
How much is the cocoa pod opener?
Due to the different models of cocoa pod openers, the prices are also different. If you want to know more about the price information, please contact us.
How to choose a cocoa pod splitter
Cocoa pod breaker has two types: large HT-SF800 and small HT-SF400. If you plant a lot of cocoa trees, it is recommended that you choose a large cocoa pod breaker machine. This model of machine can help you complete your work faster. But if your output is not high, then you can choose a small machine. In this way, waste of resources can be avoided and costs can be saved.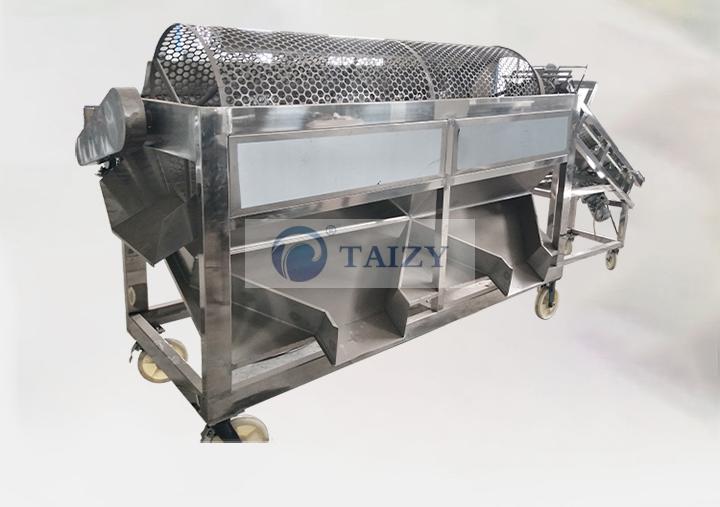 Which countries are exported to?
Our automatic cocoa bean breaker is mainly exported to Central and South America, West Africa, and Southeast Asia, including Egypt, Turkey, United States, Italy, Germany, Philippines, Peru, Pakistan, Mexico, Spain, Kenya, South Korea, UAE, Algeria, Romania, South Africa, Ukraine, Nigeria, Tajikistan, Malaysia, Morocco, etc. These machines bring a lot of convenience to users and are very popular in these countries and regions. A customer also sent us a video of him using the cocoa pod breaker.
Machine Parameters
Model
KKFQ-400 Cocoa beans Extractor
KKFQ-800 Cocoa beans Extractor
Name
Feeding Conveyor and Cutting System
Separating System
Feeding Conveyor and Cutting System
Separating System
Capacity
300-400kg/h
800kg/h
Power
0.75kw
1.1kw
0.75kw
1.1kw
Dimension
1600*600*1900mm
2000*1300*1700mm
1600*600*1600mm
3000*1300*2000mm
Weight
150kg
180kg
150kg
230kg
Material
Stainless Steel
Stainless steel
Stainless Steel
Stainless steel