Fresh corn shelling machine is specially used to separate corn kernels and corn cobs from wet corn ears. And other corn threshers are threshing of sun-dried corn on the cob. Therefore, the fresh corn thresher can handle all kinds of the fresh, sweet, waxy corn and thawed corn. The whole machine is stainless steel, customers can use it with confidence. And the processed corn kernels are clean and hygienic.
The machine is flexible and can handle corn of all sizes. And we can adjust the working depth of the cutter, so it can handle various types of corn. In addition, the machine has mobile casters for easy movement. The threshing rate of this machine can reach 100%. Customers don't have to worry about the corn kernels being unclean. In addition, we also have a special dry corn thresher and a multi-functional thresher, which can help people improve work efficiency in threshing.
Detailed information on the fresh corn thresher order
Our customer is from the United States and he sent us an inquiry for a fresh corn thresher after browsing our website. We communicate with customers through his mailbox. Our sales manager first sends the detailed parameters and price of the machine to the customer. And ask the customer where the destination port is. The customer needs to ship the machine to Oakland, California port.
The customer has not imported anything from China but he has a customs broker. After communication, the customer finally decided that he needed a fresh corn thresher with a conveyor belt and a set of knives.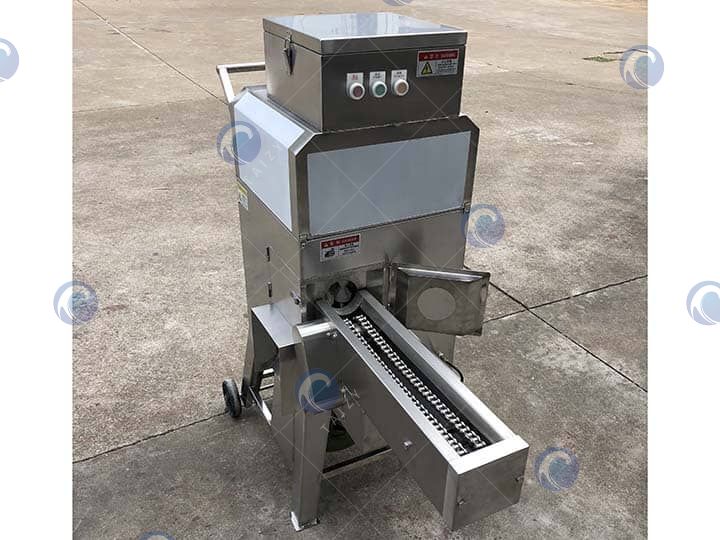 What issues do customers care more about the sweet corn sheller?
1. How long does it take for the machine to be transported to the Oakland, California port?
The transportation is about 20 days. The time is different for different destinations.
2. Can the spare parts be purchased directly from us?
Our spare parts are knives that customers can buy directly from us.
3. What is the shipping time if only parts are purchased?
10 days by air. Time is different according to the location.
Technical of the fresh corn shelling machine
| | |
| --- | --- |
| Model | HYMZ-368 |
| Voltage | 220V 1 phase |
| Motor | 1HP+1/2HP+1/4HP |
| Production | 600kg/h(seeds only) |
| Input Conveyer Size | 690*260*380mm |
| Machine Size | 1320*620*1250mm |
| Machine Weight | 100KG |
fresh corn shelling machine's parameter
Structure of the sweet corn threshing machine equipment
The fresh corn shelling machine mainly includes a conveyor belt (customers can choose), a feeding mechanism, a separation mechanism for kernels and core rods, and a core rod exporter, electrical controls, and blowers.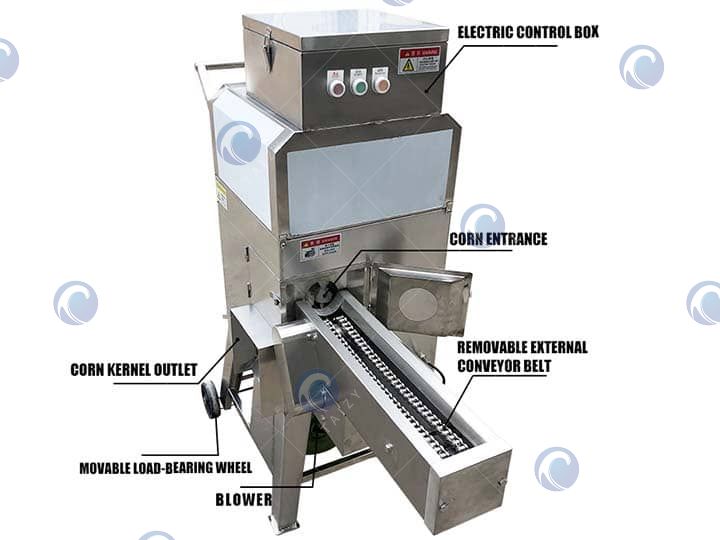 How does the sweet maize sheller work?
Application scope of fresh corn thresher
This fresh corn thresher is suitable for processing wet, fresh corn cobs, as well as corn cobs of different sizes. And it is common in the central kitchens, canned corn kernels, quick-frozen corn syrup, corn kernel factories, dry food processing, agricultural and sideline products processing, and other factories and enterprises. It is not only suitable for large-scale production in factories with assembly lines, but also for processing in family workshops.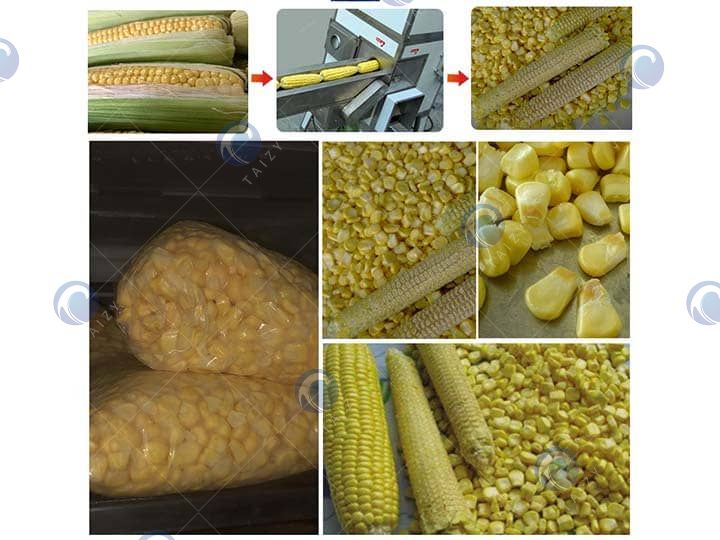 What are the important parts of a fresh corn thresher?
The blades and feed rollers of the fresh corn thresher are important parts of the machine. Both components have a long service life. However, customers can choose to purchase an additional set of spares.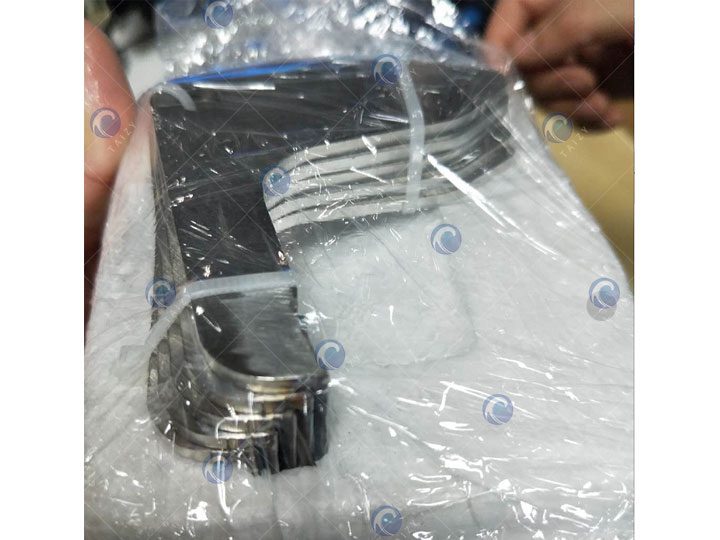 Packaging and delivery pictures of the fresh corn shelling machine
Below is the package delivery pictures of our fresh corn thresher.