Corn thresher machine/corn sheller | Maize Peeler and Thresher
Corn thresher machine/corn sheller | Maize Peeler and Thresher
Brief introduction of corn sheller
Corn thresher refers to a mechanical device for threshing corn. The corn thresher has the characteristics of high automation, strong safety, simple operation, and low energy consumption.
The inner part of the corn sheller is an up-down structure, and the corn cob firstly is peeled and then threshed. Cylindroid hammer is an important part to make cob and kernel keep unbreakable. With reasonable design and high capacity, this maize sheller really is a useful tool for farmers, and it is suitable for home or industrial use, greatly boosting working efficiency.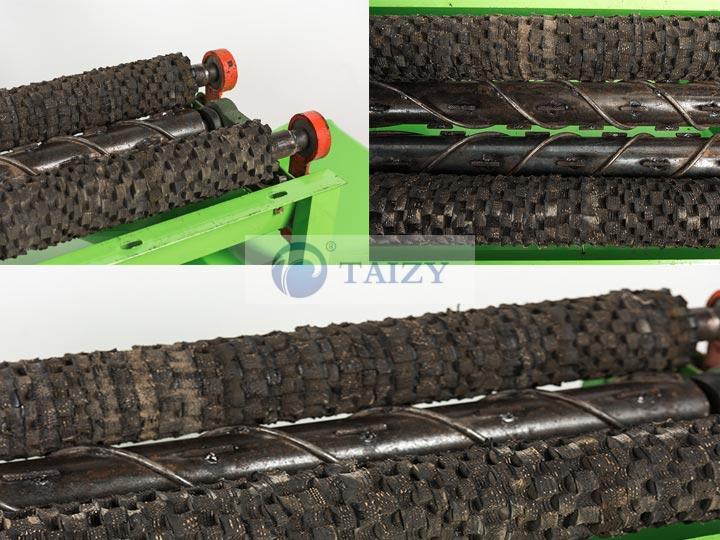 The Working Video of Corn thresher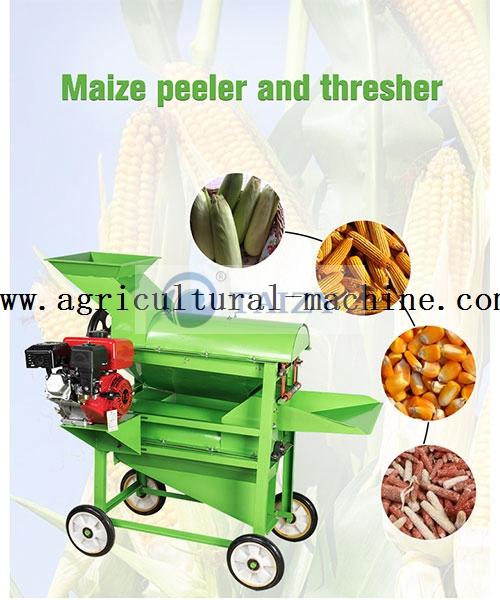 Matched Power of corn sheller
In order to meet customer's different requirements, our maize thresher can be driven by a 2.2KW motor, 170F gasoline engine, or 8 HP diesel engine.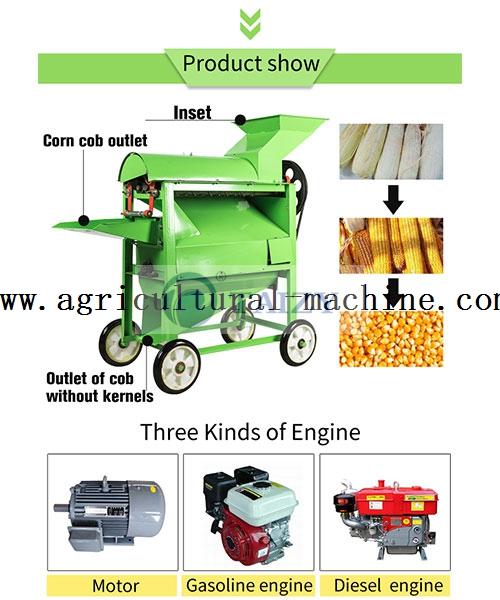 Advantages of corn thresher
The suction fan can absorb the impurities from cobs, such as corn silk, corn skin, dust, etc.
On the account of four wheels, the corn shelling machine is easy to install and move during operation, and the working place of the corn thresher is not restricted.
Corn thresher has two functions, one is removing the corn peel, the other is thresher corn, which greatly saves labor time, and money compared with the single function machine.
High efficiency is the most prominent feature of it, can get 1-1.5t corn kernels per hour. Because the peel function and thresher function can be performed simultaneously. The most important is the threshing rate reaches 97%, which means almost all kernels can keep intact.
Low broken rate. It is less than 3%.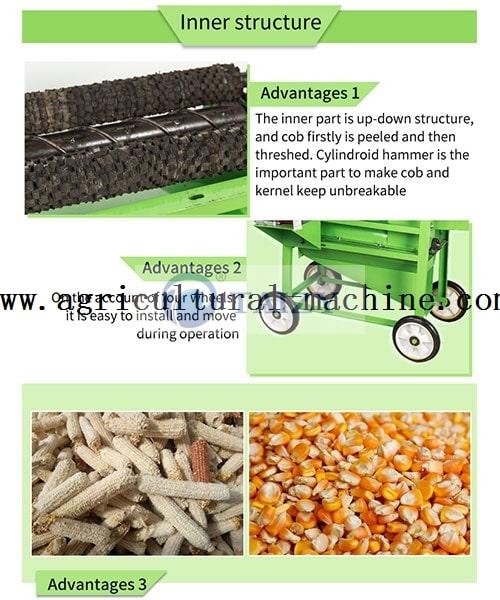 Technical parameter of corn sheller
| | |
| --- | --- |
| Model | SL-AB2 |
| Power | 2.2kw |
| Capacity | 1-1.5t/h |
| Weight | 110kg |
| Size | 1050*500*1300mm |
A successful case of corn sheller
We Have sold numerous containers of corn thresher machines abroad, such as machines to Pakistan especially the African market,(Nigeria, Ghana, Kenya, Morocco, etc). This corn threshing machine is highly favored by all of our customers, that is why it is the hottest sale in our factory. Recently, we have delivered 1500 sets of corn peeler to Zimbabwe as government procurement, which cost us one month to finish this order and packed them carefully to ensure safe delivery.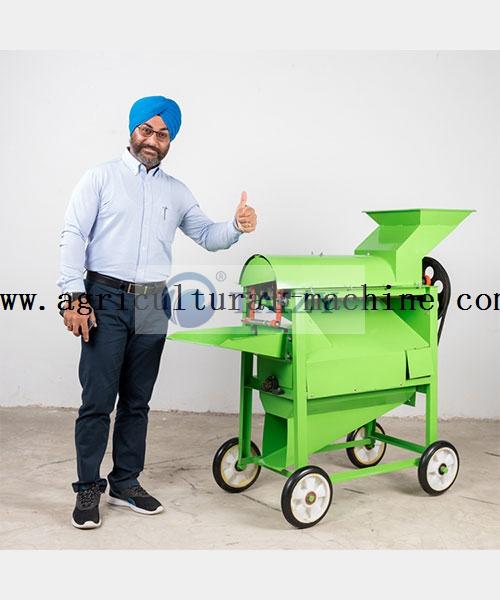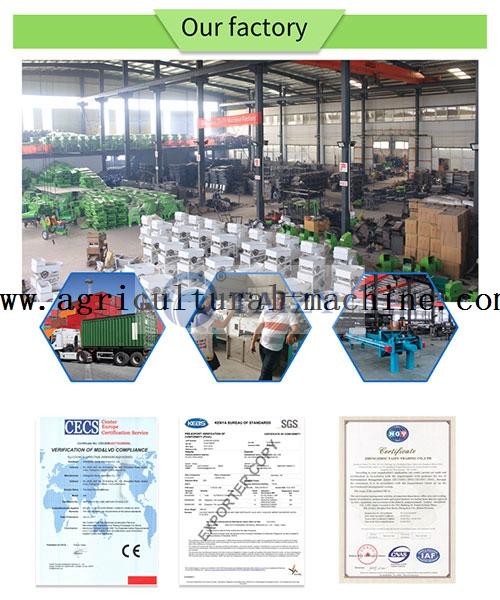 FAQ of corn sheller
What is the inner structure of the maize thresher machine?
This is an up-down structure thresher, which means the machine firstly peels its skin and then thresh corn.
What is the capacity of this corn sheller?
Its capacity is 1-1.5t/h
What are the vulnerable spare parts? Do I need to buy them when I order one machine from you?
Two rollers inside the machine are vulnerable and need to be changed annually. It is better to buy an extra one.
Can corn skin be fully removed?
Yes, it can be fully removed and blown out by a draught fan.
What is the threshing rate?
The threshing rate can reach 98% and corn kernels are very clean after threshing.
Are there broken corn kernels after threshing?
Two rollers made of special material play an important role in threshing, and its cylinder structure is able to minimize the broken rate. Thus, the broken rate is less than 3%.
Is this corn thresher machine only fit for corn?
Yes, it is the machine that can only be used for corn or maize, but we also have other multifunctional threshers to thresh different crops. Welcome to contact us to know more.
Why buying corn thresher from us
We are a manufacturer specializing in agricultural machinery. In addition to
corn threshers
, we also have corn planters, seedling machines, transplanters, peanut shelling machines, grain grinders, grass cutters, etc. At present, much African government's poverty alleviation projects have cooperated with us and purchased a large number of agricultural machinery from us.