Why to choose Taizy maize harvester machine? I will list some of the advantages of our machine.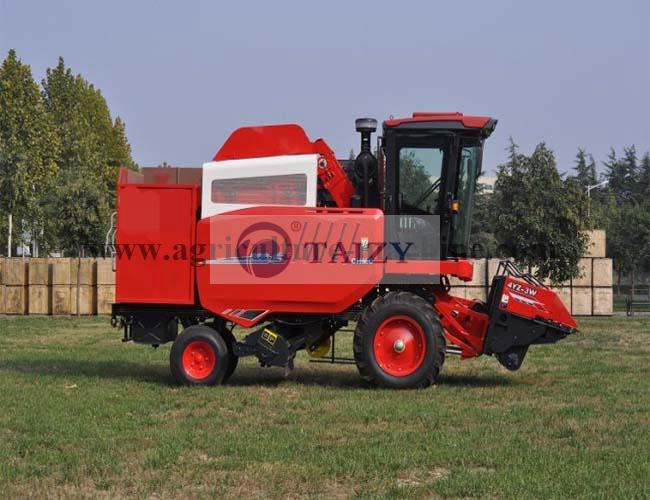 Suitable for harvesting corn in small fields
In order to meet the requirements of harvesting corn in a relatively small area, the design of our self-propelled maize harvester machine is more compact. Its cutting head can adapt to various line spacing requirements, and it can work horizontally in the field. In addition, it uses double spiral rollers, which do not entangle and block, greatly improving the harvesting efficiency.
Taizy maize harvester machine can crush the corn straw and return them into the field
In order to achieve a better effect of returning crushed straw to the field, our corn harvester is equipped with a hob-type front grinder that can deeply crush the straw. The cornfield harvested by this corn harvesting machine has low stubble and high stalk crushing rate and can be used for the next planting after simple land readjustment.
Great peeling rate
The peeling parts uses 16 rollers and is equipped with a pressure feeding device. Combined with flexible peeling technology, the peeling efficiency is higher and the corn kernel loss is low. The kernel container can quickly unload the corn. The elevator is more reliable and durable.
Safe driving system
In terms of driving, the Taizi self-propelled maize harvester machine is equipped with an electronic visual monitoring system in the corn container, peeler part and rear of machine. This system can directly observe the working details with clearer vision and safer operation. The elevator and peeling part match with alarm devices, which can transmit fault information at the first time.
Low impurity rate and high cleanliness rate
Taizy harvesting machine adds the exhaust fan at the end of the conveyor, which enables the lower impurity rate and high cleanliness. What' more, the volume of corn containers is around 3.8m3, and it has a corn husk throwing device to effectively improve the utilization rate of the container. The vibrating sieve can screen the impurities effectively, reducing corn grain loss. The whole corn harvesting machine has stable performance and can work for 24 hours.
Corn harvester adopts dual power output design with reasonable power distribution and simple transmission. The engine has a light load, which saves power and lowers fuel consumption. Gear shifting is more flexible with higher reliability. The use of high-quality tires with a strength index of 14 levels effectively increases the carrying capacity.
The engine adopts a sealed cabin design to reduce the corn crush blades from falling on the engine, and the engine has good fire resistance.  Cornhusk elevator adopts a 38-pitch chain, which has the strong conveying capacity and high reliability.
Last but not least, if you also need a high-quality corn sheller machine, please contact us