Corn is an important food crop and fodder crop. Among the agricultural crops, corn is the crop with the highest total yield. Its planting area and total output are second only to rice and wheat. It is rich in protein, fat, vitamins, trace elements, cellulose, etc., and has great potential for developing high-nutrient, high-biological functional foods. Eating more corn grits is good for human health. There is no grade for cornmeal, only thickness. Now there are more and more processed corn products on the market, such as corn grits, cornflour, and corn flakes. For corn processing equipment, corn grits making machines are generally widely used.
The Corn Grits Machine's Processing Process
The clean raw corn is fed into the feed inlet, and processed for peeling, degerming, and black star removal. The corn kernels after peeling are then crushed and the crushed mixture is classified into three types of finished products, medium grits. , small grits, and cornflour.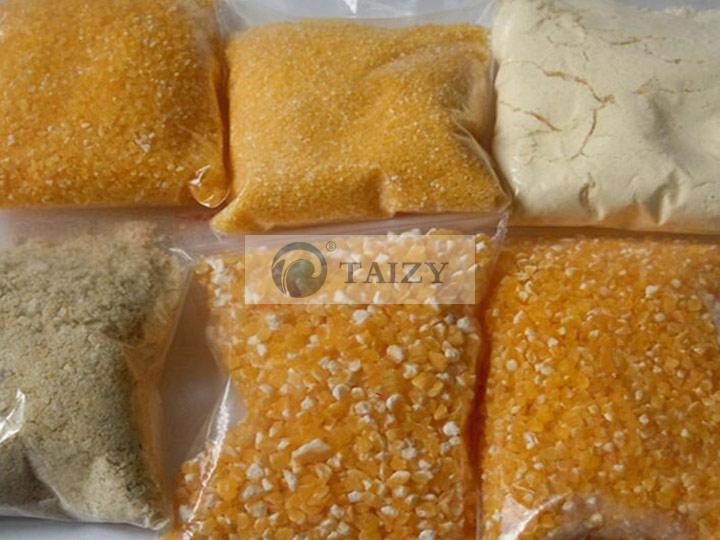 1. Operating points
Cleanup→screen out impurities such as nails, sand and gravel, straw, and dander in the corn.
peeling, and removing the black stem
After the corn peel is removed, the black germ is removed. The net corn enters the crushing mill, and the obtained endosperm can be used to make corn oil, and the peel can be used as feed.
Crushing and Grinding
The pretreated clean corn will be crushed and ground. This machine can make corn grits with different particle sizes by replacing the screen. Such as corn grits, mini corn grits, cornflour.
Discharge
There is a handle on the machine to adjust the number of corn grits of different levels.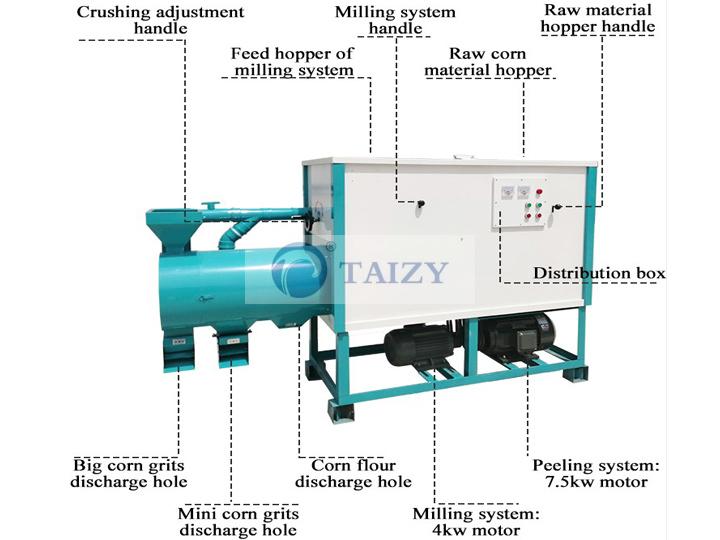 The corn grits grinding machine is a combined corn grits processing equipment consisting of four parts: a peeling system, a crushing system, a grading system, and a wind net dust removal system. The corn flour grinding machine integrates grinding flour, crushing, and fodder processing machines in one. The structure of the corn grits making machine is very simple, compact, and light, which solves the problems of stuffiness and slow removal of impurities in the corn peeling grits grinding machine. It reduces mechanical wear and increases machine life so that the machine is always in the best working condition.
The Advantages of Corn Flour Grinding Machine
It is very convenient to get corn flour after pouring the corn kernels, and the particle size of the cornflour can be controlled through a screen, which is very convenient. The advantages of corn grinding mill machine
For farmers, this corn peeling and grits making machines have low investment, low consumption, high efficiency, convenient and flexible use, multiple functions, and mobile production. It is very convenient and has large and small models. It is suitable for rural individuals and small-scale grain and feed processing, breeding operations, etc. We know that the traditional way of corn grit machine is to use the stone mill, not to mention laborious, the milling time is long, and it takes a little bit of effort to grind grits out.