Brief introduction of peanut harvester
Our two row groundnut harvesting machine can be operated flexibly in the field with 20-35 hp tractor, picking fruit with high capacity,1300-200m2/h. Its breakage rate is less than 1%,and great picking rate (98%) saves labor time and energy. Row spacing is adjustable(within 180-250mm). This harvester is easy to operate and is a bests tool for farmers to reap peanuts.
Main Structure of peanut harvester
Peanut harvester is mainly made of a frame, power, transmission part, pick-off part, fan selection part, and a vibration device, ground wheel, digging blade, roller chain, collecting screen etc .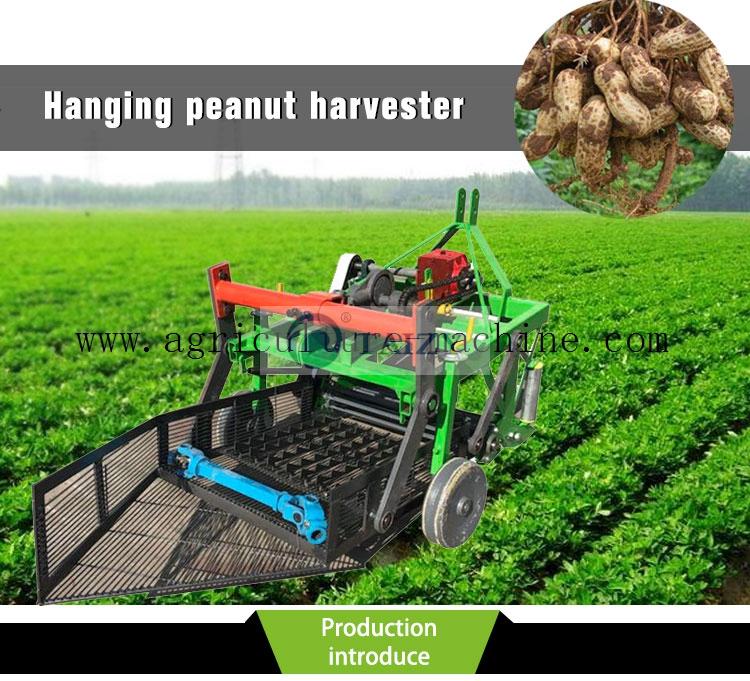 Technical parameter of peanut harvester
| | |
| --- | --- |
| Model | HS-800 |
| Capacity | 1300-2000 square meter/h |
| Picking rate | ≥98% |
| Breaking Rate | ≤1% |
| Cleaning Rate | ≥95% |
| Weight | 280kg |
| House power | 30HP |
| Harvester width | two rows |
| Distance between rows | 750-850mm |
| Row spacing | 180-250mm |
| Dimension | 2100*1050*1030mm |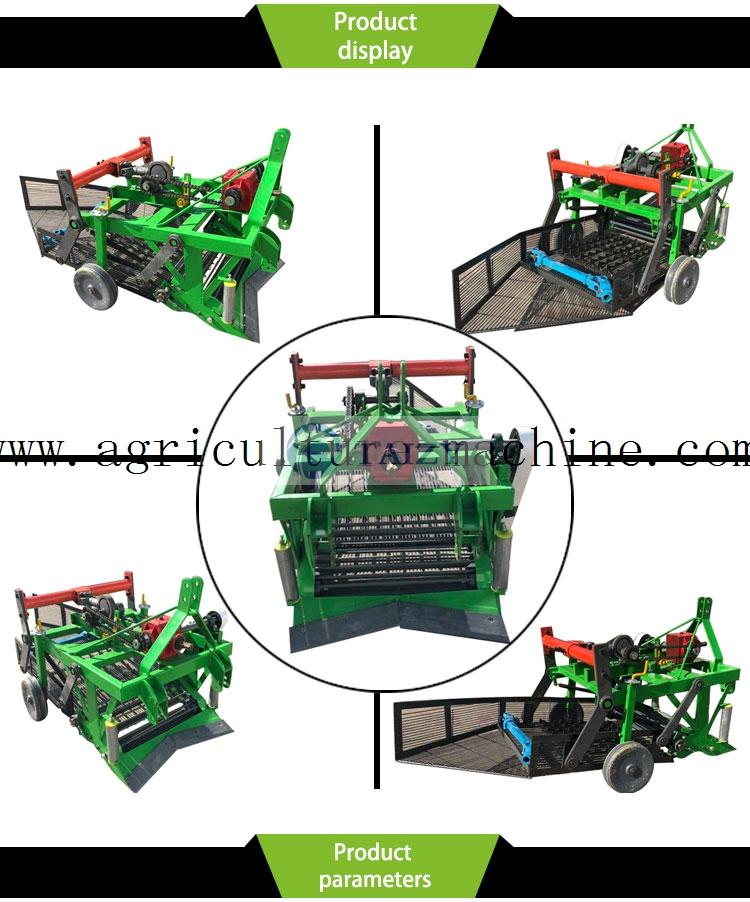 1.Machine's body is waggling during operation.
Reason:First, the digging shovel swings inconsistently or collides hard objects such as stone.
Solution:adjust the swing angle of digging shovel
2.Harvested peanuts contain much dirt and are not shaken off.
Reason:digging depth is so deep that swing strength is reduced.
Solution:adjust the length of central rod. Properly shorten the length of the central tie and keep it within 3-5 cm away from the ground
3. Peanut fruit falls in the ground and needs to be picked up by hand again.
Reason:shovel is lifted excessively
Solution: the length of the central tie rod can be extended.
Advantages of peanut harvester
1.Peanut seedling are conveyed to the back outlet quickly after harvesting by roller chain,which prevents them from sinking into soil.
2.There are no any impurities after harvesting because the vibrating screen plays essential role to collect peanuts and can make the product more cleaner
3.Groundnut harvester can be operated flexibly 3.even in the field with much water.
4.Shoveling soil at a specific angle,it can fully harvest fruits by sharp blades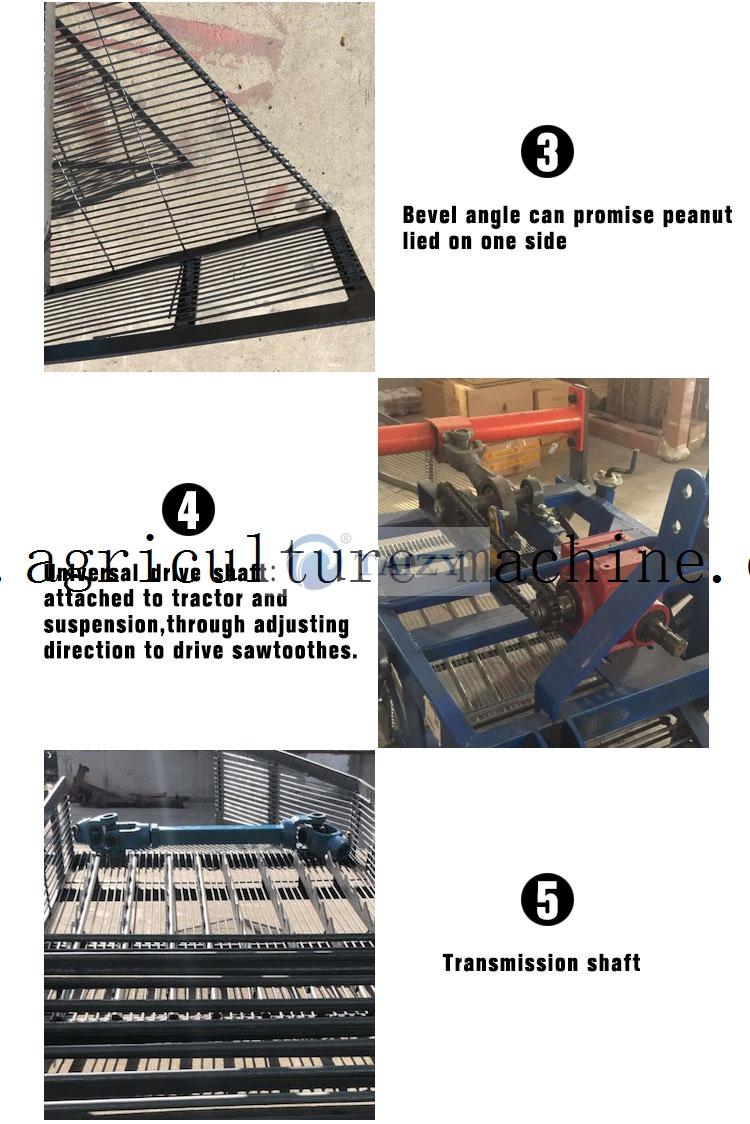 Working Principle of peanut harvester
1.Operator connect groundnut harvesting machine with tractor firstly.
2.Carefully read the operation manual before using
3.Digging shovel of peanut harvester with sharp blade shovels soil at a certain angle
4.Peanut seedlings are reaped from soil,and then placed over the two sides of machine.
5.Seedlings are delivered to back position by roll chain and roller can protect peanut plant from sinking into the soil and make it easy to dig.
FAQ
1.Are you manufacturer?
Yes, we are. Welcome to visit our factory.
2.Can you change the machine voltage as our request?
Yes, we can.
3.How about your after-sales service?
Our engineer can go to install and train your workers to operate
4.Warranty time of your machine?
1 year except for consumable spare parts.
5.How about delivery time of your machine?
Generally it needs 5-15 days for big machines or producing line,and it will be much longer but within our negotiated delivery time.