What is Maize Flour Making Machine Price
maize flour making machine price is different because their model.
The automatic maize grits making machine is now the most popular star product at home and abroad. Because of its simple structure, small size, small footprint, easy operation, movement, and maintenance, the maize grits making machine is very suitable for farmers to invest in and is a good project.
Before we know the price of the maize grits making machine, let's take a comprehensive look at the functions of the corn grits milling machine.
Function One
The clean raw corn is fed into the feed inlet and processed for peeling, degerming, and black star removal. The corn is peeled into corn kernels at one time and then crushed into corn chopped, corn grits, and cornflour.
Corn peeling precision adjustment
The precision of the corn kernels after peeling is determined by the pressure spring of the resistance mechanism, and the spring pressure can be adjusted by the handwheel at the end of the spring. The user can adjust the handwheel at the end of the spring according to the actual situation to reduce or increase the outlet pressure so that the dehulled corn kernels can meet the required precision and yield requirements. When using the peeling machine, pay attention to adjusting the position of the air volume adjustment handle on the right side of the corn kernel bucket to control the air setting. If the wind is too strong, the corn kernels will be sucked into the bran. If the wind is too weak, the finished corn kernels will contain the bran, which can be adjusted according to the actual situation during use to separate the bran completely.
Impurity Removal
The corn grits machine has a built-in high-efficiency suction chamber to remove the skin impurities during the peeling process. At the same time, the corn grits in the grits flour milling section are further cleaned up and the corn grits are further cleaned. At the same time, the full-dry processing technology adopts dry peeling, The product does not touch water, and the processing process is more hygienic than wet peeling.
Function two
It is the best equipment for corn finishing. It can also process rice, wheat, sorghum, rice, and other miscellaneous grains. It saves labor and time. The finished corn kernels are smooth in color, clean without umbilicals, and high in yield. The most advanced corn grain deep processing machinery.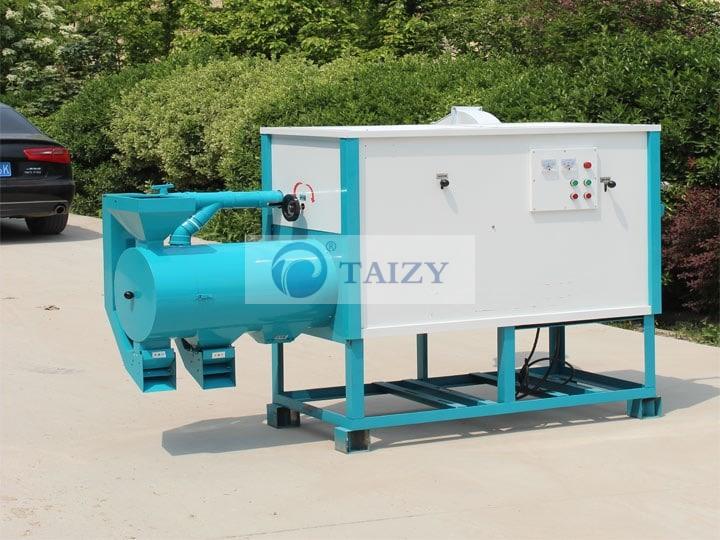 So What Is the Price Corn Grinding Mill Machine?
We have four different models of corn grits milling machine. They are C2, PH, T1, T3, so the price will be different. If you are interested in this corn grits milling machine or want to buy it, please contact us directly, we will give you an accurate quotation according to your needs.