4-15t/h grass cutting machine / cutting wet grass / grass cutter
4-15t/h grass cutting machine / cutting wet grass / grass cutter
9RSZ series of grass cutting machine is to cut all kinds od grass, and bears high working efficiency, that is, 4t-15t/h, and different models have different capacities. Grass cutter is able to crush grasses into filiform shape, which can improve the digestion of stomach when feeding animals.
type one: 4t/h chaff cutter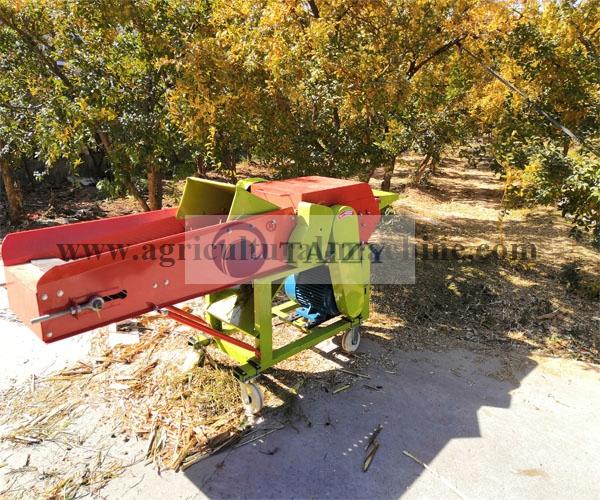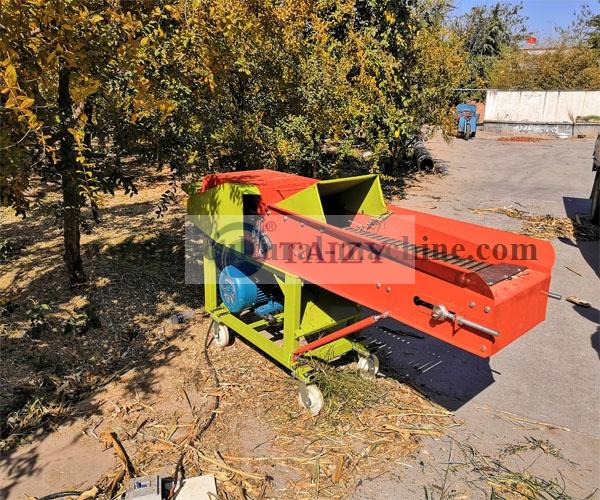 Structure of grass cutting
1.Discharge outlet 2. body 3. Rotor 4. Feeding and shredding device 5. Geared motor 6. Feeding slot 7. Rack 8. Protective cover 9. Rotor motor 10. Walking wheel
Technical parameter of grass cutter
| | | | | |
| --- | --- | --- | --- | --- |
| Model | 9RSZ-4 | 9RSZ-6 | 9RSZ-10 | 9RSZ-15 |
| Power | 7.5KW | 15+2.2KW | 22+3KW | 30+5.5KW |
| Speed of main shaft | 2860r/min | 2860r/min | 2860r/min | 2100r/min |
| Capacity | 4t/h | 6t/h | 10t/h | 15t/h |
| Blades quantity | 32PCS | 40PCS | 48PCS | 64PCS |
| Width of feeding tray | 240mm | 300mm | 500mm | 800mm |
| Throwing distance | More than 2300mm | More than 2300mm | More than 2300mm | More than 2300mm |
| Dimension | 2000*750*800mm | 3000*900*1050mm | 3600*930*1240mm | 4200*1170*1250mm |
| Weight | 300kg | 980kg | 1100kg | 1400kg |
type two: 6t/h chaff cutting machine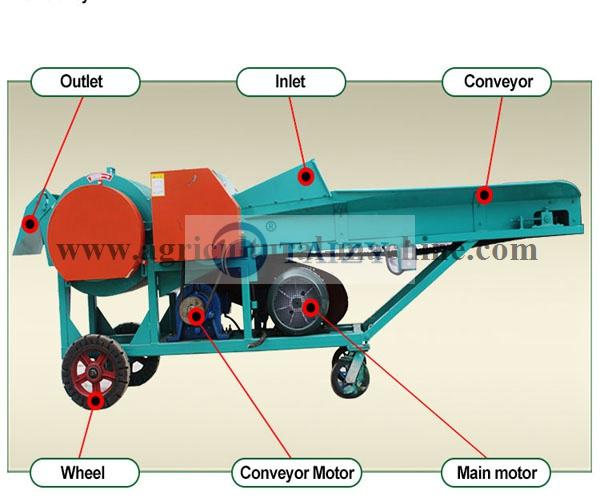 Working principle of grass cutter
1. Turn on the rotor motor.
2. Turn on automatic geared motor to drive the automatic feeding device after the operation is stable.
3. The operator evenly spreads the straw on the automatic feeding plate and the inlet gradually, and raw material goes into the drum from cutting device at a high speed.
4. Blades hit, tear, and smash them into a filament shape at this time.
5. Finally, grass is thrown out of the machine by centrifugal force.
type three 10t/h 16t/h chaff cutter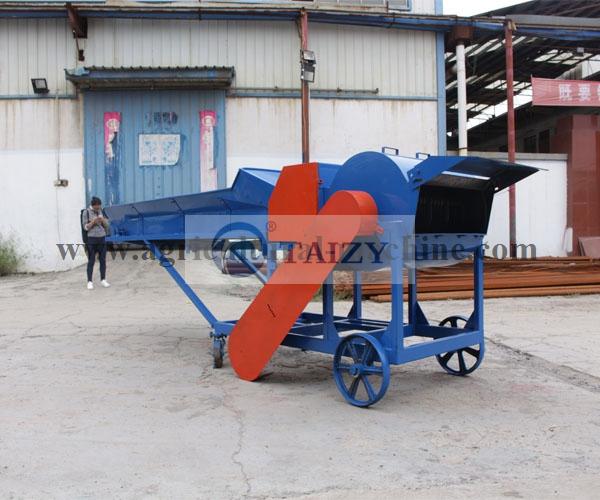 Advantage of grass cutter
Cutting grass machine adopts chain automatic feeding device that is suitable for forage with long diameter, saving labor time
Double-pushing roller suction and cutting device to enable the good cutting effect without any blockage, improving working
Cutting grass machine is equipped with a detachable walking wheel for easy movement.
common malfunction
Reason
Solution
raw material is blocked or

Overload shutdown

Put excessive grass or place them unevenly
1.take out the grass

2.reduce the amount of grass

3. Put grass into inlet evenly

Abnormal sound in the crushing part

Abnormal sound in crushing part

screw is loose
 tighten the bolt
metal or stone is in the machine
 stop grass cutting machine to clean the hard objects

Stop machine to clean the hard object

 spare parts fall off or have been damaged
Stop machine to check machine and replace spare parts
Cotter is broken and hammer is moving
Change the cotter
violent shake  of machine

 The hammer is installed incorrectly
Reinstall according to the arrangement
The weight deviation of the two sets of hammers is excessive
weight deviation of the two sets of hammers does not exceed 5g.
Individual hammers are not locked
making the hammers flexible
some rotors are unbalanced or worn out
 Balance other spare parts or replace

Spindle has been bent
Straightening spindle or replacing

Bearing is damaged
 Replace the bearing
anchor bolts
tighten anchor bolts

The split pin is damaged and the hammer is axially moved
 Replace the split pin.

Machine is inflexible

 Rotating parts entangled grass
stop grass cuttin to clean
Bearing  is damaged
 Replace the bearing

 Lack of lubricating oil
Add  lubricating oil on time
Outlet is blocked
V-belt is damaged or loosed
replace or tension the V-belt

 crushing part is blocked
remove the impurity

Bad crushing effect

 hammer and crushing device are damaged
Replace hammer and crushing device
Low spindle speed
Properly adjust the tension of the V-belt
 Bearing is overheating
bearing is damage
replace bearing
Too much or too little lubricating oil
add proper lubricating oil
V belt is too tight
Properly adjust the tension of the V-belt

Adjust V-belt to a proper tension

Spindle is bending or rotor is imbalance
Straighten or replace the spindle, balance the rotor
 Long-term overload work
 Reduce  the amount of grass
V-belt is overheating
Improper tightness of the V-belt
Properly adjust the tension of V-belt
The belt pulley groove is worn or the surface is rough
 Check and change belt pulley
The main pulley and the power pulley axis are not parallel, and the belt groove is not aligned.

The main pulley and the power pulley axis are parallel, and the belt groove is aligned.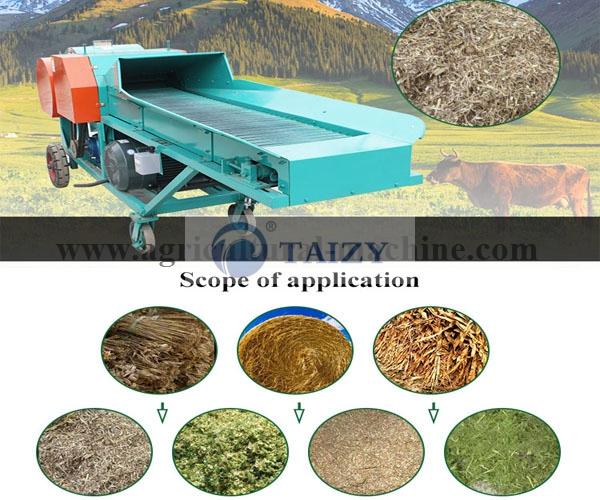 List of major parts and consumable parts of grass cutter
Number
Name
Function
Quality Assurance Period
1
bearing
Tension chain wheel
3 month
2
bearing
conveyor
3
bearing
 upper roller
4
bearing
Under roller
5
bearing
spindle
6
roller chain
inlet
7
conveyor roller chain
inlet
8
V-belt
rotor
1 month
9
V-belt
Inlet
10
reverse switch
inlet
3 month
11
electrical cabinet
    electrical control

12
hammer
1 week
13
 hammer shaft
1 month
14
Cutting part
15
sliding sleeve of upper roller
FAQ of grass cutter
What should I do if there is blocking?
The reverse switch can be pulled to "stop", then pulled to the "reverse".It is strictly forbidden to remove the blocked straw by hand without stopping the machine.
How to increase the gap of the roller?
First, loosen the center screw on the upper platen of the machine, adjust the sliding plate and sliding block clockwise.
Second, adjust the bolt on both sides counterclockwise to the appropriate position. The gap between the two rollers should be Horizontally the same, and the upper and down roller is flexible.
Finally, tighten the bolt on the center screw.
Adverse action will decrease the gap.