Harvesting rice wheat machine | Reaper binder
Brief introduction of harvesting rice machine
How to harvest rice? In the past time, most people harvest rice by hand, which wastes time and energy. Now, our new design rice harvesting machine, with 1300-200m2/h capacity, is popular among farmers. When working, it only needs one person to operate machine to move forward and machine cut rice with high speed.
Technical parameter of harvesting rice machine
| | |
| --- | --- |
| Model | 4GK90  Reaper binder |
| Cutting Width(mm) | 900 |
| Mini Cutting Height(mm) | ≥50 |
| Placing Type | Side direction & banded placed |
| Productivity(m2/h) | 1300-2000 |
| Matched Power | 8hp water cooling diesel engine |
| Net Weight(kg) | 262 |
| Gross Weight(kg) | 302 |
| Packing Size(L*W*H) | 1.4*1.4*0.8m |
| 20 GP | 16 sets |
| 40GP | 34 sets |
The structure of harvesting rice machine
Wheat harvesting machine mainly consists of engine, stalks conveying device, power transmission system, walking device, cutting unit and binding unit.
Working principle of harvesting rice machine
When wheat reaper works, first the stalks are separated by divider and cut off by cutter. Then under the help of conveying chain and spring guide, the cut stalks are transported to the binding device. After binding into bundles, the bundles will be released and thrown on the right of moving direction, thus the machine finishes the reaping and binding process.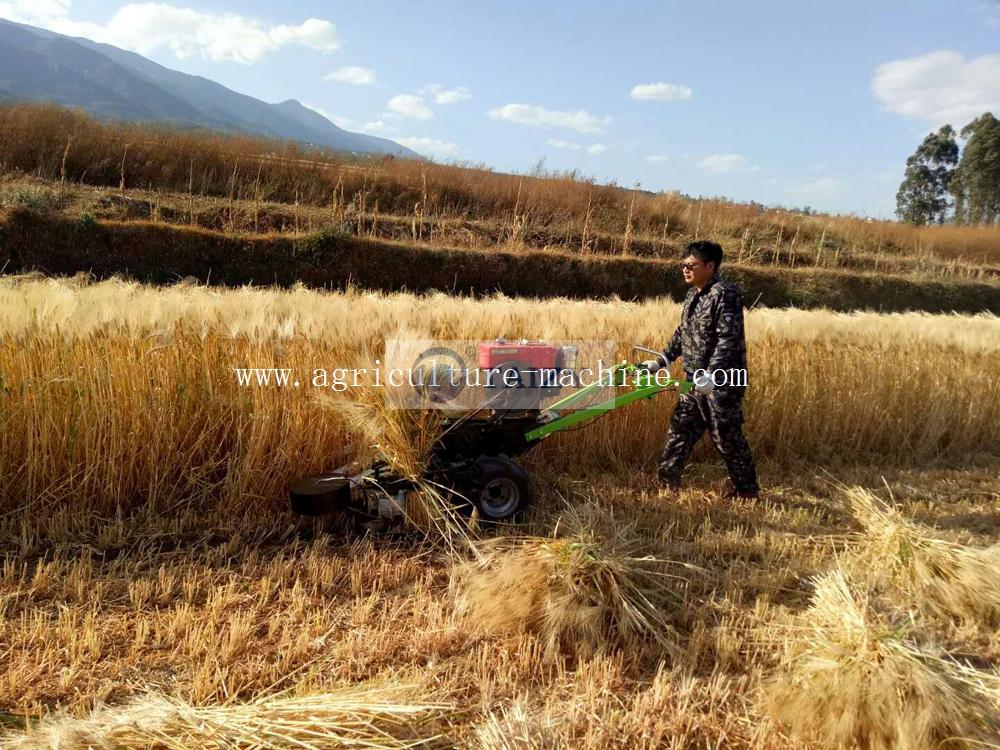 Advantages of harvesting rice machine
Cutting and binding are completed at the same time, reducing heavy manual work and working time.
Adjustable handle: Up and down 90°, around 360°. More flexible adapt to different environment.
Height of stubble and bundling size can be adjusted.
Wheat reaper binder Pakistan is equipped with differential turning system, flexible to operate.
Low stubble height is convenient for the future management of fields.
Compact structure, light weight and reliable performance makewheat harvestereasy to control.
Thiswheat and rice reaperis hand-held and self-propelled machine and it is convenient to move. Most important, the rice reaper has stable performance and strong applicability.
Shaft drive system guarantees stable and safe work.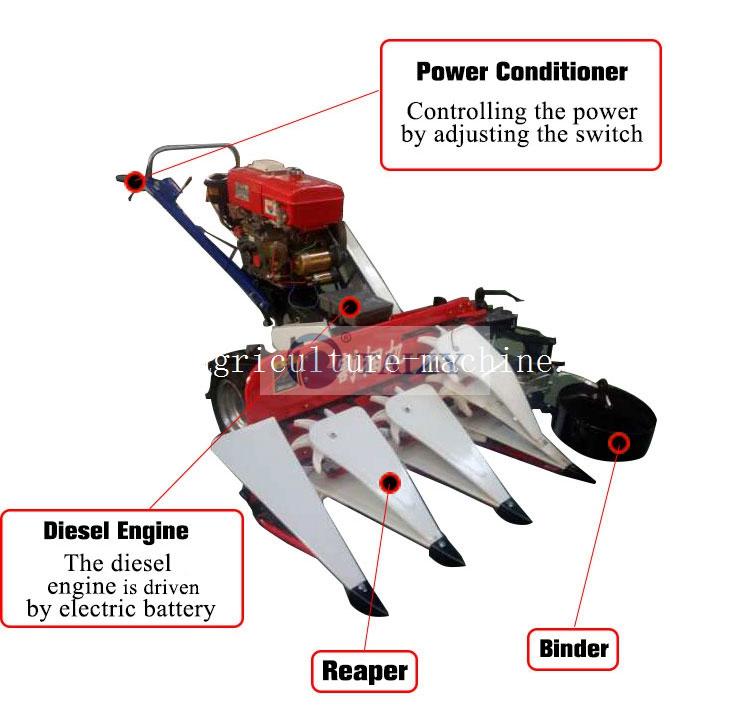 Maintenance of harvesting rice machine
The user should clean the residual weeds.
Check if the fastening piece and connecting piece loosen.
Add lube timely in the engineand bundling device.
Check if the control parts are flexible and reliable.
Successful case of harvesting rice machine
We sold 100 sets rice harvesting machines to Pakistan in 2018, and it is just the first cooperation between our customer and us. Why does he trust us? I believe, professional skills toward products, sincere attitude and perfect after-sale service all are important factors.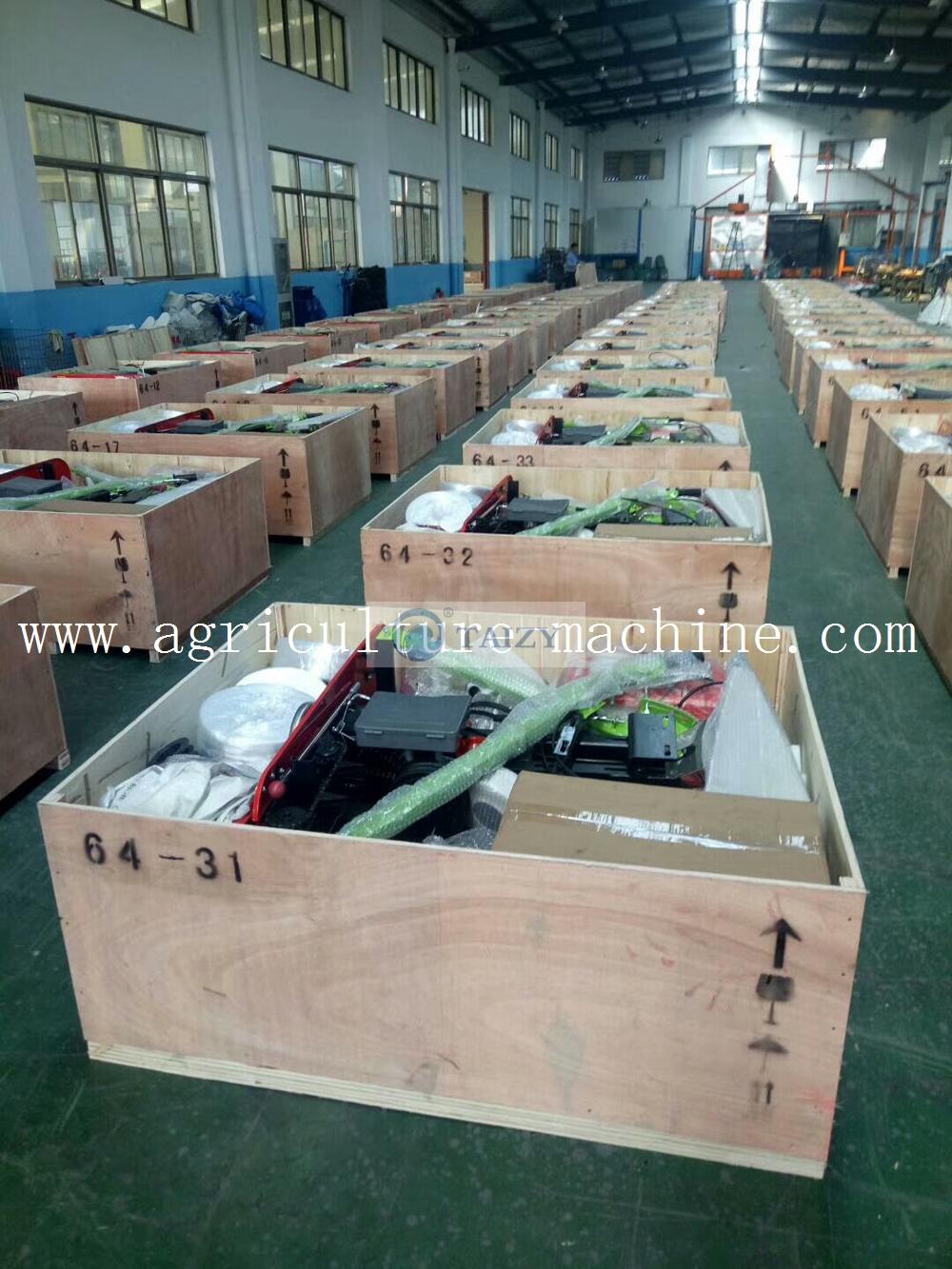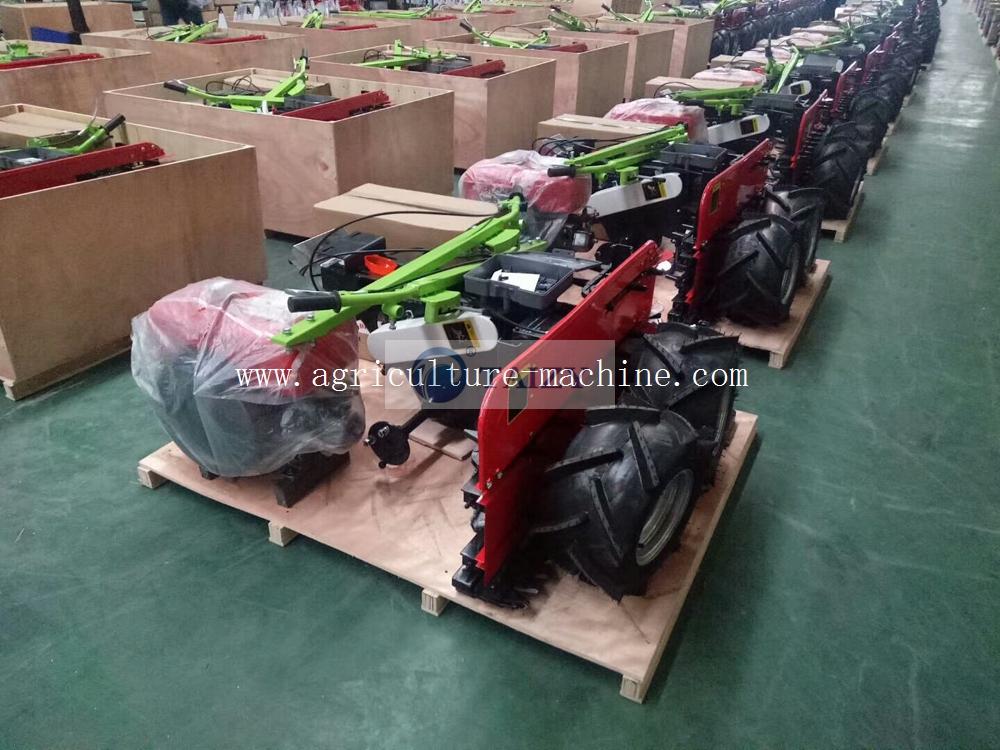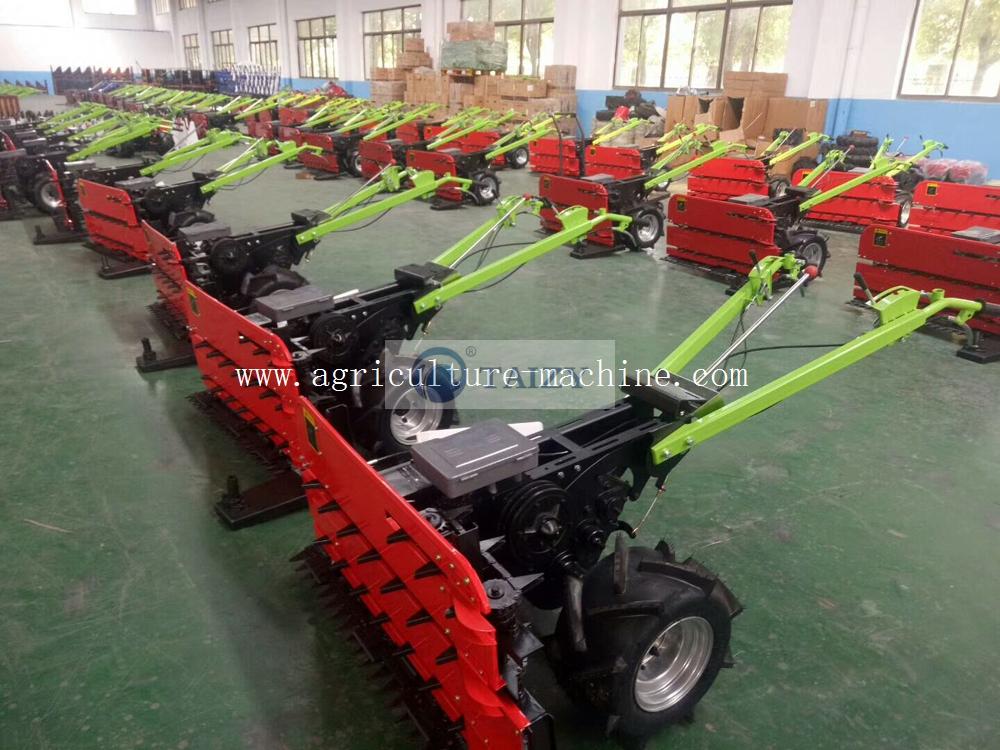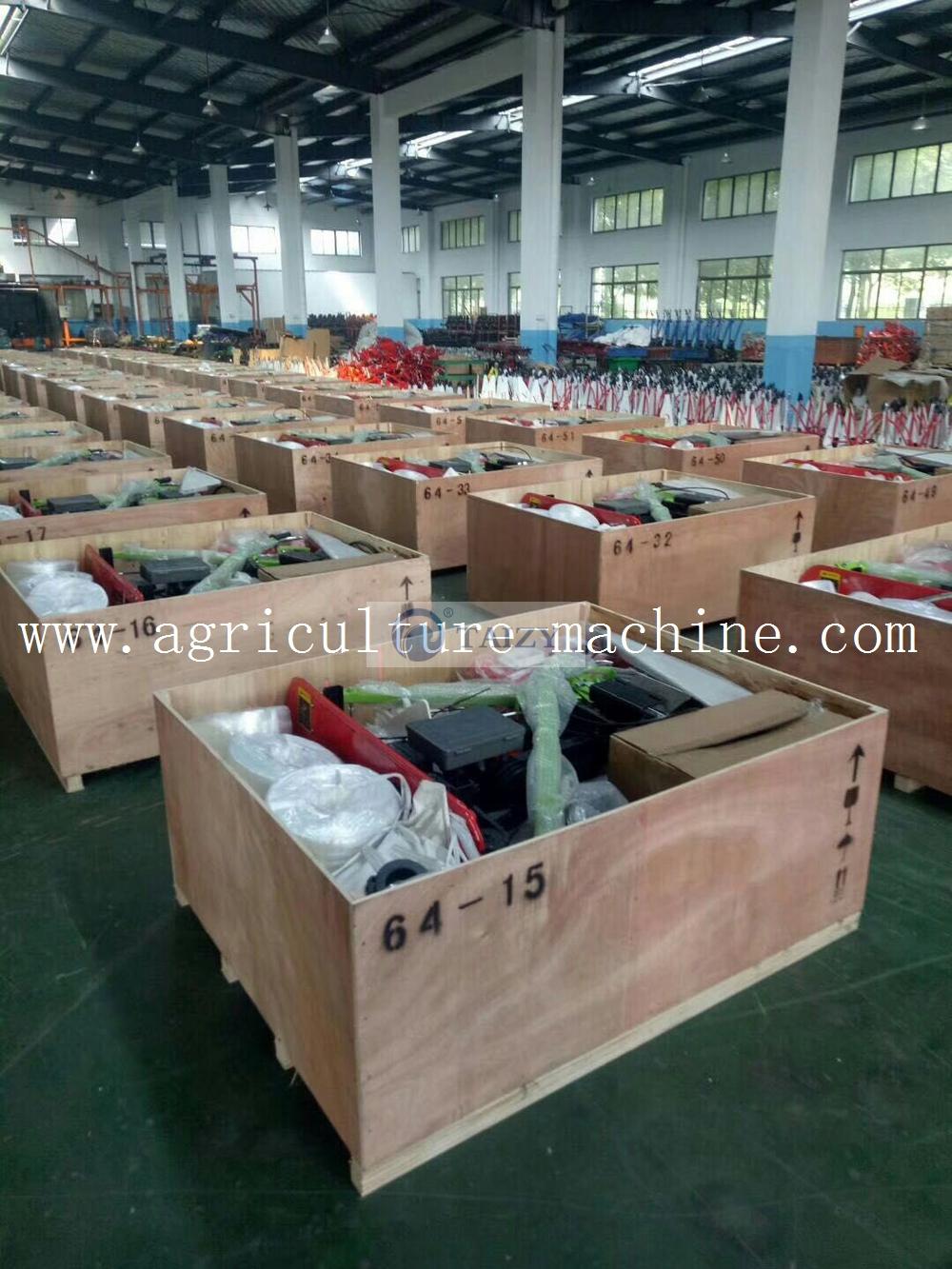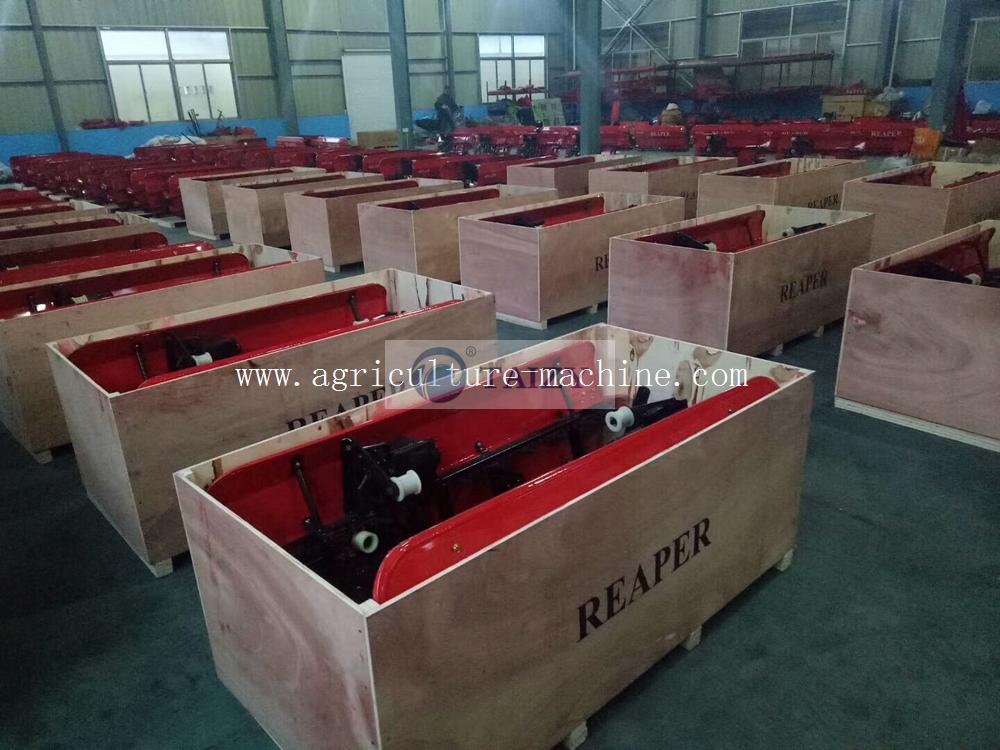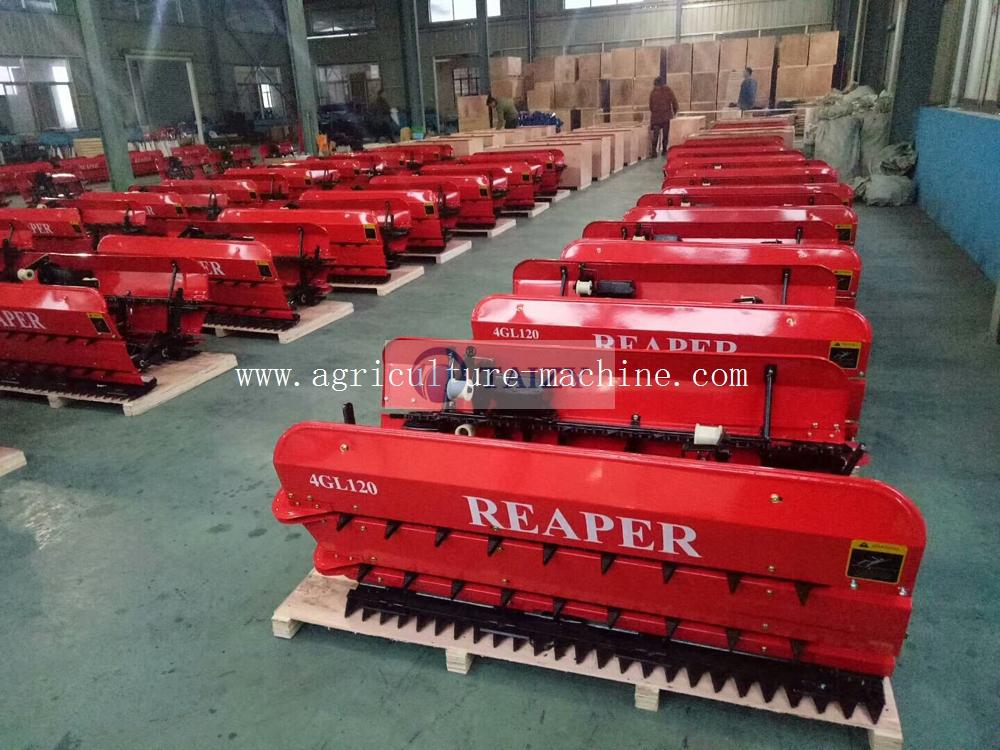 Machine has been packed already to the container

FAQ of harvesting rice machine
Which country have you exported before?
India,Philippines,Australia,United Kingdom,Pakistan,Canada, United States.
How many setsreaper agriculture can be loaded in 20 GP and 40GP?
16sets and 34sets respectively.
Which crop can be harvested?
Rice, wheat and rapeseed.
Can farmer adjust the diameter of rice orreaper binder?
No,the diameter of binder is fixed.
Why is machine able to bundle the rice and wheat during operation?
There is a rope in the side of machine that will bundle the harvested rice into binder as follow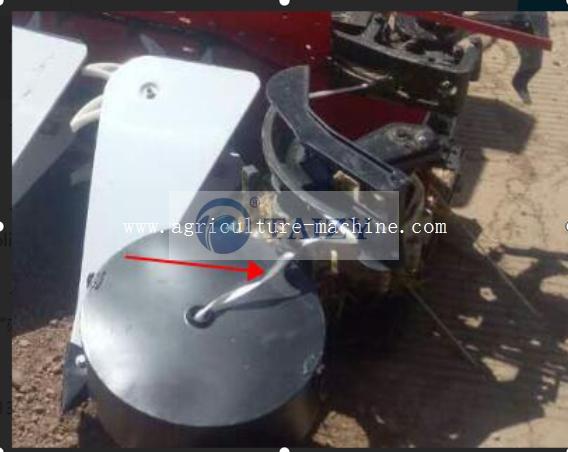 Cutting height and cutting width are adjustable?
The cutting height is adjustable and can not less than 50mm, but cutting width should be 900mm.