wheat rice harvester / harvesting rice
wheat harvesting / how to harvest rice / harvesting wild rice wheat
Brief introduction of Small combined harvester
type one
Small Combined harvesting rice wheat machine, a machine to directly get crop kernels from the field, integrates harvesting, threshing, separating straws, removing impurities as a whole. In other words, this rice harvesting can cut the rice or wheat and then thresh them, and you can get clean kernels finally.
Before the emergence of this kind of wheat harvesting, thresher and harvester greatly improve the working efficiency in the 19th century. But now, Farmers are able to complete all the processes, for our combined wheat harvesting is equipped with cutting and threshing at the same time, which saves labor intensity and relives farmer's burden. Most important, you do not need to buy two machines including harvesting machine and thresher machine, and such a machine can save you cost and improve working efficiency.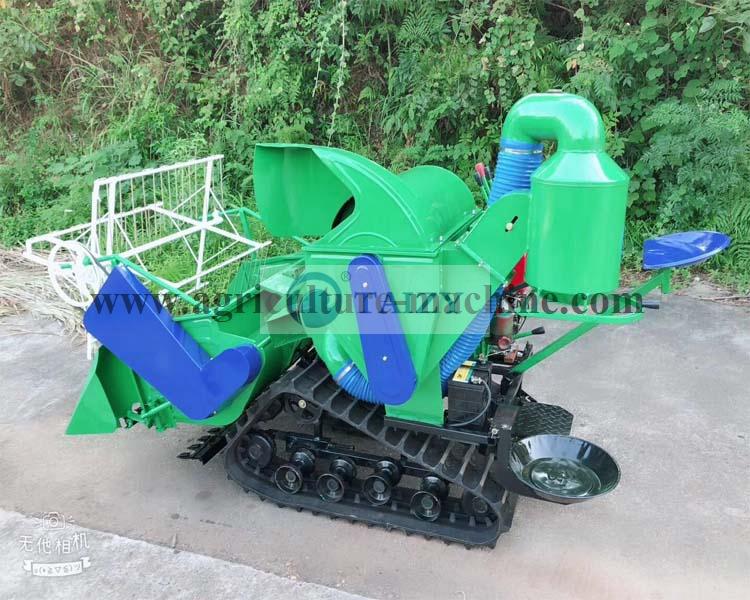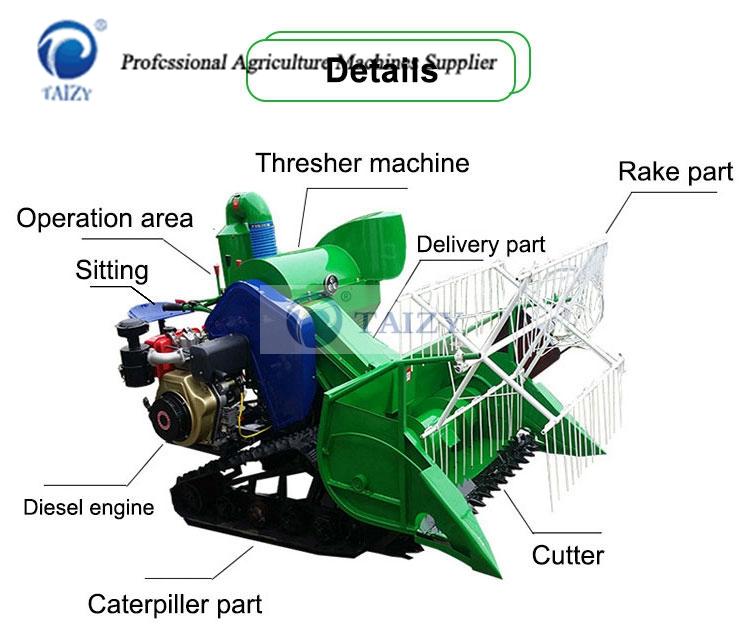 Technical parameter of Small combined harvester
Model
4LZ-0.8(Track)
Connection/Drive
Single,shaft,Traction
Starting mode
Electric starting
Lighting
12V/100W
Cooling
Air cooling
Weight
450 kg
Dimensions
2700*1420*1350 mm
Engine Model
188 F
Diesel engine
Single cylinder,horizontal,evaporative water,direct injection
Rated power
13.5 Hp
Rated engine speed
3600 r/min
Fuel consumption
20 kg/hm2
Theoretical working speed
2.56 (second gear)
Productivity
400-1000m2 /h
Breakage rate
1.5%
Loss rate
Rice
2%
Wheat
3.5%
Rated cutting width
1200 mm
Min ground clearance
180 mm
Caterpillar
Length 800 *Width 250 mm
Tire size
5.00-12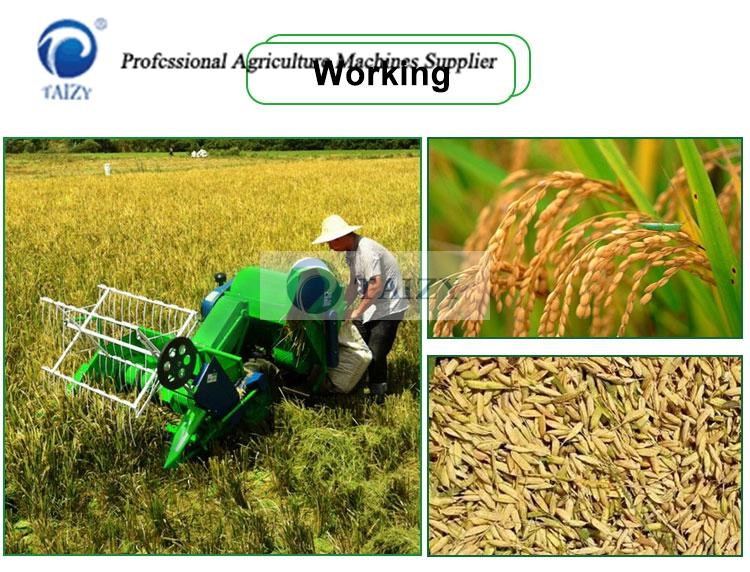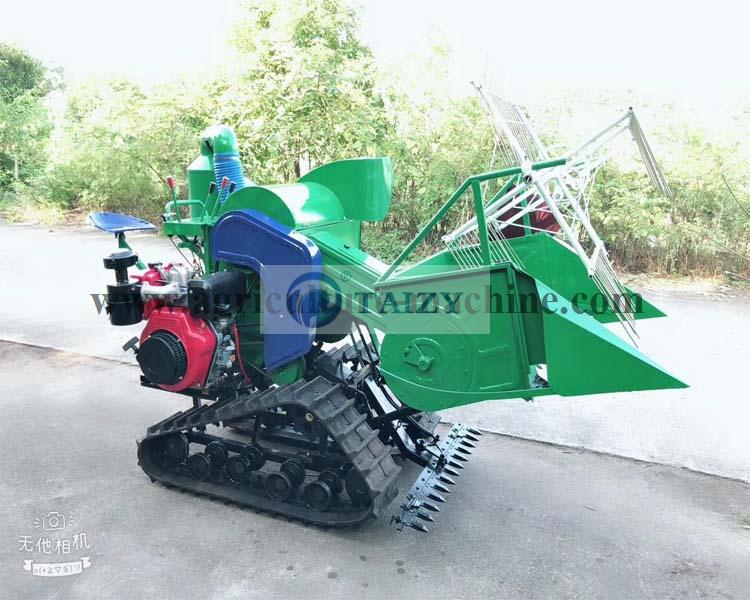 Type two
Self-propelled combined harvester also integrates walking, harvesting, cleaning and threshing as a whole,and is driven by the diesel engine. People can sit to work and it is very convenient for farmers.It has good maneuverability, easy movement and high production efficiency. Crop will enters the drum to be threshed after harvesting, which saves labor time. High capacity and low loss rate are the biggest advantages of it.
rice harvester3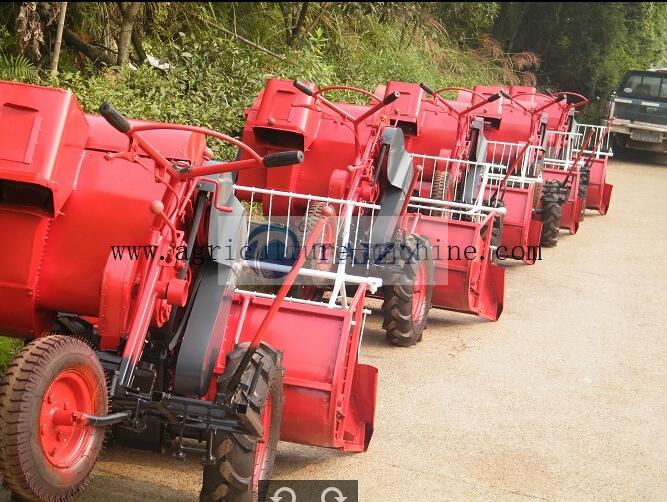 rice harvester1
| | |
| --- | --- |
| model: | TZY-100A |
| type: | Ride type (people can sit) |
| motor: | 9.2kw |
| engine: | 12.5Hp diesel engine |
| cutting-width: | 120cm |
| cutting-height: | 12-75cm |
| breakage rate: | <5% |
| trash content: | <7% |
| capacity: | 1000m³/h |
| size: | 2600*1340*1540mm |
| weight: | 450kg |
The preoccupation of Small combined harvester
type one
1. Rice harvester machine should go in field straightly, which can improve working efficiency and avoid crop wasting
2. User should control the speed of wheat harvesting machine according to the height, wetness of crop and the moisture of field. Speed down for high crops and speed up for dry fields.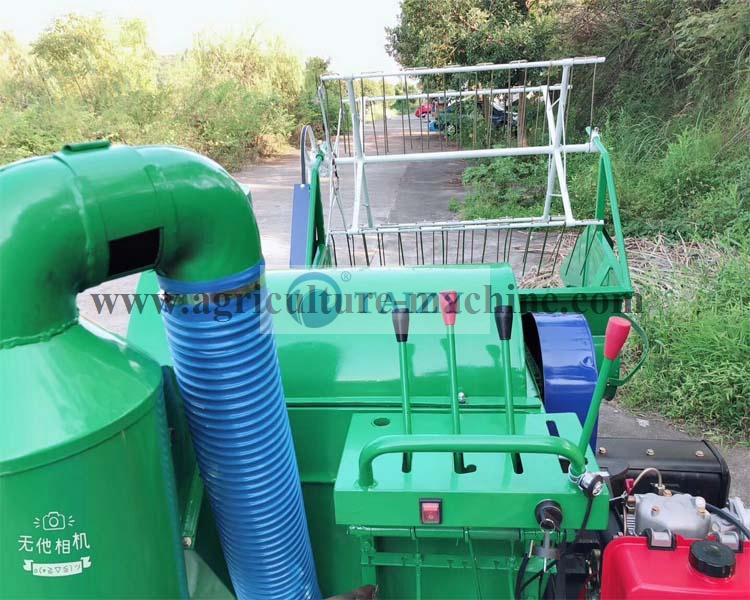 type two
Be sure to read the product manual carefully before use. The structure of the wheat harvester is complicated, although the quality of the machine is very good, and you still need to know the inner structure and follow the introduction to operate. Otherwise, the machine will be prone to failures.
2. The conditions of harvested crop vary widely such as crop variety, maturity, moisture content, yield, crop height. Thus, the relevant mechanisms of the machine should be adjusted in time to ensure good performance.
3. The protective device installed on the rice harvester is to protect the safety of the operator. Therefore, it cannot be disassembled when working. If it has been disassembled during maintenance, the user should install it again to avoid the accident.
4. The combine harvester should be inspected, maintained frequently such as checking whether lacking lubricating oil or water, looseness of the screw and abnormal sound, etc.
5. All the parts of wheat harvesting machine are designed to be coordinated and cannot be modified at will.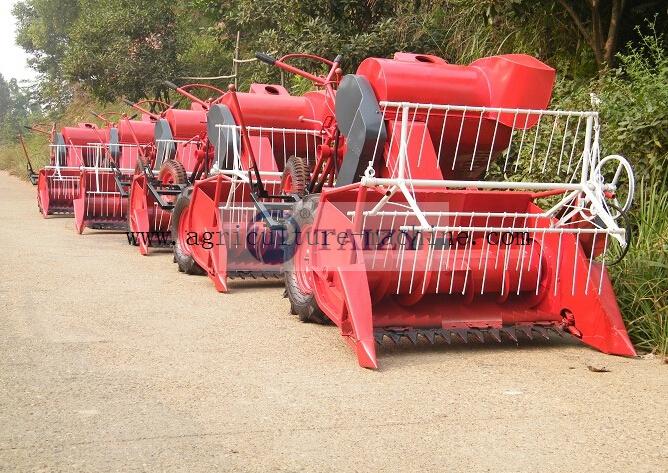 Advantage of Small combined harvester
type one
1.High threshing technology to ensure clean kernels and thorough separation.
2. Adopt to Three-in-one drum, low load, and low breakage rate.
3.Wider feeding port: raw material can be put into machine smoothly without any blockage.
4.Wider lift conveyor: make it easy to convey crops
5. Our combined rice harvesting machine has reasonable design, high reliability, easy maintenance, low cost
High threshing rate. The threshing rate is more than 95%.
people can sit on the machine to operate, saving time and energy.
type two
1.Low breakage late.it is only 5% and you can get very intact and clean kernels
2.High capacity. This combined harvester has a higher capacity(1000m³/h) compared with other harvesters
3.Cutting height is adjustable(12-75cm).
4.Easy operation.only one person can finish all the processes.
5.Multiple functions. It can harvest the rice and wheat firstly and then thresh them to get kernels, which save time and energy.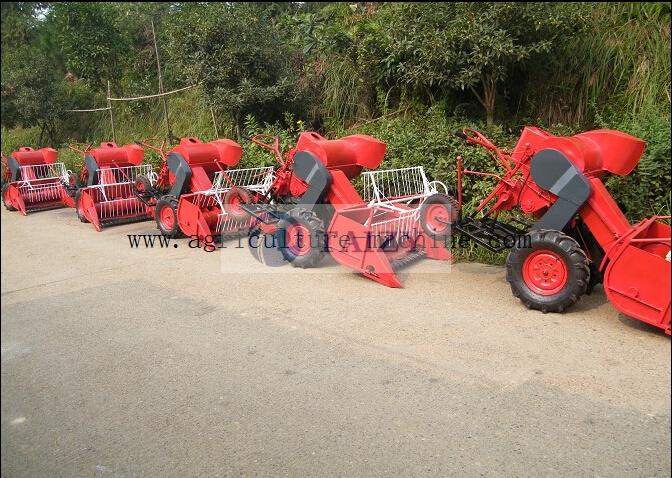 FAQ
1.Are you manufacturer?
Yes, we are. Welcome to visit our factory.
2.Can you change the machine voltage as our request?
Yes, we can.
3.How about your after-sales service?
Our engineer can go outside to install and train your workers to operate the full machine line.
4.Warranty time of your machine?
1 year