Thresher machine 5TD-90 for rice, wheat, beans, millet, sorghum
Thresher machine 5TD-90 for rice, wheat, beans, millet, sorghum
Thresher machine 5TD-90 is an upgraded version of 5TD-50 thresher machine and 5TD-70 thresher machine. Its output is higher. It is also a multi-functional thresher machine, which can thresher a variety of grains. It use 7.5kw single phase electric motor or 12 hp diesel engine as power.
What crops do the 5TD-90 wheat thresher can process?
5TD-90 wheat thresher machine is used for threshing rice, wheat, beans, millet, sorghum, foxtail millet, soybeans, chickpea, broad bean, etc. You just need to change the screen when you thresher different crop. It is easy to operate, and liberates farmers from the heavy manual work.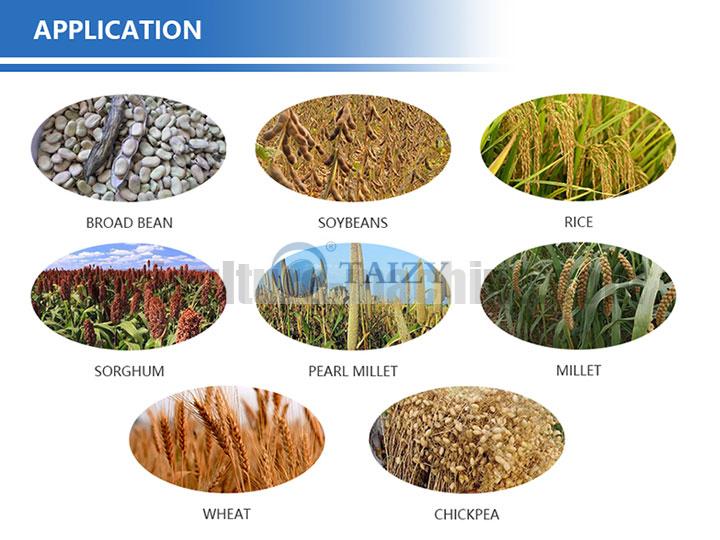 What advantages of rice thresher machine 5TD-90?
This rice threshing machine has two fan, so the grain is very clean after threshing. The rice thresher machine can also equipped with big wheel and frame which can connected with tractor easily. So it is easy to move, and can walk on every kind of land. The rate of broken rice or wheat is only 0.1%. Few rice which comes out from 5TD-90 is broken.
Structure of the grain thresher machine
The structure of this grain thresher machine is simple, which is convenient to be operated and maintained. The cover of grain thresher machine can be easily opened, so it can be checked and cleaned conveniently. This grain thresher machine could normally work under full loading condition and it has high production efficiency and low energy consumption.
Technical Parameters
Thresher roller rotation speed
900-1040 r/min
     Power
7.5kw motor or 12-15HP diesel engine
Cleaning Method
Vibrating sieve  ,big fan
Vibration Frequency
340
Fan rotation speed
1040 -1100r/min
Fan diameter
D=480mm
·

Drum diameter x length

·

D=520mm;L=900mm
Capacity
800-1200 Kg/h
      Weight
260 Kg
Breaking rate  (%)
≤0.5
Thresher rate  (%)
≥99
Lose rate   (%)
≤1.0
size
310*170*140cm