Thresher machine 5TD-50 for rice wheat bean corn sorghum millet
Thresher machine 5TD-50 for rice wheat bean corn sorghum millet
The TD series machine is our latest thresher. At present, we have 5TD-50, 5TD-70, 5TD-90, 5TD-125, 5TD-1000. This article mainly shares with you the thresher machine 5TD-50 .
What crops can this thresher process?
This thresher machine can be used for threshing soybean, corn, rice, wheat, quinoa, rape, sorghum, millet, etc. You do not need to change the screen, only need to adjust the roller spacing when you threshing different crops.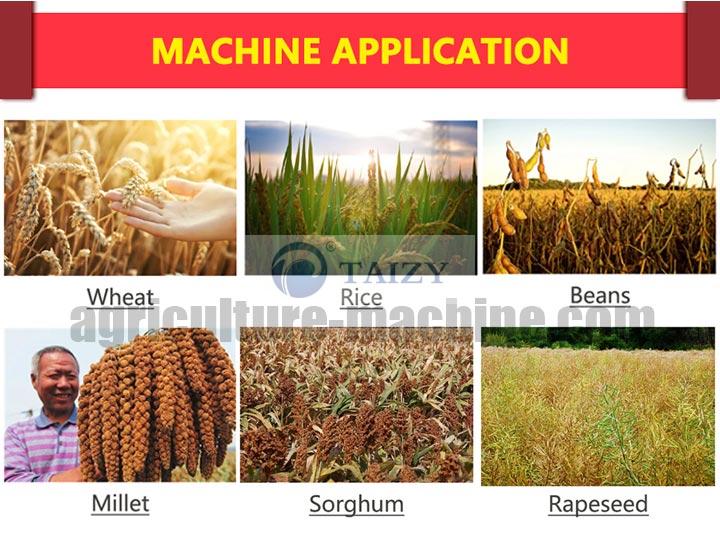 What advantages of wheat thresher mchine?
The wheat threshering machine has high production efficiency, clean threshing, no damage, and low impurity content. It is manufactured with advanced technology and has excellent quality. The new threshering machine is already on the market and has received many orders at home and abroad, especially from Nigeria, Ghana and Kenya. This product integrates the functions of threshing, separation and cleaning.
Structure details of bean thresher machine
This thresher machine 5TD-50 is mainly composed of feed port, impurity outlet, threshing clean grain outlet, fan, power structure, internal dial tooth, roller, etc. The machine has only one fan but can achieve secondary impurity removal. So the grain is very clean after threshing.
What kind of power can be equipped with?
5TD-50 thresher can equip with motor, diesel engine, gasoline engine. 6-8 horsepower (diesel) gasoline engine or 2.2-3kw motor.
What are the highlights of this thresher machine?
Is this machine different from the previous rice and wheat thresher?
Yes, of course.
Difference 1: This thresher does not need to change the screen when you threshing different grains, so the operation is very simple. The other rice and wheat thresher needs to change the screen when threshing different grains.
Difference 2: This 5TD-50 thresher is more customizable. It can equip PTO, big tires, traction frame, etc. It can be customized according to your requirements.
Difference 3: The output of the 5TD-50 thresher is higher. The output of this TD-50 thresher is 500-800kg per hour, while the output of the previous rice and wheat thresher is 400-500Kg.
Difference 4: In addition to threshing other grains, this newest thresher can also thresh corn. But the old thresher can thresh rice and wheat better. You can choose the machine according to the grain you want to thresh.
Customer case
The latest batch of multifunctional thresher machine 5TD-50 are sold to Nigeria, they are used for threshing rice and corn. This customer ordered 5 sets of threshers in total. Since it is a newly launched machine, we have a lot of stock, and we will ship it to the customer within a few days.