Cornflour machine maize flour milling machine
Cornflour machine maize flour milling machine
With the changes in people's living, people's requirements for small-scale maize flour milling machines have also increased. People require the maize flour machine with high productivity, low power consumption, and good quality. Today, we will introduce a corn flour machine comprehensively.
What is a maize flour grinding machine?
The maize flour milling machine is an upgrade to the small roller mill. The crops that the machine can grind include wheat, sorghum, corn, and other grains. This corn flour machine is used to make corn flour, sorghum flour, and wheat flour. Due to the use of a high-pressure blower and a small storage tank with two silos, the machine is fully automatic. Without manual feeding during the entire process, but with pneumatic lifting. Therefore, it can save a lot of labor and improve the grinding capacity to a certain extent. The output is 350-500 kg/h per hour.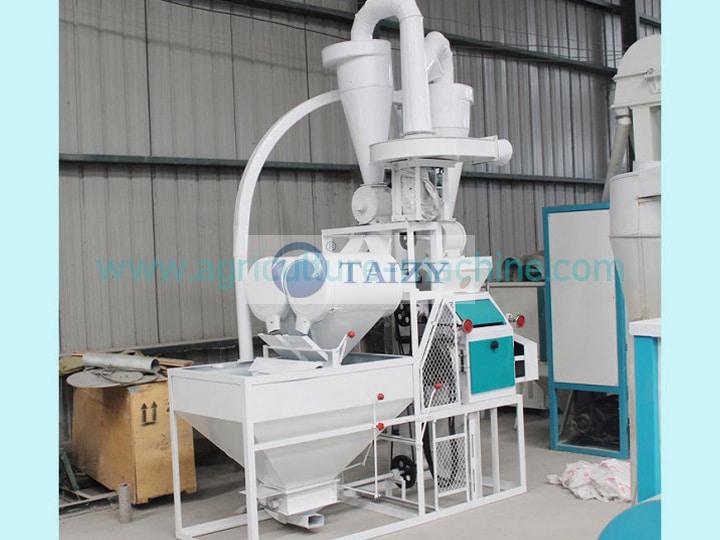 Structure of the wheat and maize flour milling machine
The structure of the maize flour milling machine is composed of grinding equipment, sieving equipment, and brakes. The following figure introduces the structure and characteristics of the small household surface grinding machine in detail.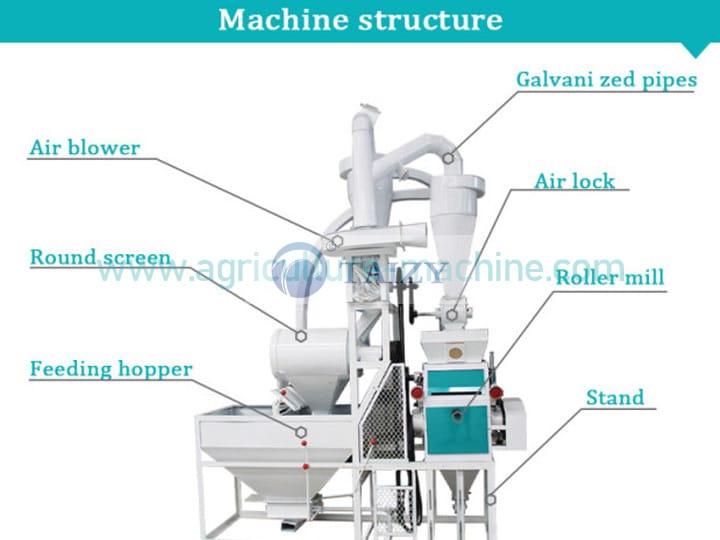 The structure of the small household surface grinding machine is composed of a grinding roller, grinding head, brake dragon, fan, airlock, round screen, unloading device, power distribution box, and other main components. Among them, the power distribution box is unique to our factory. The design is also the reason why many customers choose our flour machine.
1. Just one person operates the corn flour machine with multiple functions. It can automatically feed materials, automatically mill, automatically sort, and automatically sieve.
2. The parts in contact with flour are all made of stainless steel, so it is clean and hygienic.
3. Multifunctional, it can be used for wheat, corn, sorghum, and other grains.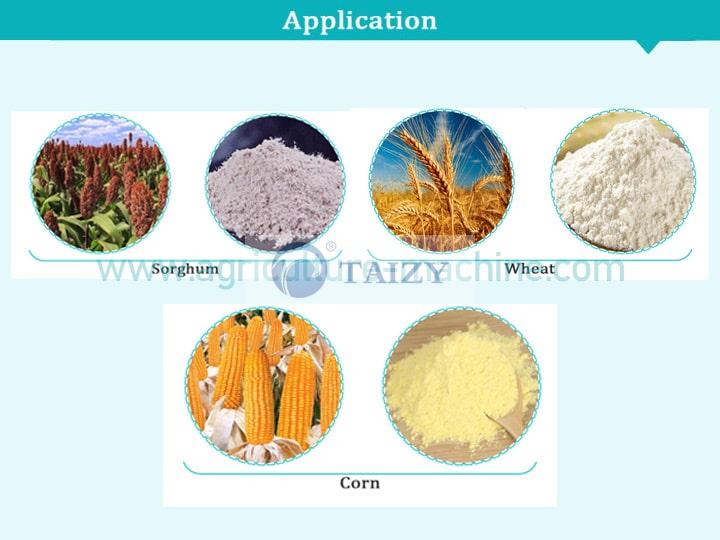 Is maize milling profitable in Kenya?
Of course, it makes money. The most common crops grown by Kenyans are corn, rice, and wheat. It just happens that our machine can grind corn, wheat, sorghum, etc. People rely on food, and many farmers will eat corn flour and wheat flour, which is very profitable for you to buy a wheat and maize flour milling machine.
How much does a flour mill cost?
We are a professional agricultural machinery manufacturer. In addition to the output of a 500 kg corn flour machine, we also have a 600 kg maize flour milling machine, an 800 kg flour grinder, and a 1000 kg maize flour milling machine. Therefore, the price of each machine is different. . You can contact me if you want to know the maize flour milling machine prices.
What is the difference between of corn grit machine and maize flour machine?
Corn peeling and the grit-making machine are also called corn grit machines. This machine uses corn kernels as raw materials to complete cleaning, peeling, germ removal, root removal, black navel removal, crushing, making grits, grading, polishing, etc. The process is completed at one time, and it can produce different particle sizes of corn grits and cornflour. These corn grit can be directly entered into large supermarkets and grain and oil wholesale markets.
Corn flour machine is a collection of sieving, crushing, and flour milling. The structure is simple, compact, and light. The machine is to process corn into corn flour, sorghum into sorghum flour, and wheat into wheat flour. The machine is very convenient and flexible to use. One machine has multiple functions, and it is suitable for rural and small grain and feed processing operations.
Taizy Machinery Manufacturing Company produces flour mills, small corn flour machines, flour mills, stone flour mills, flour machinery, and other equipment. If you want to know the price of flour mills, please feel free to consult.
In order to avoid collision of the machine during transportation, we use iron racks to fix the machine and then pack it in wooden boxes. Therefore, every corn flour milling machine we export has not experienced any damage.
Machine Parameters
| | | | | |
| --- | --- | --- | --- | --- |
| Model | Capacity | Power | Weigh | Size |
| 6F35 | 0.3t/h | 9.7kw | 800kg | 2450*1000*3500 |
| 6F40 | 0.35t/h | 13.2kw | 1000kg | 2450*1000*3500 |
| 6F60 | 0.5t/h | 17.2kw | 1500kg | 2550*1000*3500 |