maize corn grinder machine / grinding machine
grain grinder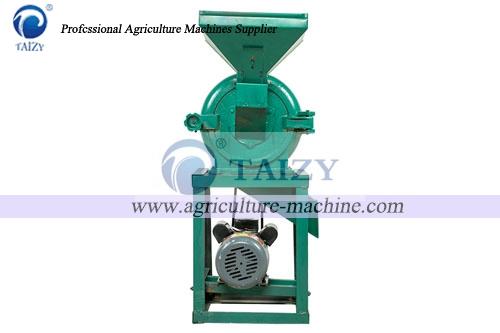 The Overview of corn grinder machine
The TZ series grain grinder produced by our company is a kind of multi-purpose machine, and it is also known for its excellent crushing effect. The wheat grinder has a compact structure, beautiful appearance, reliable use, convenient maintenance, and installation, widely applying to maize, rice, corn, beans, wheat, etc. The size of the screen can be customized according to your requirement. After processing, you can get very fine flour.
Technical parameter
| | |
| --- | --- |
| Model | 9FZ-280 |
| Capacity | 300-500kg/h |
| Weight |  60kg |
| Size | 530*420*440mm |
The advantage of grain grinder
Very fine flour. The grain processed by the corn grinder machine is very fine.
You can choose different models and capacities according to your requirement. We have many types of this kind of machine, and you have many options towards it.
Wide application. The raw material can be maize, rice, corn, beans, wheat, etc.
High capacity, great performance, and easy operation.
The Working Video of Disc Grinding Mill
1.It is a disk mill grain grinding machine.
2.The inner structure.
3.Round screen and disk plate are two important parts.
4.The raw materials are various such as pepper, sorghum, wheat, star anise, etc.
5.It is a corn grinding test site
6.Pour the corn into the inlet.
7.Machine is working now
8.and can be driven by a motor.
9.Machine runs steadily during operation and is favored by farmers from different countries.
10.The final corn powder is very fine and can be used to feed animals.
11.Its capacity is 300kg/h, and it is very suitable for home use.
12.Screens can be changed according to the size of different crops.
The successful case of grain grinder
In April 2019, 1000 sets of corn grinder machines are delivered to Nigeria, which costs us one month to produce all the machines. Actually, we have cooperated many customers with this customer who orders machine from us as long as there are any demands.
FAQ
What is the capacity of magic mill wheat grinder?
This series of machine has many different capacities, and you can customize it according to your needs.
What is the raw material?
maize,rice,corn,beans,wheat.
How is the crushing effect?
Crushing effect is very good, and you can get very fine flour.