Thresher 5TD-70 for rice wheat bean sorghum millet pearl millet
Thresher 5TD-70 for rice wheat bean sorghum millet pearl millet
This article will show you the thresher 5TD-70, which is also a multifunctional thresher machine. The difference from the 5TD-50 thresher machine is that 5TD-70 thresher can't thresh corn. The structure is bigger than 5TD-50 thresher, so it is a medium-sized thresher machine. Let's take a look at the 5TD-70 thresher machine.
What crops does the thresher 5TD-70 can process?
This thresher machine can thresh broad bean, soybean, sorghum, pearl millet, rice, wheat, millet chickpea, sorghum, pearl millet, chicjpea, etc.  You can contact us if you want to any grain. We will match the most suitable thresher machine to you.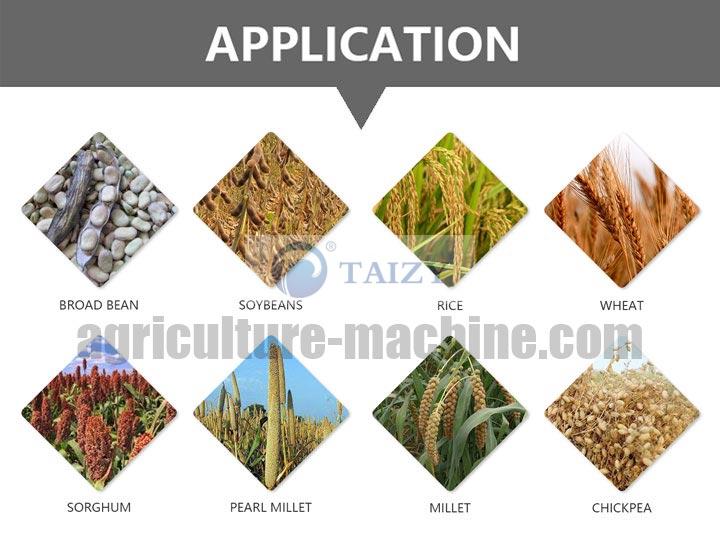 5TD-50 thresehr machine display
This multifunctional thresher machine can be sprayed with different colors according to the different needs of customers. In addition, large tires, traction frames, and chassis towed by tractors can be customized. The threshing machine has two fans, and the grains after threshing are very clean. The thresher machine can only be equipped with electric motors and diesel engines.
What should you know when you use 5TD-70 thresher?
You need to change the screen when you thresher different crops.
The rotation speed of the roller is different when thresher rice and soybean.
The yield of threshing rice and wheat is 600-1000kg /h. The yield of threshing soybean and sorghum is 400-800kg /h.
Customer case
A Zambian customer ordered a 5TD-70 thresher machine with 40 high cabinets from us, which is used to threshing rice, wheat, and soybeans. We have configured three types screens for our customers. They are motor models, and some are diesel models. Our aim is to meet all the needs of customers. If you need any agricultural machinery, you can contact us.
Technical Parameters
Model
5TD-70
Power
7.5kw,380v motor or 12-15 hp diesel engine
Machine weight
230kg
Spindle speed
1200r/min
Machine size
1340*2030*1380mm
Packing size
1050*850*1300mm
Double fan
2500r/min
Output
600—1000kg/h (rice and wheat)

400–800kg/h(bean sorghum)