Kenaf jute hemp cutter extractor machine / Kenaf decorticator
Kenaf jute hemp cutter extractor machine / Kenaf decorticator
Brief introduction of hemp decorticator
Our hemp cutter machine is to use to extract the fiber of hemp, jute, kenaf, ramie, etc. With two big wheels, the machine is easy to move. The cleaning rate can reach 96% without any damage to the fiber itself. Hemp decorticator is suitable for processing plant fibers of hemp, jute, kenaf and red ramie in agriculture. It can be used for both dry and wet Raw materials and is convenient for your use.
The main structure of hemp decorticator
Kenaf decorticator is mainly composed of a frame, knife, knife plate, feeding mouth, security cover, double-roller, discharge conveyor belt, etc.
The inner part of the machine( different angles of rollers)
Application of hemp decorticator
It can crush the kenaf stalk and get the skin quickly that is very clean. This hemp cutting machine can be be used for hemp, jute, ramie, kenaf, etc.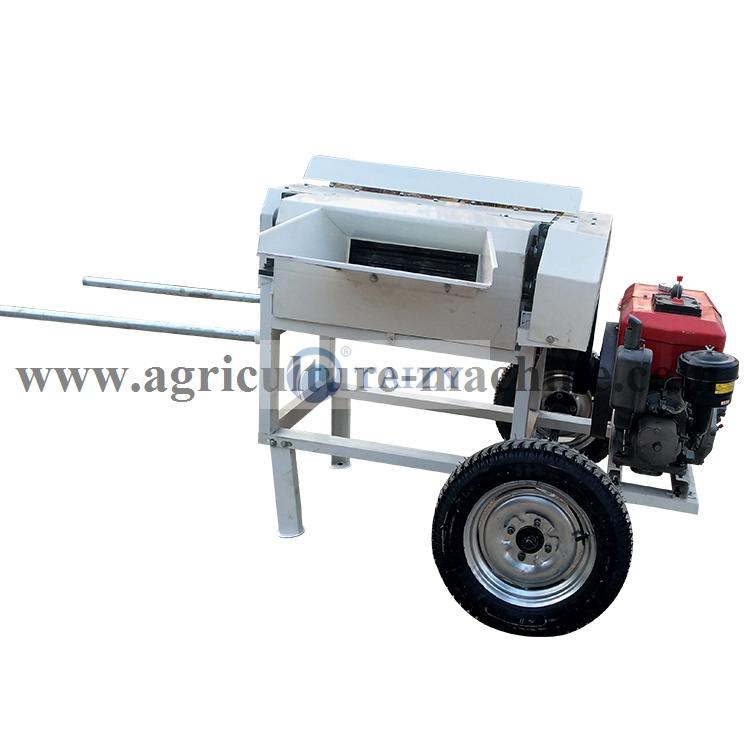 Advantage of hemp decorticator
1. Compared with traditional peeling way , fresh hemp decorticator
can save much labor and time.
2. Two rollers with oblique blades can greatly crush stalk, improving working efficiency.
3.High cleaning rate. The final fiber is very clean
4.High capacity. Its biggest capacity is 150m2/h
The hemp fiber won't be broken after peeling.
The peeling rate is very high and almost all fibers can be peeled at one time.
Hemp decorticatoris are easy to move due to two wheels and suitable for wet and dry raw materials.
The hemp decorticator has a cross rod at the exit to collect fiber after stripping.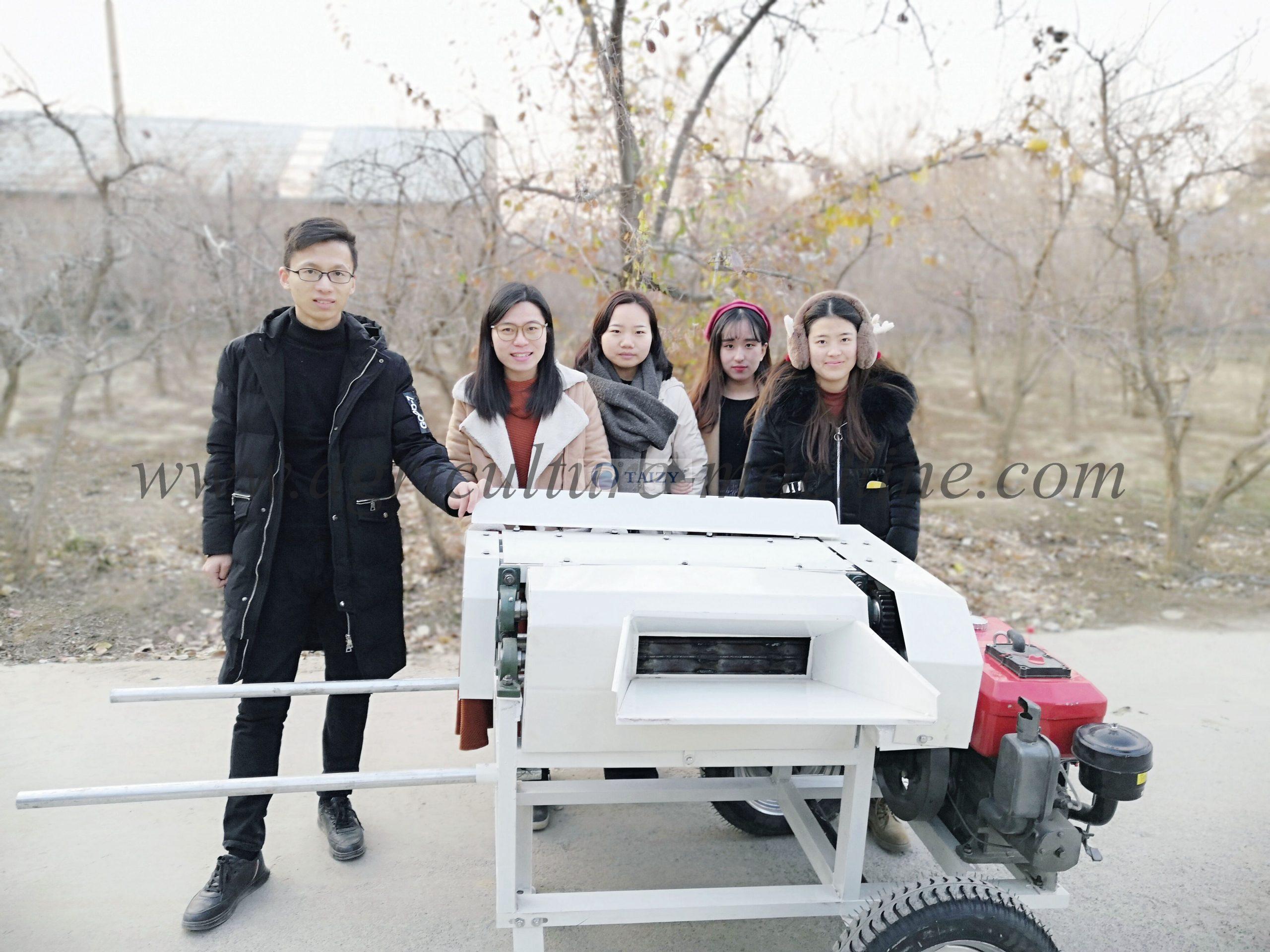 Working principle of hemp decorticator
1. The operator puts the hemp into feeding hopper
2. The hemp goes into the middle of two roller
3.Oblique blades on the rollers powered by motor or diesel engine crush the stalk by constant rotation.
4. The stalks are fully crushed and fibers fly into the rob after several seconds.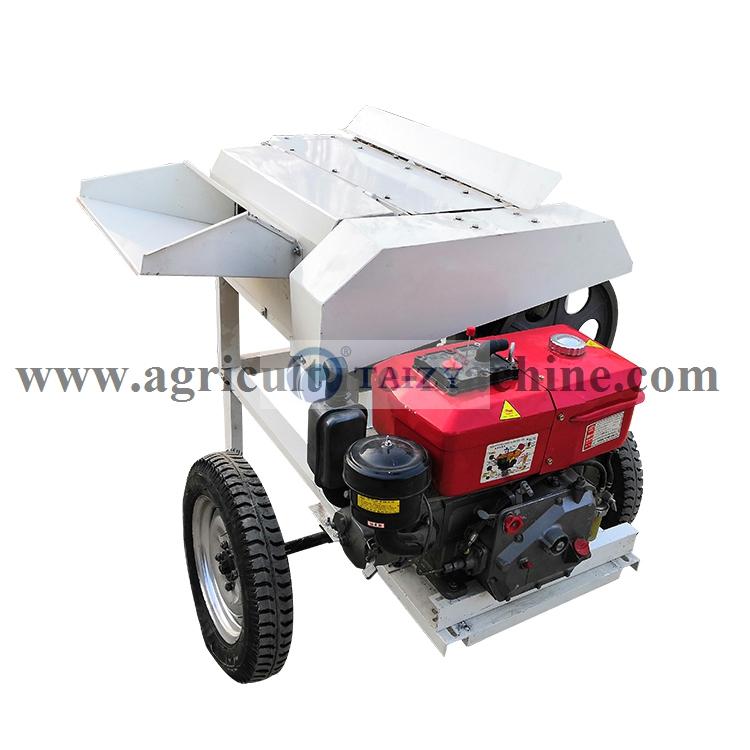 Matched Power of hemp decorticator
Kenaf decorticator machine works with 7.5kw motor or 10HP diesel engine.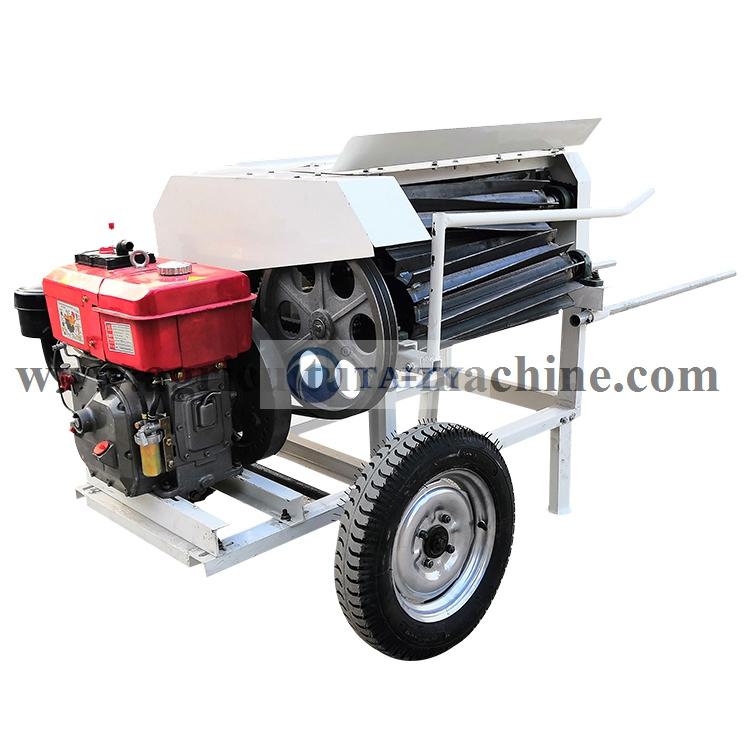 Technical parameter of hemp decorticator
| | |
| --- | --- |
| Model | SLHM-550 |
| Rotary speed of hockey blade | 1000-1200r/min |
| Power of motor | 7.5Kw /(10HP desel engine) |
| Capacity | 150m2/h |
| Dimension | 1500*1400*1050mm |
| Weight | 255Kg |
| Dirt percentage | <0.2% |
Lastest successful case of hemp decorticator
case one
In February, 2019, we sold 1 sets hemp cutting machine to Poland with competitive price. He is a farmer and plants hemp in the recent years, wishing to extract its fiber. The following picture is the dialogue between our sale manager and him.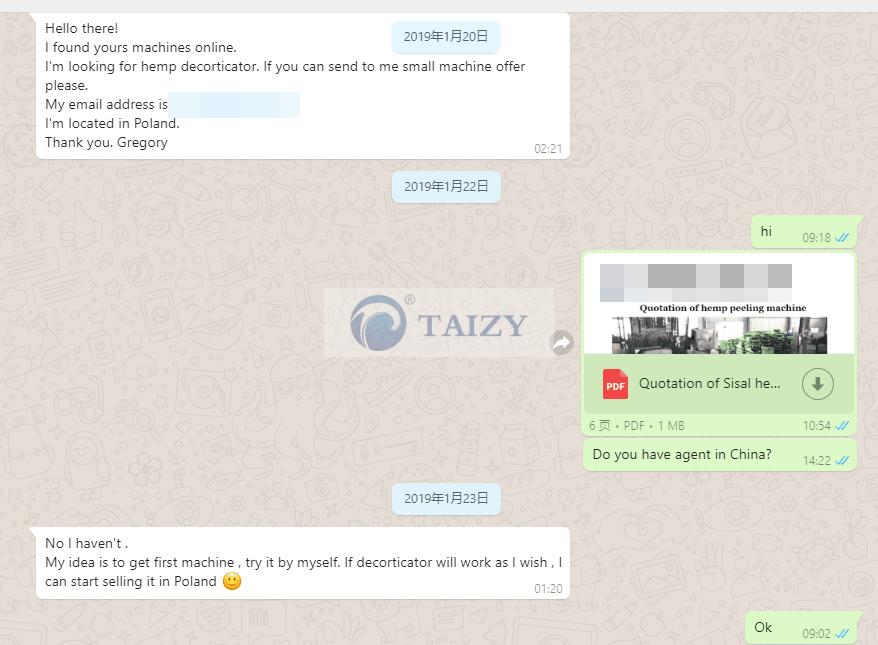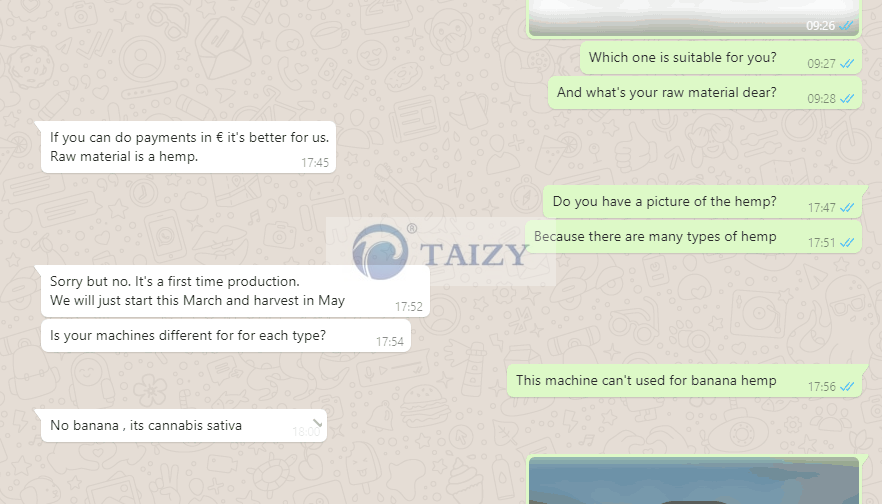 Actually, he contacted us in January and placed order from us in February. Our manager solved his problem with great patience and wanted to build a long partnership with him.
The packing pictures are as follow.
case two
At the beginning of May,we received an inquiry from the customer in Croatia, and he wanted to buy a hemp decorticator. Actually, he didn't talk a  lot with our salesman. After confirming the information of the freight forwarder, he ordered one set hemp decorticator from us. We have many decorticators for hemp in stock, so we spent one day to pack and deliver his machine after receiving the payment.
FAQ
1. Why are the two roller of machine oblique?
Oblique two rollers can fully crush the hemp stalks, and separate it and fiber effectively.
2. What are the raw materials of this jute decorticator?
The raw material can be hemp, kenaf, ramie, jute etc.
3.Will the two roller damage the fiber?
No, it won't damage the fiber because the blades on the roller are blunt.
4. What the final product can be used for?
It can make rope or cloth.
5. Is it suitable for wet and dry hemp?
Yes, it can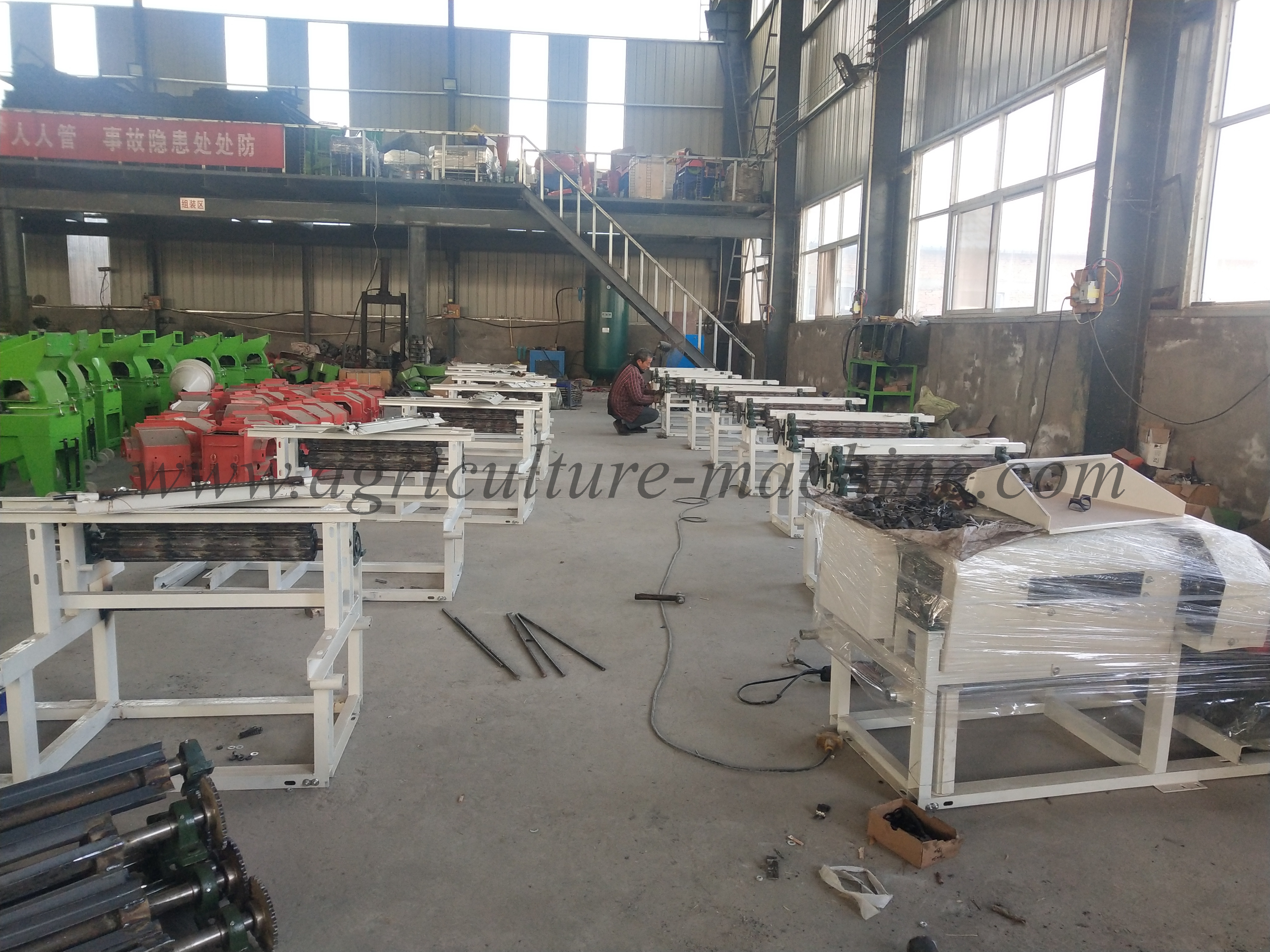 Why do you choose us?
You may figure out why do you choose us?
This picture is the stock of hemp fiber extraction machine, and we almost sell more than1000 sets to other countries every year. Frankly, we can produce 500 sets monthly,fully meeting your demand.