Nursery seedling machine丨automatic nursery sowing machine
Nursery seedling machine丨automatic nursery sowing machine
Nursery seedling machine is a device that can plant various vegetable and flower seeds into plug tray. There are various types of seedling nursery machines available in the market, such as semi-automatic and fully automatic. The manual seedling method is time-consuming and labor-intensive.
So people can greatly improve efficiency and save energy by using a seedling machine. In addition, the seedling machine sucks seeds, sows seeds accurately. So, this machine can saves seeds and has a higher seed survival rate. Therefore, seedling machines are now widely used to help raise seedlings.
Introduction of the nursery seedling machine
We produce various types of nursery machines to meet different nursery needs. One of the fully automatic nursery machines can also add water sprinklers. In addition, we have designed and produced a multi-row seed drop to help people achieve the need for multiple seeds in one hole. And this article focuses on KMR78-2 automatic nursery sowing machine . And this model can complete mulching, hole punching, seed dropping and secondary mulching in one operation.
What's more watering and multi-row seeding are additional functions. And customers can choose according to their needs. We also produce semi-automatic seedling nursery machines, vegetable transplanters and rice transplanters. The combination of seedling machine and transplanter can save a lot of seedling sowing time.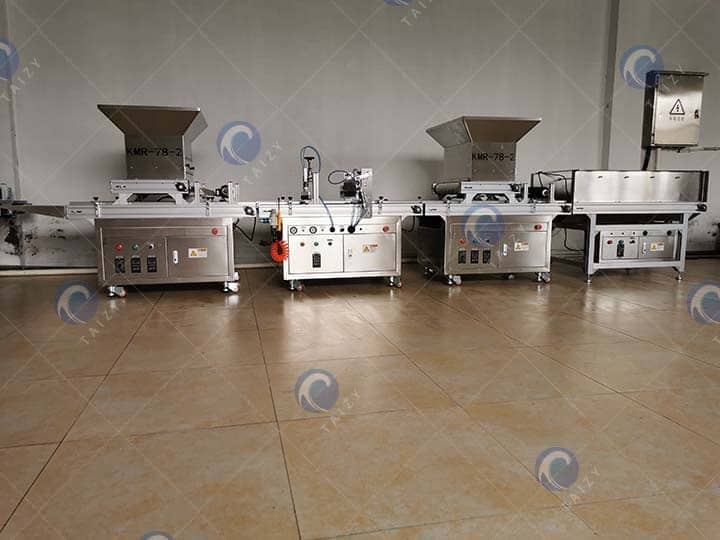 What kinds of seeds can the nursery planting machine sow?
The nursery planting machine can sow various vegetable and flower seeds. For example,tomato, lettuce, Chinese cabbage, cabbage, sweet corn, pumpkin, hemp seed, okra, cucumber, eggplant, melon, watermelon, pepper, chili, cabbage, Taiwan cabbage, fish dish, dried light, leek, beet, cabbage vegetables, celery, hemp, etc.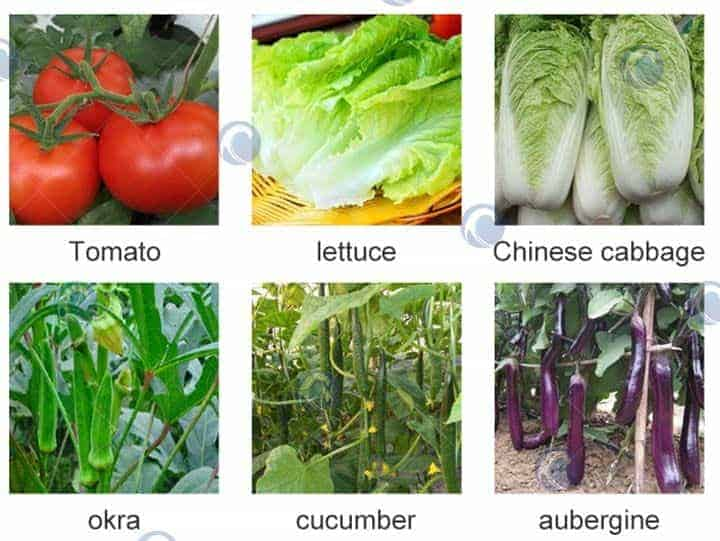 Structure of the automatic nursery sowing machine
This model of nursery sowing machine mainly includes covering device, brush, digging, seed dropping, soil bin, etc. This is the basic structure of the machine, you can also choose the water springing and multirow sowing functions.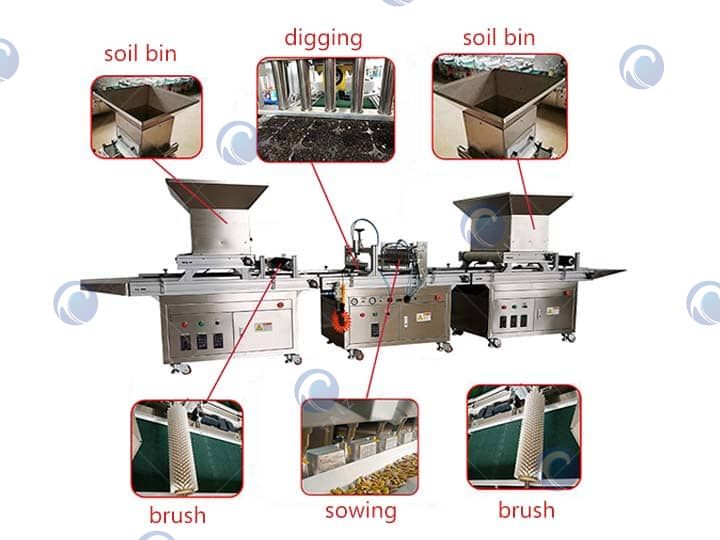 Function of every part
Sowing covering device: this part can put nutrient soil one the plug tray.
Seeded soil revolving brush:  this part has hairbrush, will smooth over the nutrient soil, and plug tray.
Dug a hole:  have press function and come into dug a hole.
Sowing device:  this is the most import part of the machine. After digging a hole, the seed will fall into the hole, one seed one hole.
Earth covering funnel: put the nutrient soil on the sowed plug tray again.
Specification of the nursery seedling machine
| | |
| --- | --- |
| Model | KMR-78-2 |
| Precision | >97-98% |
| Principle | Electrical and air compressor |
| Capacity | 500-600trays/hour |
| Size | 4800*800*1600mm |
| Weight | 400kg |
| Voltage | 220V /110V 600w |
| Size for seed | 0.3-12mm |
| Width of tray | <=540mm |
| Material | Stainless steel |
nursery seedling machine's parameter
 Features of the pumpkin nursery seedling machine
1. Automatic nursery seeding machine integrates automatic soil spreading, watering, seeding, and earth covering in one. So, it can finish all operation procedures one-time.
2. The pumpkin nursery seedling machine can work with both plastic hard disks and soft disks. And the working efficiency of the machine is 500-600trays per hour. It allows the mechanized production of a whole course of the grain.
3. Disk-cultivated sprout by the nursery seedling machine has slim, neat, and strong seedlings.
What advantages does the onion transplanting machine has?
1. The adjustment of sowing quantity is convenient and reliable. So this machine increasing greatly the small volume precision seeding. Also, it can achieve one seed into one hole, whatever size of the seed.
2. Saving 20% empty plugging rate, which is lower than the artificial planting. So it ensures the increase of production and income. The good seedling effect, increase production, and cost-saving.
3. Seed nursery sowing machine is a necessary component that ensures stable & high production. And also a choice for increasing production and cost-saving.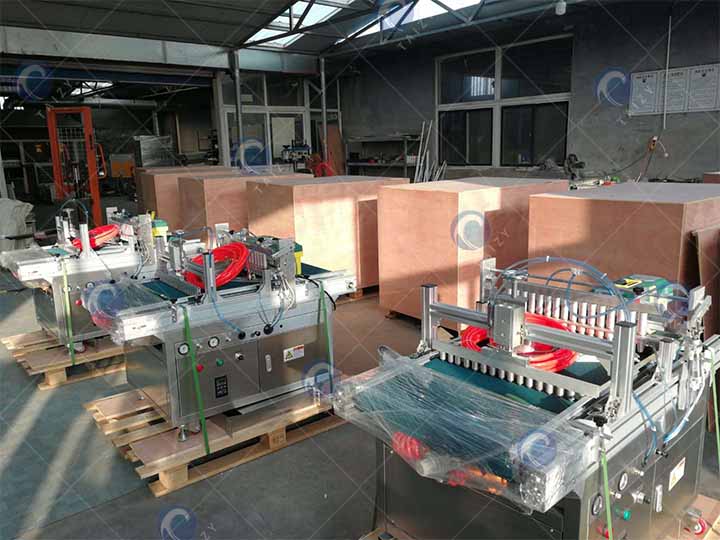 Automatic nursery machine shipped to Singapore
Our customer from Singapore. And he contacted us through Alibaba. After that our sales manager communicated with the customer via email about the machine. And we learned through communication with the customer that the customer has greenhouses to grow various vegetables. Also, the customer knew more about the nursery seedling machine. And he wants to buy a fully automatic vegetable seedling machine. According to the customer's specific needs and budget we recommended the KMR78-2 seedling machine. The customer finally decided to buy one set automatic nursery sowing machines. Below is the packing and shipping picture of the machine.