TZY-79 nursery seeding machine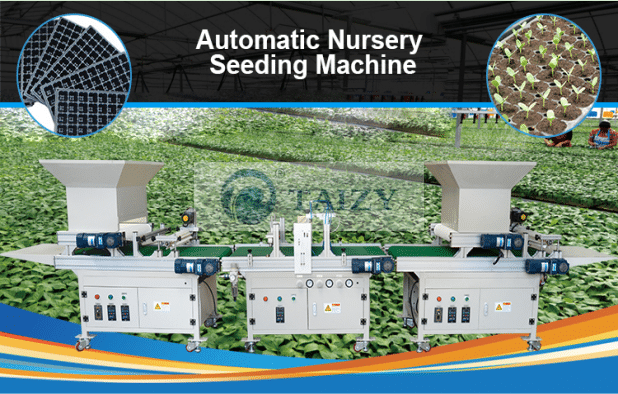 TZY-79 nursery seeding machine
Parameter:
| | |
| --- | --- |
| Model | TZY-79 |
| capacity | 300-800trays/hour |
| Precision | >97-98% |
| principle | Electrical and air compressor |
| Size | 3600*800*1300mm |
| Weight | 350kg |
| Voltage | 220V /110V 600w |
| Size for seed | 0.3-12mm |
| | |
Machine structure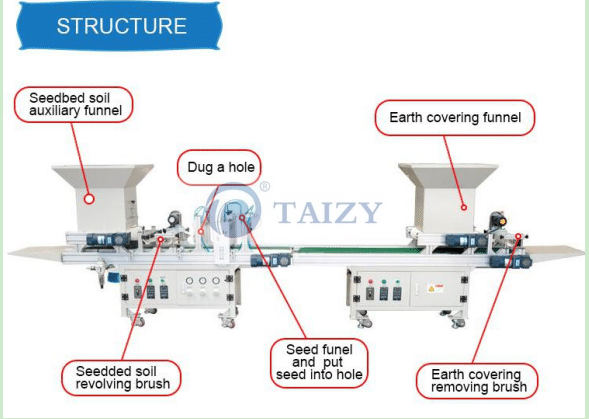 The function of every part
seedbed soil auxiliary funnel:  can put nutrient soil.
seedded soil revolving brush:  this part has hairbrush, will smooth over the nutrient soil, and plug tray.
dug a hole:  have press function and come into dug a hole.
seed funel:  this most import part of the machine, after digging a hole, the seed will fall into the hole, one seed at a hole.
earth covering funnel: Put the nutrient soil into a plug tray.
earth covering removing brush:  after all the processing, this part will cover the tray with the earth.
 Features
Automatic Nursery Seeding Machine automatic group soil spreading, watering, seeding, earth covering as an integration, which could finish rice dish all operation procedures one-time.
Both plastic hard disk or soft disk can be used, and the working efficiency of the machine is 300-800 trays per hour. It allows the mechanized production of a whole course of the grain.
Disk-cultivated sprout by planting the production line has the slim, neat, and strong seedlings.
Advantages
The adjustment of sowing quantity is convenient and reliable, increasing greatly the small volume precision seeding, can achieve one seed into one hole, whatever size of the seed.
Saving 20% empty plugging rate lower than the artificial planting, ensuring the increase of production and income. The good seedling effect, increase production, and cost-saving.
Seed nursery sowing machine is a necessary component that ensures stable & high production, and also a choice for increasing production and cost-saving.
Application range