Multifunctional thresher 5T-1000 for rice corn wheat sorghum
Multifunctional thresher 5T-1000 for rice corn wheat sorghum
What crops do the 5T-1000 multifunctional thresher can process?
The 5T-1000 thresher machine is multifunctional. It can thresh broad bean, soybean, sorghum, corn, rice, wheat, millet, pearl millet, chickpea, etc. When threshing different crops, it is necessary to replace screens of different sizes. With different screens for different crops, the threshing effect is better.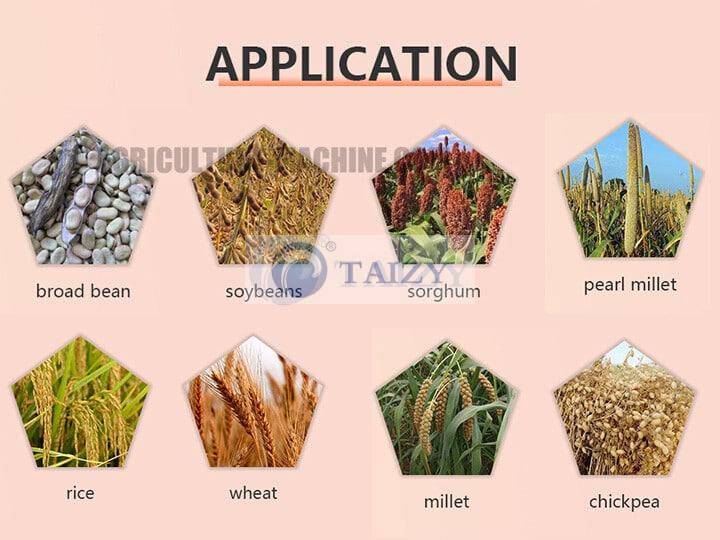 5T-1000 multifunctional thresher machine structure
This type of thresher mainly has an inlet, threshing part, holding part, big tire, double fan, outlet, PTO.
Take rice as an example, artificial feeding, put the paddy into the feed inlet, threshing is completed in the threshing part, and then the impurities and dust or rice husks are blown out by the double fan. Next, the threshed rice comes out of the discharge port. Since the machine has two fans, the rice after threshing is very clean.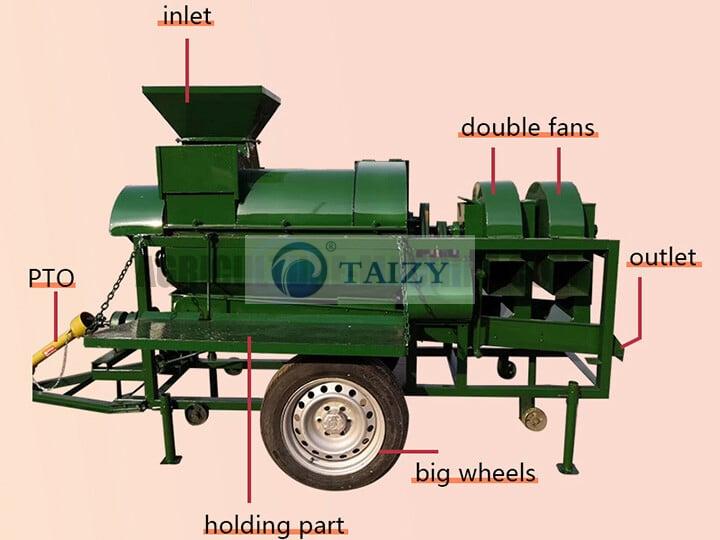 Machine display
Big capacity thresher machine has 3 types, basic type, big wheels type, and PTO driven type. It is easier for customers to move and work at the farm. Also, it has three power modes, diesel engine, tractor, and electric motor. The height of the machine without tires is 1900 cm, the width is 150 cm, and the longest including the bracket is 340 cm. The diesel engine-type thresher machine is welded with a diesel frame to make the machine more stable in the working process. We welded towing frame for the tractor, which makes the machine walk more temperature without being restricted by terrain. In addition, every machine has a bracket.
Packing and shipping
Currently, our thresher machine is sold to Nigeria, Botswana, Uganda, the United States, Bangladesh, etc. We will pack the machine before shipment, some are in an iron frame or wooden box.
Technical Parameters
| | |
| --- | --- |
| Model | 5T-1000 |
| Capacity | 2000-4000kg/h for corn,1000-2000kg/h for millets |
| Shelling rate | 99% |
| Power | 7.5kw electric motor or 12hp diesel engine |
| Size | 3400*2100*1980mm |
| Weight | 700kg |