Small corn peeler thresher | Mini corn thresher machine
Small corn peeler thresher | Mini corn thresher machine
Vertical corn thresher is a small corn thresher, which is specially used for threshing corn. The machine has two functions, one is peeling and the other is threshing. In addition, the small corn peeler thresher machine can be equipped with electric motors or gasoline engines. The output is 1500-2000 kg/h (corn kernels), which is very suitable for household use. If your family grows corn, you can buy a mini corn thresher machine like this, which is very convenient for processing corn.
Brief introduction to small corn peeler thresher
Our home corn peeling and threshing machine is easy to use and does not require people to handle threshing until after they have peeled the corn. And the machine is small but works efficiently to meet the daily needs of families. Also, the corn peeling and threshing machine work well, and the processed corn cob is complete and less broken. It is also clean and does not require people to sift through the corn cob again, saving time and effort. Besides, we also have bigger models of corn threshing machines, multi-functional threshing machines, rice and wheat threshing machine, and sweet corn threshing machines. Customers can choose the machine according to their needs.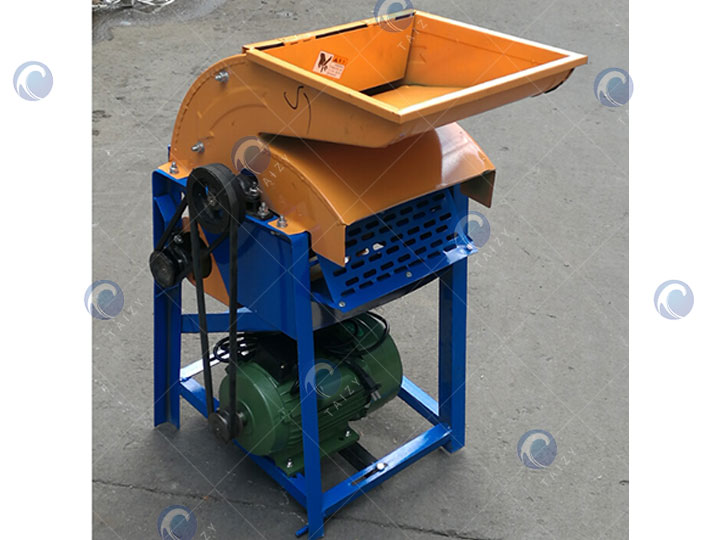 Structure of the small scale corn threshing machine
This small-scale corn threshing machine is mainly composed of the material inlet, frame, power(electric motor or gasoline engine), corn kernel outlet, peel, and con outlet, peeling and threshing chamber, fan, etc.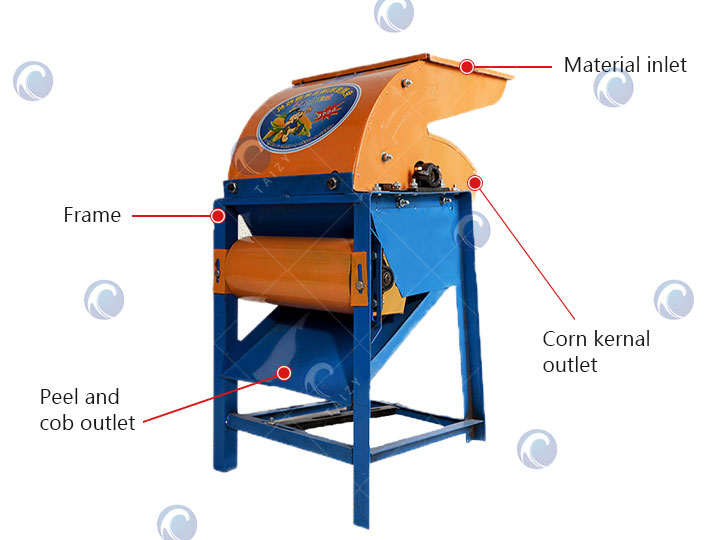 5 reasons to use the mini corn thresher machine
The threshing effect is high. Its capacity is 2000 kg per hour. So, it can meet people's threshing needs, when the corn is harvested.
High removal rate. It has a 99% removal rate. So we don't need to worry about missing a lot of corn seeds.
The feeding port is large, the size of the feeding port is 330mm wide and 360mm long. It can feed a lot of corn at one time. So, it is time and energy saving, when we use this household corn threshing machine.
The seeds and cobs are automatically separated with less time and effort, and the corn cobs and corn kernels are automatically separated.
Multiple functions, it can finish peeling and threshing.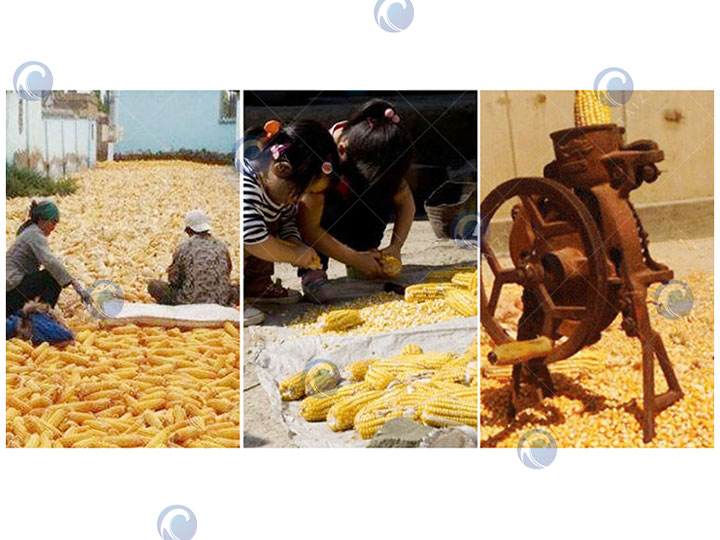 Advantages of small maize peeler and thresher machine
The mini corn thresher machine has thickened and reinforced frame. So it has a longer servicing life. At the same time, a sturdy frame will make the thresher machine work more stable and durable. The vertical corn thresher has a super-powerful fan, the corn kernels after threshing are particularly clean. So, the corn kernels can be sold directly.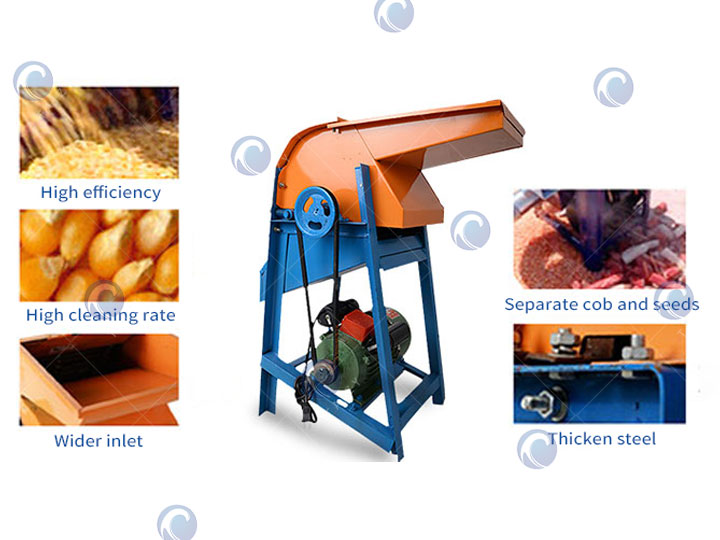 Use of small corn peeler thresher
Firstly, start the corn peeler thresher. And check whether there are problems with the machine.
If there is no problem with the machine, put the corn directly into the inlet of the machine.
Then the maize peeler and thresher's threshing device will work.
Finally, the machine discharges the corn cobs, peels, and kernels through different outlets.
Just put the corn into the machine, and the machine can automatically finish peeling and threshing.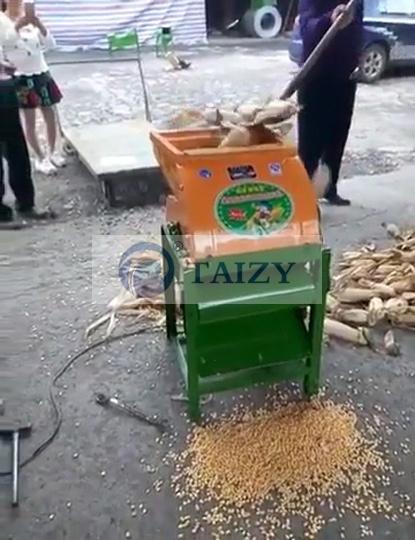 Difference between the two types of corn thresher
We also have another corn peeling and thresher. They differ in the following aspects.
Different powers. The previous type of peeling and thresher can use electric motors, gasoline engines, and diesel engines. The power of this vertical corn thresher does not require a diesel engine, it can be started with only a motor and a gasoline engine.
They are different in size. The vertical corn thresher is smaller.
The other types of corn peelers and threshers have bigger capacities.
Reseller customers
The size of this machine is very small. and it is very suitable for home use. For dealers, this machine is very suitable for purchasing. It is a very good investment project. A 40 HQ container can hold about 600 such machines. Then sell it to local farmers. Just like our customers in Zimbabwe have purchased many small multi-function threshers, and soon received orders, because this small machine is very suitable for household use.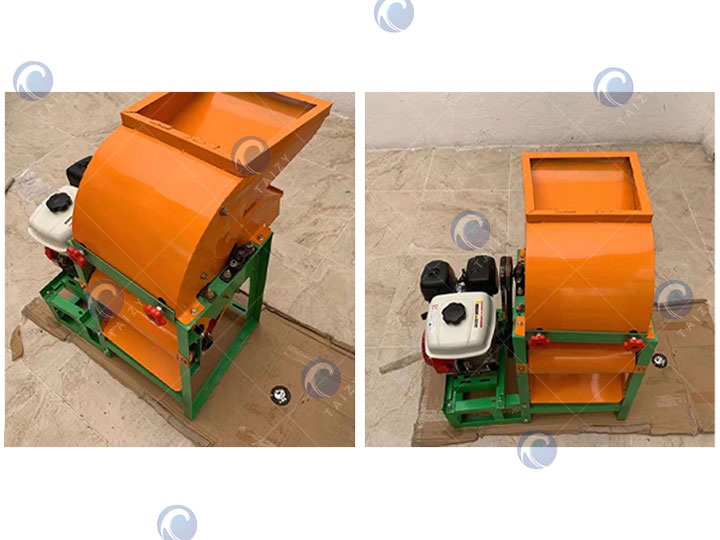 Specification of the home use corn peeling and threshing machine
| | |
| --- | --- |
| Model | Small corn peeler thresher |
| Power | gasoline engine or electric motor |
| Capacity | 1500-2000kg/h |
| Machine weight | 65kg |
| Machine size | 440*400*800mm |
corn peeling and threshing machine's parameter
Combined corn peeler thresher sold to Mexico
Last week our Mexican customer ordered 20 small corn threshers from us. He learned about the corn peel and threshing machine from our website and left his contact information. Our sales manager added the customer's WhatsApp, and through thorough communication, we realized that our small corn threshers were perfect for the customer's needs. The customer finally decided to buy our home corn peeling and threshing machine. Here is the packing and shipping picture of the machine.