Walking Tractor/Simplicity Walking Tractor
The Overview of Walking Tractors
The walking tractor is a small tractor, transportation, and agricultural machinery, which are popular in agriculture in various countries. It is powered by a diesel engine, and its small, flexible, and powerful features make it very popular with farmers. This walking tractor machine can be used with a double-disc plow, single plow, double plough, corn planter, wheat planter, mud wheel, rotavator, trailer, sprinkler, ditcher, rotary plow machine, etc. It is widely used in plain, mountainous, and hilly areas. It can be equipped with corresponding agricultural machinery for plowing, rotary tilling, harvesting, seeding, fielding, pumping, and other operations. It can be towed for short-distance transportation. The driver holds the armrest to control the operating mechanism, tow, or drive the supporting agricultural tools for operation.
Walking Tractor Attachments
The attachments that can be matched with the walking tractor are double disc plough, single plough, double plough, mud wheel, rotavator, wheat planter, corn planter, trailer, etc.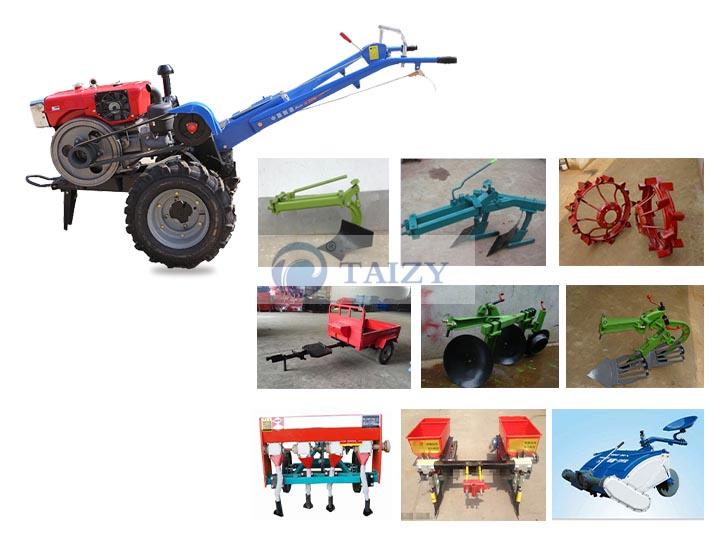 Different Uses of Walking Tractors
Plowing
Walking tractor with a plow——walking tractor plough
Trenching
Walking tractor with trenching——walking tractor trencher
Ridging
Walking tractor with ridging——walking tractor ridger
Rotary Tillage
Walking tractor with a rotary tiller——walking tractor tiller
Walking Tractor with Corn Seeding and Wheat Seeding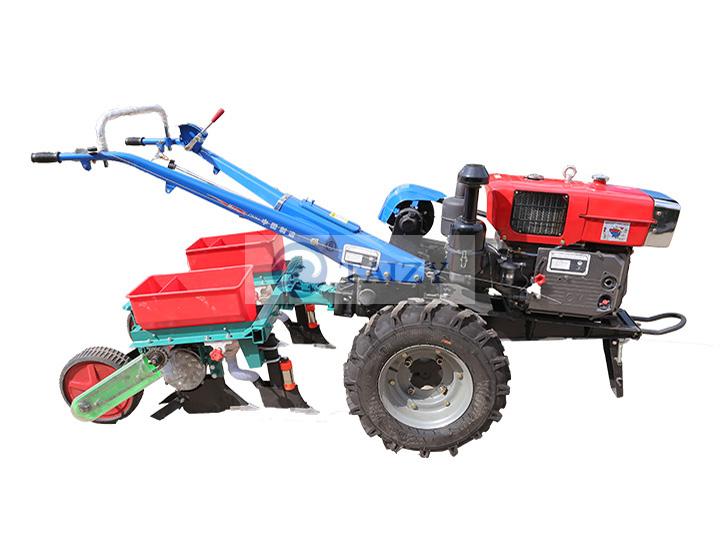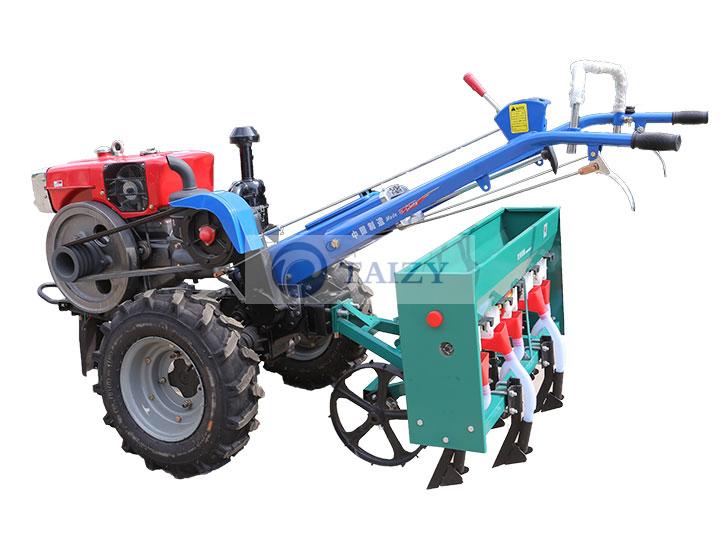 Walking Tractor Price
Our walking tractors have different horsepowers, and our tractors can be matched with different farm tools to complete a series of farming tasks. No matter you are plowing, rotary tilling, ridging, or sowing, our machine can do it. If you interested in our walking tractor, please contact us.
Model
15HP walking tractor
Engine  parameter
Engine model
 ZS1100
Engine Type
Single, horizontal, water-cooled, four-stroke
Starting method
hand start/electric start
Combustion System
direct injection
Cooling way
Evaporative/condensing
Power
1 hour:12.13kw/16hp
12 hour: 11.03kw/15hp
Dimensions(LxWxH)
2680×960×1250mm
Min. Ground Distance
185mm
Wheelbase
580-600mm
Weight
350kg
Tire Model
6.00-12
Tire Pressure
Field Work
80-200(0.8~2.0kgf/cm2)
Transportation Work
140-200(1.4~2.0kgf/cm2 )