Tractor driven maize or corn planter/corn planting machine
2 row corn planter / planting sweet corn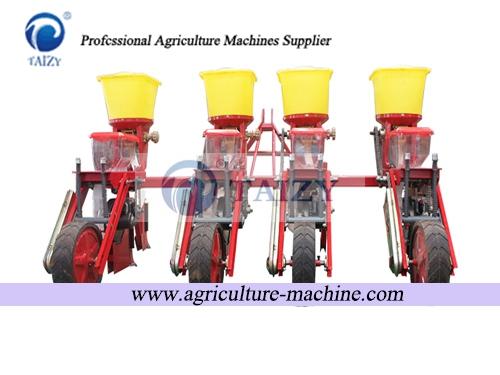 Brief introduction of Corn planter
Corn planter is a machine to plant corn with high working efficiency, and our company has designed a new type of corn planter machine with 2 rows, 3 rows, 4 rows, 5 rows, 6 rows, or 8 rows, which means you have many options about it. There is a box to contain fertilizer, so the seed can drop into the soil with fertilizer, but won't hurt the corn seedlings.
With great performance and high capacity, this planting corn machine is highly praised by our customers. Compared with other planters, it can prevent grass winding and decrease vibration, and such parts are adjustable as row spacing, planting spacing, ditching depth, fertilization depth, and sowing depth. In addition, planting corn machine needs to match with tractors to work during the operation that greatly reduces the labor time.
The Working video of corn planting machine
Technical parameter of the corn planting machine
| | | | | | | |
| --- | --- | --- | --- | --- | --- | --- |
| Model | 2BYSF-2 | 2BYSF-3 | 2BYSF-4 | 2BYSF-5 | 2BYSF-6 | 2BYSF-8 |
| Size | 1.57*1.3*1.2m | 1.57*1.7*1.2m | 1.62*2.35*1.2m | 1.62*2.75*1.2m | 1.62*3.35*1.2m | 1.64*4.6*1.2m |
| row | 2 | 3 | 4 | 5 | 6 | 8 |
| Row spacing | 428-570mm | 428-570mm | 428-570mm | 428-570mm | 428-570mm | 428-570mm |
| Plant spacing | 140mm-280mm | 140mm-280mm | 140mm-280mm | 140mm-280mm | 140mm-280mm | 140mm-280mm |
| Ditching depth |  60-80mm |  60-80mm |  60-80mm |  60-80mm |  60-80mm |  60-80mm |
| Fertilization depth | 60-80mm | 60-80mm | 60-80mm | 60-80mm | 60-80mm | 60-80mm |
| Sowing Depth | 30-50mm | 30-50mm | 30-50mm | 30-50mm | 30-50mm | 30-50mm |
| The capacity of fertilizer tank | 18.75L x2 | 18.75L x3 | 18.75L x4 | 18.75L x5 | 18.75L x6 | 18.75L x8 |
| Capacity of seed box | 8.5 x 2 | 8.5 x 3 | 8.5 x 4 | 8.5 x 5 | 8.5 x 6 | 8.5 x 8 |
| Weight | 150kg | 200kg | 295kg | 360kg | 425kg | 650kg |
| Matched power |  12-18hp | 15-25hp | 25-40hp | 40-60hp | 50-80hp | 75-100hp |
| Linkage |  3-pointed |  3-pointed |  3-pointed |  3-pointed |  3-pointed |  3-pointed |
Advantage of planting corn machine:
Adjustable row spacing and great soil covering effects.
Save seeds and reduce labor time.
It is easy to connect a 2-row corn planter with a tractor that can improve the working efficiency.
Corn planter is easy to work, and the user just needs to sit to operate.
We have a planting corn machine with different rows, and you have many options to buy what you want. Uniform in planting and consistent in-depth.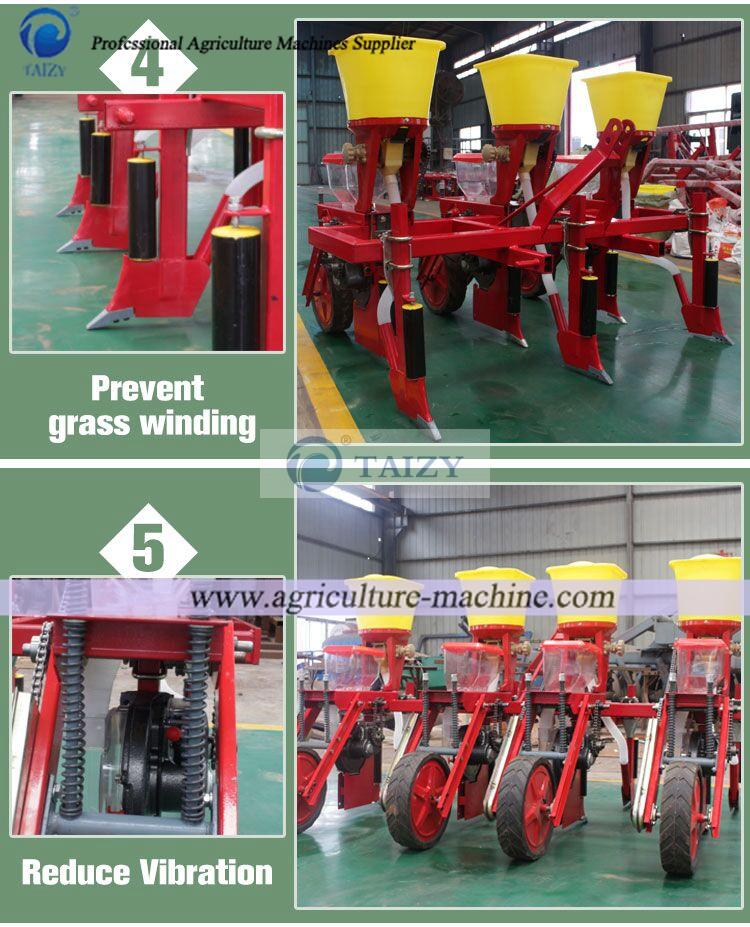 How to use a corn planter?
Maintenance before use. It is necessary to clean the sundries in the seeding box and the grass and soil in the soil digger.
Add the lubricating oil to the transmission and rotating parts of the tractor according to the requirements of the manual.
In particular, pay attention to the driving chain, tension, and tightening of bolts on the planter.
The body of the corn planter machine cannot be tilted. After the planter is attached to the tractor, and it should be horizontal whatever in the back or front of it.
Properly adjust the amount of seed, the row spacing of the soil digger, and the depth of the grooved roller.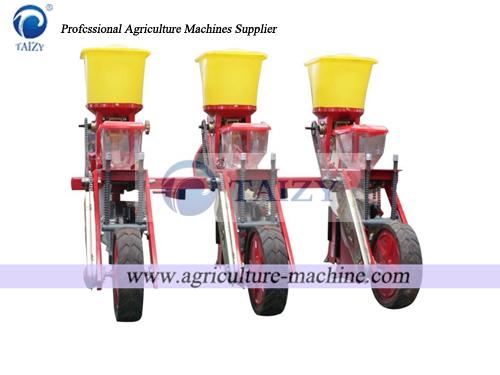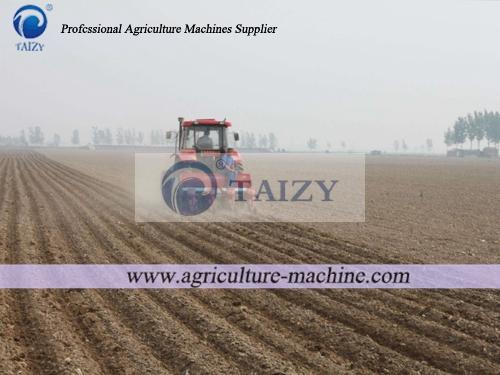 We sold 5 sets of 3 rows of corn planting machine to Panama. This customer has a Chinese agent, so this agent contacted us and then visited our factory to confirm the order. Before buying this corn planter, he has bought a 20HP tractor, that's why we suggest he buy a 3-row planter, for it needs to match with a 15-25HP tractor.
Recently, we exported a 4-row corn planter machine to El Salvador. The machine is customized according to the customer's requirements. we also have customized the seed box for him.
After receiving the corn planter machine, he didn't know how to use it, and we send a detailed instruction book and installation video to him, with the help of us, the machine is able to run smoothly.
1 The seed-metering does not drop seeds. The main reason is that the transmission gears are not engaged, or the square holes of the roller are worn and it needs to be repaired or replaced.
2 Individual seed-metering does not work. Its port is blocked by debris, and the debris should be cleaned.
3 Seeds are sorted, but there are no seeds in the soil. Soil digger or the seed tube are blocked and remove the blockage.
FAQ
How many rows of corn planting machine do u have?
We have 2 rows, 3 rows, 4 rows,5 rows, 6 rows, 8 rows corn planting machine, and you can choose it according to your needs.
Are row spacing and plant spacing adjustable?
Yes, they are adjustable
Do corn planters with different rows need a different tractor?
Yes, the engine of the tractor is different towards different rows planter.
Is it easy to connect the corn planter for sale with the tractor?
Don't worry about that, we will teach you how to do it.