Garlic planter | Garlic sowing machine for sale
Garlic planter | Garlic sowing machine for sale
Brief introduction of the garlic planting machine
Garlic planting machine is a kind of agricultural planter, which is suitable for large-scale and mechanized planting of garlic. Different types of garlic planters are equipped with different powers. It can be equipped with a gasoline engine for independent use, or it can be used in conjunction with small and medium-sized agricultural tractors commonly used by farmers. Planting garlic manually has low efficiency and high time cost. The use of a mechanical garlic planter can save planting labor costs and bring greater economic benefits.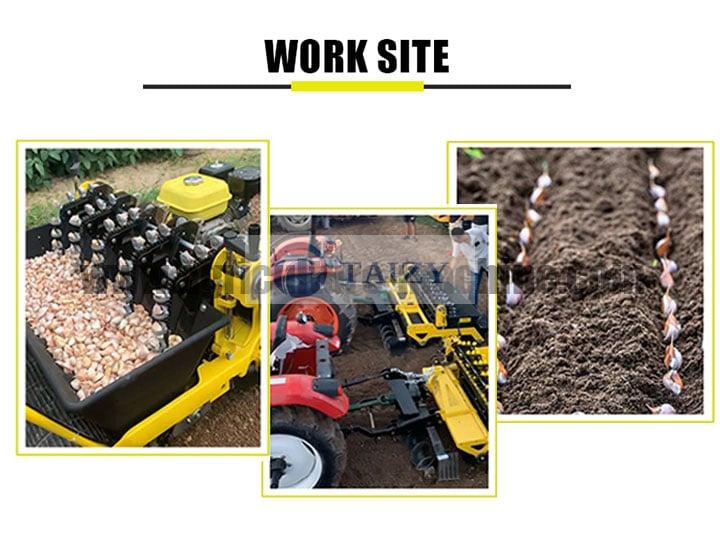 Structure of garlic sowing machine
The garlic planter is composed of boxes for garlic, conveyor, front wheel, back wheel, reducer, disc colter, transmission chain, gear, and space distance control, depth adjusting, and so on.
The front and rear wheels can level the ground. The disc colter is responsible for digging trenches to bury the seeds. The depth of trenching and the distance between species can be adjusted by yourselves. The gear and conveyor device are responsible for transporting seeds. The automatic operation process makes garlic planting easier.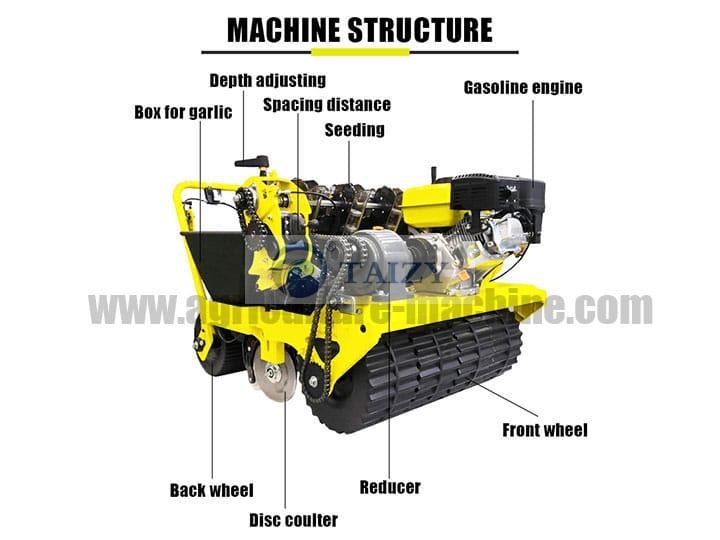 Advantages of using garlic planter
1. The effective and reasonable configuration of the whole machine ensures a stable, reliable, and efficient operation process.
2. Quickly adjust the direction of the garlic seeds so that the garlic seeds face upwards to ensure the survival rate of planting.
3. Automatic garlic planting can save labor costs. The planting area is large, and it is expensive to use artificial planting. The use of machines can save costs and improve economic efficiency.
4. The density of planting is reasonable and the seeding is even. Improve the survival rate of sowing and garlic planting yield.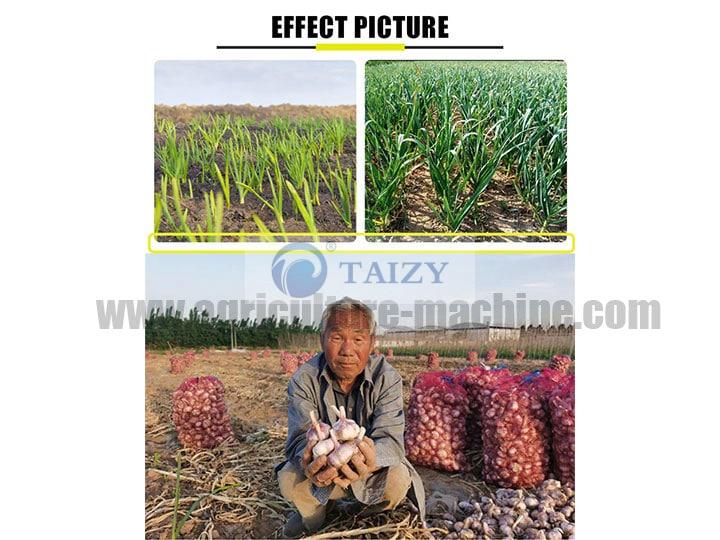 Working principle of the garlic planter
The garlic seeds are placed in the seedboxes. The power device drives the garlic planter to move. The grounding wheel drives the gear to rotate. The wheel and the gear rotate synchronously under the action of the transmission chain. The wheel drives the conveyor to transport the garlic seeds. The mechanical garlic planter has a simple structure. It is convenient for us to use. And it can improve labor efficiency and planting quality. There are different types of machines. Small machines such as a 4 row garlic planter and a 5 row garlic planter are equipped with a diesel engine. Large machines such as a 10 row garlic planting machine can be powered by tractors. There are various types of machines, and we will recommend appropriate machines for you.
Parameters of garlic planter
| | |
| --- | --- |
| Model | GP-6 |
| Rows | Customizable |
| Plant spacing | Adjustable |
| Row spacing | Adjustable |
| Tractor | >30hp |
Cases
In recent years, we have exported lots of machines to over 100 countries in the world. We export various agricultural machines such as vegetable sowing machines, rope making machines, and so on. Customers are content with our products very much. The garlic planters have helped lots of people in garlic planting and improved their planting efficiency a lot. We are professional at machine exporting. You can contact us if you have any questions.