The cost of mechanized rice nursery seedling is low, and the efficiency is dozens of times that of artificial seedling raising. Rice nursery seeding machines are unanimously welcomed at home and abroad. Currently, we are selling a fully automatic rice seedling machine to Azerbaijan. This set of automatic rice seedling machines purchased by the customer includes seedbed soil auxiliary funnel, seedbed soil revolving brush, water applicator, water pan, seed funnel, earth covering auxiliary funnel, earth covering convery device, earth covering removing brush, guide rail.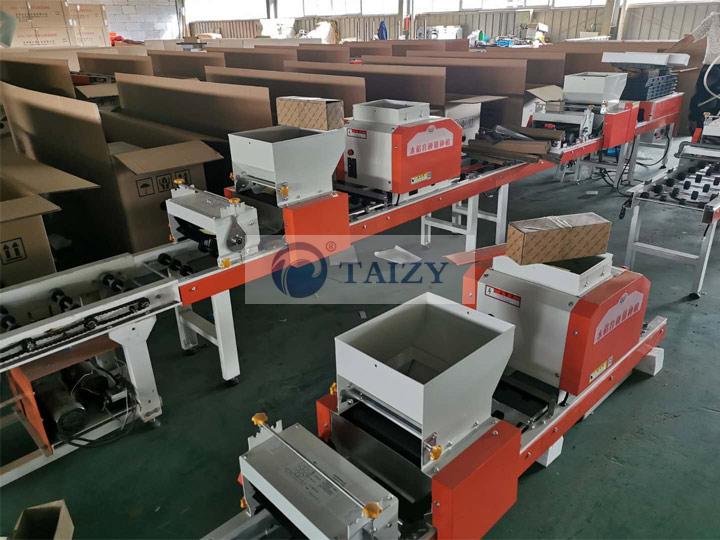 Parameters of Rice Seedling Machine Purchased by Azerbaijani Customers
Model
TZY-280A
size
6830*460*1020mm
weight
190kg
power
240w for deliver

120w for seeding

seedbed soil auxiliary funnel
45L
seed funnel
30L
seedbed soil auxiliary funnel
45L
sowing quantity(g/tray)Hybrid rice
95~304.5
capacity
969-1017tray/hour
thickness of subsoil
18-25mm
the thickness of surface soil
3-9mm
Hs code
8432311100
Packing size
2cbm
Wearing Parts
Covered rubber roller belt, Shaft-frame driven shaft, Shaft-frame motor shaft, Bearing, Frame nylon bearing, Leakage circuit breakers, Sprocket-12 teeth, Chain(36section), Chain(42section, Half-round cover.
Why Use a Rice Seedling Machine?
It is convenient for rice seedling management and ensures the quality of rice seedlings. Seedling cultivation enables the rice seedling stage to grow on a small area of seedling fields, which is convenient for fine management, maintains quality and quantity, and is conducive to increasing the rate of seedling formation and cultivating strong seedlings. (Fertilization, heat preservation, irrigation, etc. are only managed on a small seedbed, which is very convenient and efficient)
Save labor, effort, seeds, fertilizer, and water, so it reduces the nursery seedling costs. The seedling stage is concentrated in the seedbed, and the application of fertilizer is much more economical and effective than that scattered application in the field. It can also save water, sow seeds in a timely manner, and not miss the farming time.
The rice seedling machine is conducive to high yield and stable yield. When transplanting, it can be transplanted according to the specifications to ensure reasonable density and prevent ridging and lack of plants, thus helping to ensure the number of rice ears and strive for high yield. It will cause the seeds to not germinate in some places, and it is not easy to replant, and finally lead to a reduction in production.
Why Choose Us?
Taizy Agriculture-Machine is a manufacturer specializing in agricultural machinery. We not only have rice nursery seedling machines, but we also have automatic nursery seeding machines and semi-automatic nursery seeder machines, which can raise seedlings of various vegetables and fruits. In addition, the transplanting machine is matched with the seedling raising machine. At present, the transplanting machines we sell are divided into two types, one is a rice transplanting machine and the other is a vegetable transplanting machine. This type of machine can be customized according to your needs.